There have been plenty updates about the dire situation surrounding Lamar Odom.  We've got all the updates inside, including Jesse Jackson making a trip to the athlete's bedside...
Late last night, news broke about former L.A. Laker Lamar Odom being found unresponsive in a Nevada brothel called the "Cathouse."  Police were called when the owner of the establishment walked in to the room Lamar lay in and found fluids running from his nose and mouth.  Lamar was driven by ambulance to Las Vegas' Sunrise Hospital after plans to airlift him there via helicopter were cancelled because of his size.
Immediate reports stated he was hooked up to a ventilator and the situation simply "did not look good."
Today, with many developments happening, his situation is still dire and his condition is still listed as critical.
Reports state the former NBA star has suffered severe organ failure, affecting four different organs, and he is currently on a ventilator.
While the brothel owner originally stated Lamar had taken "herbal style Viagra," new reports suggest otherwise.  According to E! Online, every drug imaginable was in his system, including crack cocaine:

"Likely there's brain damage, but they're not sure how much," the source added. "Virtually every drug imaginable was found in his system."

Crack cocaine, one of the drugs found, caused him to choke, according to an insider.  "He was doing crack cocaine all weekend and he choked on his mucous," the insider explained. "They're now having to fix all the damage it has done."
A MRI was conducted on Lamar today which found he has suffered several mini strokes since being admitted.  Other sites report today that due to a severe lack of oxygen to the brain for an extended amount of time, he is still "touch and go".  His condition could really lean either way for the rest of the night.
With Lamar not having much close family, it's unclear as to who he has listed as next of kin.  E! does state, surprisingly, that even though both he and his ex Khloe Kardashian signed their divorce papers this past July, the court system never got around to finalizing the paperwork.  They were "backed up."
So, technically, Khloe is still legally his wife.  She has been by his bedside since the story broke yesterday.
Also by Lamar's bedside is civil rights leader Jesse Jackson: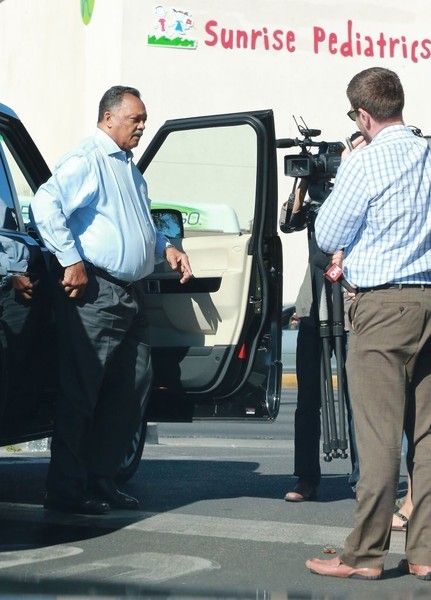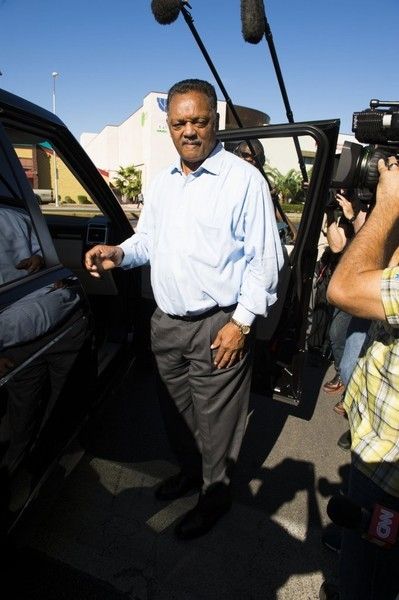 Definitely an interesting turn of events.  Jesse hopped out his car to an onslaught of reporters who he spoke briefly to.
After all of the scattered reports last night, Lamar's rep issued a statement today to Us Weekly:
"Family and friends are extremely concerned for Lamar," Odom's longtime publicist and friend, Eve Sarkisyan, tellsUs in a statement. "Please don't listen to the false information being circulated unofficially. Please respect the family's privacy during this difficult time."
We'll keep you updated on all developments...
Photos: FameFlynet