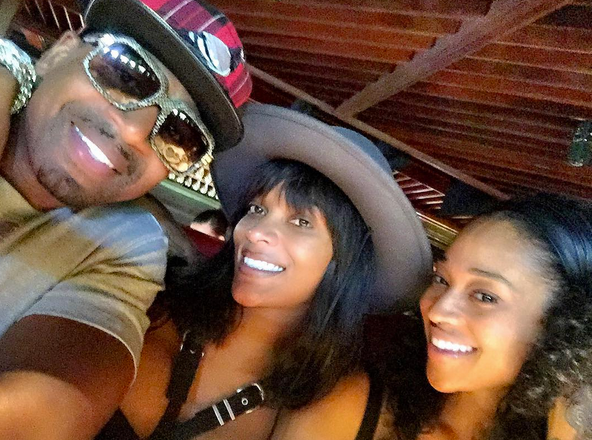 Stevie J, his wife Joseline Hernandez and Mimi Faust are living it up in L.A. as one, big happy family. Peep their family flicks and get the latest rumor control from Amber Rose about her current friendship status with bestie Blac Chyna inside…
All looks well in the Jordan household…a total 360 of how things use to be. Yep...you saw Joseline and Mimi kiss and make up during the reunion show.
"Love & Hip Hop: Atlanta" star Stevie J and his wife/co-star Joseline Hernandez are currently taking over the L.A. area for their upcoming spin-off show with VH1. Cameras will follow the couple as they hit the west coast with their sights on the Hollywood big screen.
We've spotted the Jordans hitting the club scene on a few occasions anddiningin Hollywood. And now, it appears Stevie J's daughter's mom Mimi Faust (and Joseline's former enemy) will be joining the show…in some capacity.
Stevie J hopped on his Instagram and posted these Jordan Family photos with the caption,"There's nothing like smiling. Be a light that shines! #FOE #KnowYourWorth @vh1 #lhhatl #JoselineHernandez @mimifaust"
Looks like they all met up for lunch today...and filming. Well, if they're happy who are we to judge. Good for them.
In case you missed, peep the trailer below:
The Jordans' spin-off is expected to premiere this winter.
In other news....
Rumors started circulating that besties Amber Rose and Blac Chyna were no longer friends. Why? Well it was said Amber was pissed Chyna didn't attend her SlutWalkin L.A. last week.
Then news broke that their upcoming reality show had gotten the axe. They were reportedly in talks with MTV for a new show. We weren't convinced the twosome had ended their friendship. And now, Amber is confirming our suspicions.
Today, the "How To Be A Bad B*tch" author hopped on Twitter to clap back at the rumors that they are longer friends. Amber says she and Chyna are sisters for life and let everyone know she was headed to go see Chyna (with her son Sebastian) today. She tweeted:
Well there you have it. There's no show, but they're still friends.
Photos: Splash/Stevie's IG