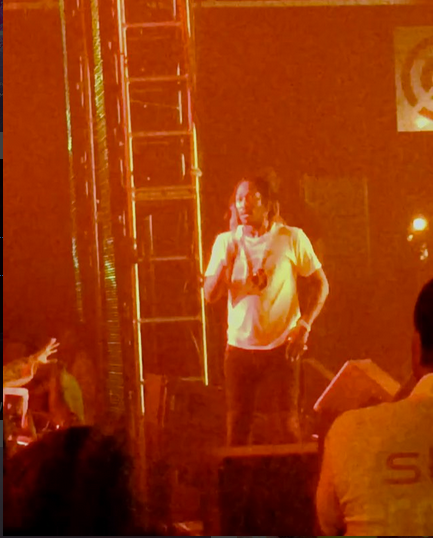 Future just saved Howard's Homecoming.  Deets inside, plus Janet Jackson is cancelling her Vegas shows.  Yep, already.
Hurricane Joaquin was about to ruin Howard University's entire Homecoming weekend....until Future Hendrix rolled into town.   The annual Yardfest that tons of college students (and everyone else) make the pilgrimage to D.C. to attend was rained out yesterday.  But Future's, who performed a sold out show Thursday night in D.C. to kick off the festivities, DJ Esco still rocked the stage in the torrential downpour.
Then last night, amidst news that the annual Homecoming parade would be cancelled Saturday, Future himself rocked ECHOStage in D.C. with a second sold out show.  Looks like he's the new king of HU homecoming.
Peep the videos below:
Speaking of cancellations:
Janet Jackson is already chopping dates from her performance schedule.  The R&B/Pop comeback queen dropped her new Unbreakable album on Friday and it shot straight to #2 on iTunes.  But it wasn't all good news.
Ms. Jackson told media that she would be nixing her October 9th and 10th dates at Planet Hollywood in Vegas, citing vocal issues and needing to rest her voice.
As for what will happen now, it doesn't seem she will be making up those dates.  Instead, she has a previously scheduled May 14th Vegas date on her Unbreakable tour that will move to a new venue that can hold 20,000 fans.  CBS reports:
Live Nation Entertainment said Thursday that ticketholders will be refunded and have the first chance to buy tickets for the May 14 performance. Tickets go on sale Oct. 16.

The move is a loss for Caesars Entertainment Corp., which owns the venue at Planet Hollywood that features regular performances by Britney Spears and soon Jennifer Lopez.
Are there really vocal issues at play, or would Janet rather play for a larger audience and venue than play three smaller not-yet-sold-out dates?
Either way, we're still here for the comeback.
Photos/Video: FameFlynet/Instagram