Well ladies, if you were crushing on O'Shea Jackson Jr. and hoping to get a chance with the sexy actor, you're out of luck (for now). He has a girlfriend. And she's already involved in social media messiness after being accused of bashing dark skinned women on Twitter. Peep their coupledom pics and get the deets inside..
Ladies!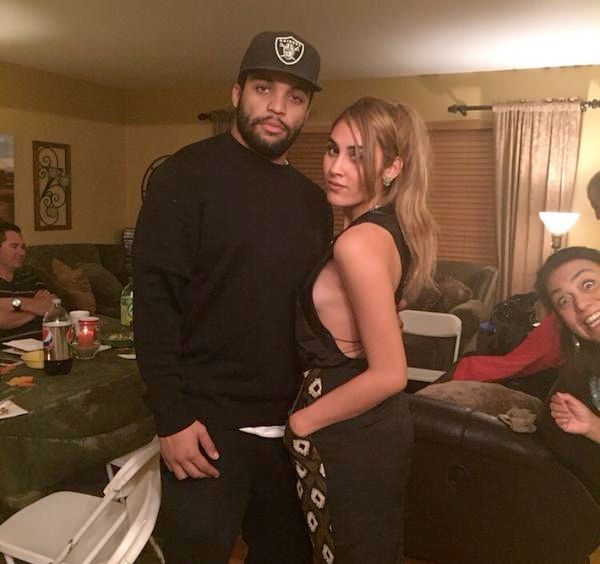 If you've been crushing on Straight Outta Compton actor O'Shea Jackson Jr. we have some news to share with you. You're not going to like it, but the sexy star is off the market. Yea, we know. Ugh!
O'Shea, the son of Ice Cube, is dating a woman named Jackie Garcia, or at least, that's what she's going by on Twitter. We're not sure how long the two have been dating, but based on the pictures she has posted on her timeline, the twosome seem pretty serious...
Case in point: O'Shea spent last Christmas with his girlfriend and her family:
He showers her with sweet gifts:
Came home to these from @OsheaJacksonJr☺️ pic.twitter.com/1XM14Lssyz

— Jackie Garcia (@Jackiegbaby) September 24, 2015
And he loves getting kissy with her:
Not only that, he has no problem expressing how he feels about her:
Not sure why she felt the need to share this, but we can charge that to her being of this digital age...where you have to post it so you know it's real. Speaking of online activity.....
We came across an alleged tweet of Jackie's where she totally bashed dark skinned women. It all started when she first tweeted:
I was just told I am too ugly and not good enough for Shea.. Straight to my face by some random girl at Starbucks. No words

— Jackie Garcia (@Jackiegbaby) September 30, 2015
In an ALLEGED screenshot captured by another site, Jackie responds to a follower saying, "Ugly, dark and dumb. You mad Shea don't like your type? [laughing emoji]" Chile....
We checked out her official account and the account of the person she ALLEGEDLY made this comment to and it's no =where in sight. We're not sure if it was deleted or if it was photoshopped (quite likely). Let's HOPE it was never posted in the first place…because that's definitely not be a good look.
So...we'll be keeping an eye out on these two. O'Shea has yet to post any pictures of her on his social media accounts.
Photos: Jackie's Twitter