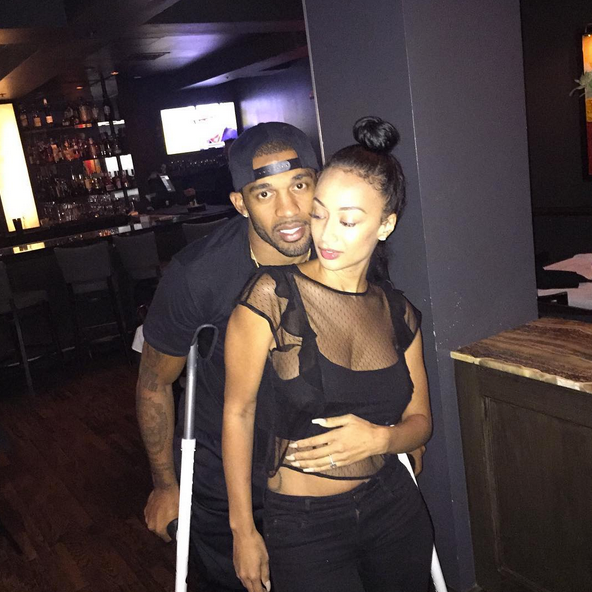 Well looka here. Draya and her fiancé Orlando Scandrick are all hugged up in their first public photo together since their engagement fiasco. Let's discuss inside…
"Basketball Wives: L.A." star Draya and her Dallas Cowboys baller fiancé Orlando Scandrick (who's currently nursing an ACL & MCL injury) are proving to everyone that it's really real…they're officially back together.
As you know, Orlando and Draya's on-again/off-again relationship was all over the "Innanets" when the NFL playercalled OFF his engagement to the reality star just 3 weeks after getting down on bended knee and gifting her with a $400K 6-carat diamond ring. 
When he called it off (in July), he revealed, "In hindsight, it was a poor decision to propose. I am anxious to move on with my life both personal and professionally." Remember, he allegedly kicked her out of his home.
The following month, it was reported the twosome had worked through their differences and reconciled. Folks started wondering if it was all for show or PR. "BBW: LA" could use the ratings.  Now that they're back together, it appears they're ready to put their love back on front street. Orlando shared the above pic with the world.
For the last month or so, Draya has been posting pics/Snaps of her massive engagement ring every chance she gets. Here's her most recent:
We can't front, the ring is STUNNING.
If they're happy, then we're happy for them. Now, they just have to make it down the aisle.
Photo: Orlando's IG