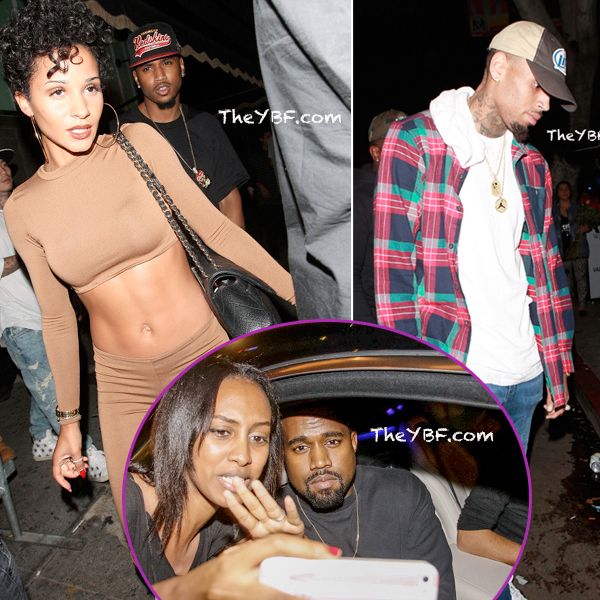 VA homies Trey Songz& Chris Brown hit the club in Hollywood last night with Trigga bringing his lady friend Tanaya Henry along. Meanwhile, Kanye West has jetted overseas to Israel for a performance and was spotted snapping fans with selfies after dinner. Pics inside…
While R&B crooner Trey Songz claims he doesn't officially have a girlfriend, he did say he has a special woman in his life…and that would be model Tanaya Henry.
Last night, the duo was in the mood for a little fun, so they trekked it to Warwick nightclub in West Hollywood to turn up. Chick showed off her wash board abs in a nude long sleeved crop top with matching leggings and white sneakers. Her outfit resembles pieces from Kanye's collection.
Tanaya lead the way out of the club with Trigga close behind. Mr. Steal Your Girl rocked camo pants with a plain black t-shirt and a Redskins hat to rep his NFL team favorite.
Also on the party scene...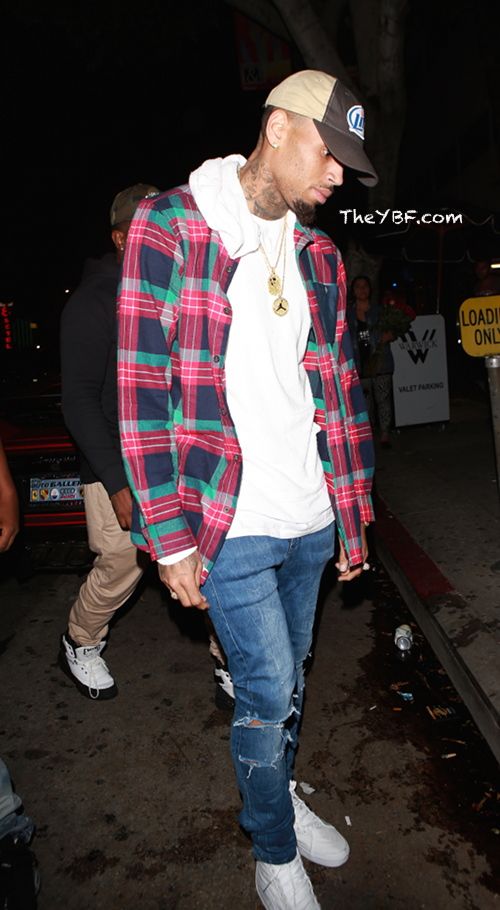 R&B bad boy Chris Brown came out for the lituation. Breezy will be in town for a few days before he heads to Vegas to rock the stage at Drai's nightclub fulfilling his residency duties. He has been putting on lively performances at the establishment since May of this year.
Speaking of residencies, Breezy has reportedly inked a new deal with Drai to continue dominating the stage. The "Liquor" singer has reportedly signed on for a 10-concert residency with Drai Beachclub and Nightclub to serve as a trial run for a long-term residency. We hear Breezy will be making more than $50k per show AND his VA homie Trey Songz is said to be hitting the stage rotating performances with Breezy. Nice!
Check out the madness outside the club as Breezy made his exit below:
Overseas...
Five months after visiting the Holy Land for his daughter North West's baptism, Kanye West returned to Israel yesterday for a performance. After rocking the stage at the Ramat Gan Football Stadium in Tel Aviv-Jaffa, the rapper/designer slid out for dinner.
He met up with Israeli model Bar Refaeli to dine at Aria Bar & Restaurant. After dinner, fans tracked him down:
And one lucky fan nabbed a selfie.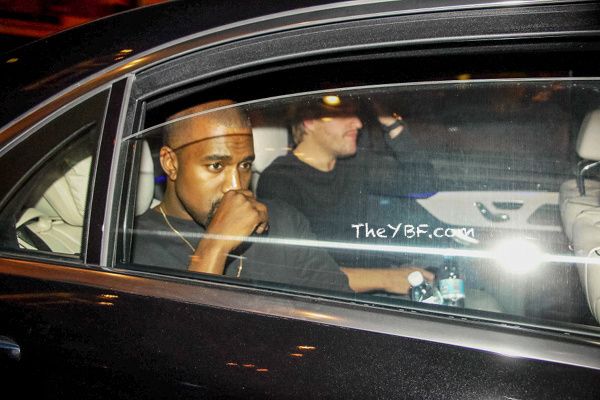 Then 'Ye, looking deep in thought, drove away to his next destination.
Peep a few clips from his performance last night below:
Photos: Splash/WENN