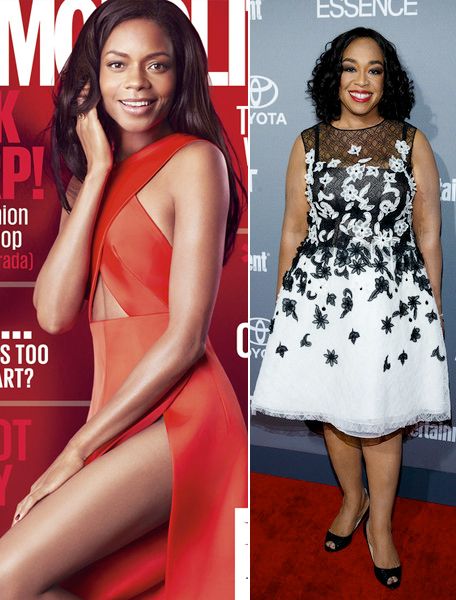 Shonda Rhimes has a new trim figure these after losing a whopping 117 lbs! Find out how she did it and check of Naomie Harris' spread and interview for Cosmopolitan UK's November 2015 issue where she talks about feminism while being a Bond Girl inside….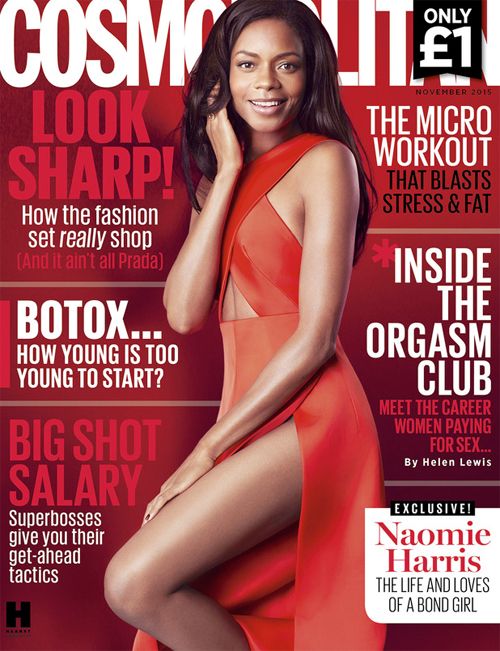 Hello Gorgeous!  Upcoming Spectre starlet Naomie Harris is gearing up to hit the big screen in one of the most highly anticipated movies of the year. But before she reprises her role as Eve Moneypenny in front of the camera, she linked up with Cosmopolitan UK to shoot a fabulous cover spread for their November 2015 issue.
And it's red hot! Werk!
In the cover story, the 39-year-old actress opened up saying she believes it's possible to be both a feminist AND a Bond Girl in the world of 007 with the advancement of women today. She said, "I think you absolutely can now [be a feminist and a Bond girl]."
She credits Spectre's director Sam Mendes for recruiting strong "multidimensional women" to star in the flick, which she feels further proves women's roles in Hollywood are changing to more substantial roles.
We're drooling over this dress by the way.
The Hollywood starlet also talked about how hard it is for women to get good, well-written roles in Hollywood against their male counterparts. She dished,
"It's very difficult to find roles as well-written as male ones, and with as much screen time. Then there's one amazing script that sparks your imagination, and gets you really excited. They are there, it's just they're mostly dominated by male roles.

"I definitely think it's tougher for women in film, but then I look at Meryl Streep, and... I thought there would be other actresses breaking through. I'm sure there are. Jennifer Aniston, I guess? But she's comedic.

"Yeah, perhaps there is a glass ceiling. I'm really struggling to think of women who can consistently open movies. OK, Reese Witherspoon! There are women doing it, but yeah, it's harder."
Agreed. And even harder for a black woman in Hollywood, but Naomie seems to be navigating the ranks.
You can check out Naomie's full interview once it hits newsstands tomorrow, October 1st. Spectre will be hitting U.S. theaters on November 6th, so if you're Bond fan, mark your calendars.
In weight loss news....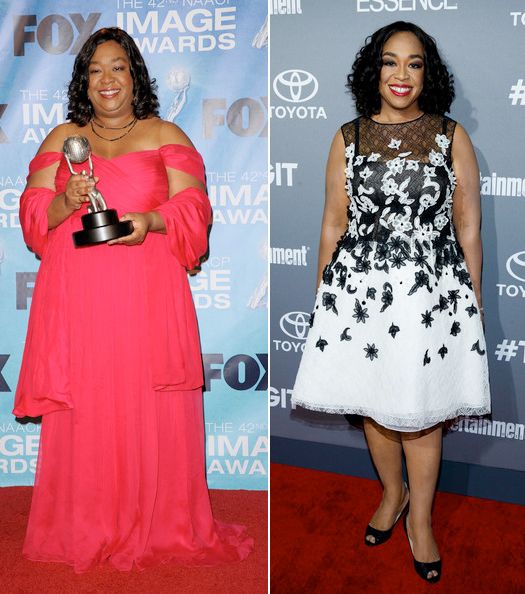 Well looka here!
We've noticed a major change in Shonda Rhimes.  And now, we know how she did it.
The #TGIT honcho has a new trim and slim bod and she's dishing on how she achieved the massive weight loss of 117 pounds!
EXTRA caught up with the ShondaLand producer at the ABC's TGIT line-up celebration in Hollywood over the weekend (above right) where Shonda gave the inside scoop on how she dropped all those LBs. Her secret? Good old fashion diet and exercise. She spilled,
"I just decided I was gonna get it together and get healthy; I have some little kids and I want to be around for them. I changed everything I ate — and I hated all of that — and then I hate exercising and I did that, too, and I hated it the whole time."
Ha! Almost any woman can relate. While she's making healthier eating decisions, Shonda said she still eats what she wants, just in smaller portions to make sure she keeps her calories in check."I try to make it much less and smaller portions, but you change what your palate wants. I'm suddenly craving fish and salad," said Ms. Rhimes.
Congrats Shonda! You're looking FAB-U-LOUS!
Photos: Getty/Cosmo UK