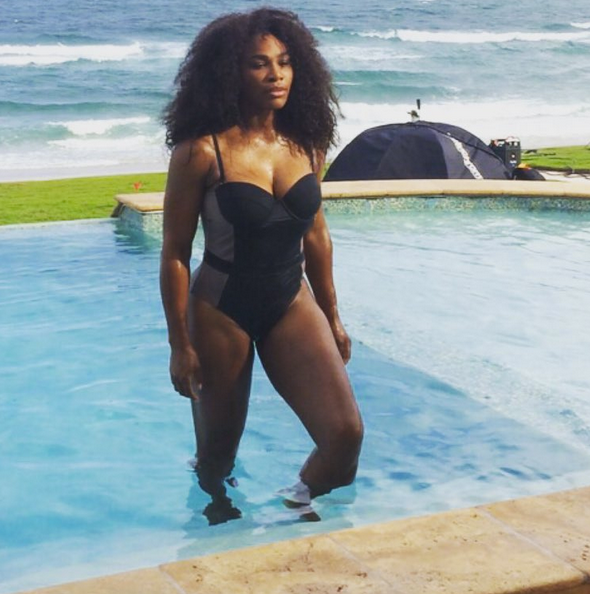 Serena Williams is getting in some much needed R&R as she rings in her 34th birthday. In concert news, Kanye West threw a bit of a fit after his microphone kept going out during his 808s & Heartbreak concert at the Hollywood Bowl over the weekend. Get it all inside….
Happy Birthday Serena Williams!
Rather than hit the party scene to ring in her birthday, the tennis champion opted for some rest and relaxation in a pool for her 34th (Sept. 26th). The fit and toned tennis champ posted an utterly hot shot of herself emerging from the pool in a black and gray one-piece showing off her killer bod.
The 21-time Grand Slam winner deserves every bit of her mini vacay after one hell of year in the tennis world. Remaining as the No. 1 ranked female player, she took home the Australian Open, French Open, Miami Open, Cincinnati Masters and Wimbledon.
On top of an amazing year in her career (thus far), her love life has gotten very interesting with rumors (which we can pretty much confirm by now) that she's dating Young Money rapper Drake. The 6ix God has shown major support of Serena as she dominated the season cheering her on from the stands. The couple has also been spotted getting EXTRA cozywith one another and we even spotted Rena celebrating with Drizzy's mom. Yep...it certainly appears to be getting serious, although neither have confirmed or denied.
She also released a new HSN collection which shepresented at this year's New York Fashion Week. And Drizzy was there the entire day. We love it!
In other news....
Kanye West threw a small fit during a performance over the weekend.
'Ye hit the legendary Hollywood Bowl stage Friday night to perform his entire platinum selling album 808s & Heartbreak. The problem? His mic started going out during his performance of "Amazing," which caused him to stop the show right in the middle.
Yeezy yelled, "Just stop the track...stop the track," frustrated that he was having technical issues. He made light of the situation saying, "This is the best dress rehearsal I've ever had."
Once the issue was resolved, Ye eventually jump started the show and finished his entertaining set. Check it above.
According to TMZ sources, Kanye was late for rehearsals the night before and since there was a noise ordinance in effect once he arrived, he was told to go back home. Bloop.
In the audience….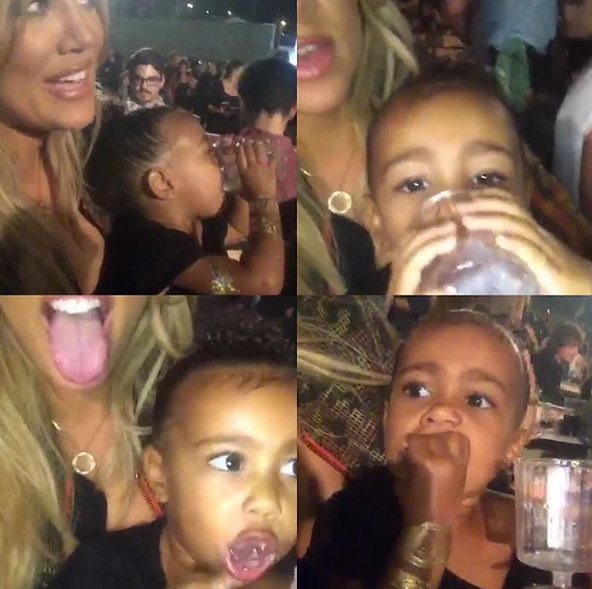 Cutie North West was having fun with her auntie Khloe Kardashian munching on some ice cubes as she watched her pops on stage. Adorbs! We see she's still rocking her flash jewelry too.
Peep a few clips from Yeezy's show (where he brings out Kid Ink) below:
;
Photos: Serena's IG