We've got some new music to kick off your weekend from Tamar Braxton, Janet Jackson and The Game.  Listen to their new tracks inside...
"DWTS" contestant Tamar Braxton is seriously promoting her upcoming album Calling All Lovers (in stores October 2nd).  We've already heard "If I Don't Have You" "Catfish" and "Angels & Demons" now we've got another track from the disc...."Circles."
"Circles" was written by Tamar alongside Cedric "Dabenchwarma" and Tiyon "TC" Mack. It's about Tamar feeling disappointed with her lover - who keeps making the same mistakes....hence the circles.
She sings:
"Take a look at myself in the mirror with these tears streaming down my face
Asking how did I let myself get here?
When I know.. I should have walked away
I'm sick of the same things over and over and over again with you
You drug my heart through the ground
Left it all battered and bruised
I'm done fighting this battle with you

Tamar always brings the heartfelt makeups to breakups experiences.
As we told you previously, after "DWTS" ends, Tamar is hitting the road with Mary J. Blige and KEM. Check here for dates.    Due to the links getting snatched down left and right, you can go here to listen to "Circles" until the official stream is made available.
In other new music...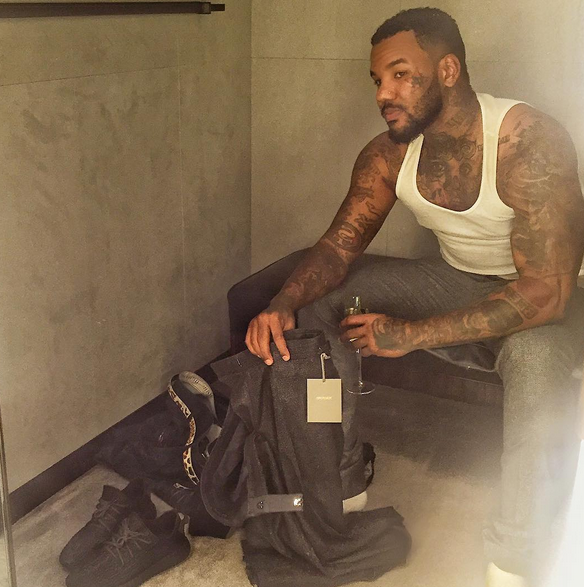 Rapper The Game, who gave a jaw-dropping interview on the "WENDY" show this week, is back on the scene promoted his anti-gang violence disc The Documentary 2. The latest release from the double album is the Diddy-assisted "Standing On Ferraris."
The song interpolates a sample of Notorious B.I.G.'s "Kick in the Door," as Game name drops his celebrity friends, like Khloé Kardashian.  Part 1 of The Documentary 2 hits stores on Oct. 9th while Part 2 drops on October 16th.
Listen to "Standing On Ferraris" (feat. Diddy) below"
And.....
Janet Jackson, who is in the midst of her Unbreakable World Tour, has released a new song, a collaboration with Missy Elliott called "BURNITUP!" The song will appear on Janet's new album, Unbreakable, which drops on Oct. 2nd.
In a press release about song, Missy talked about hooking up with her "Son Of A Gun" collab partner saying,
"Working with Janet is unbelievable. Although we are great friends and have been for so long, I am still her biggest fan. Sometimes, I still have to pinch myself when I call her and she picks up the phone or texts me because she is still Janet Jackson! The superstar that I would run to the TV to watch her videos and dance moves, so for me I'm honored to be on any Janet record. I'm humbled whenever she asks because she inspires and continues to inspire me, always!"
Check the song out above.
EXTRAS:
1. Jets cornerback Antonio Cromartie's wife, Terricka, is accusing a police officer in Madison, NJ of pulling her over for "driving while black." Story.
Photo via Tamar's IG/The Game IG