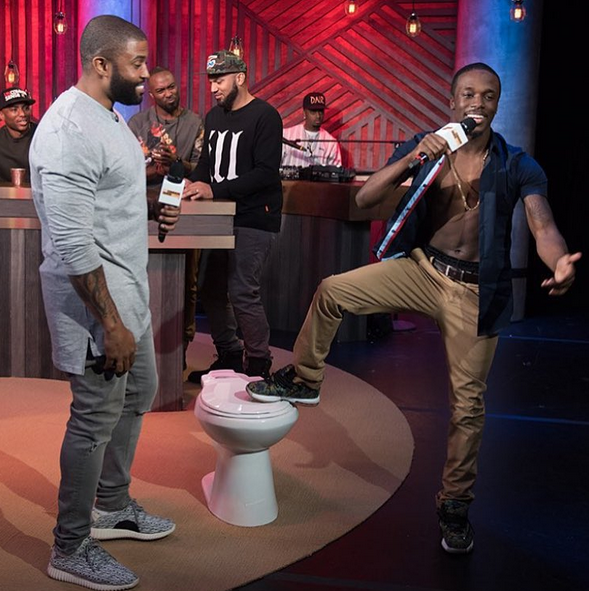 Singer RL of the group Next met viral sensation Nicholas Fraser, the creator of "Why You Always Lying." Watch a clip from their "meet up" inside and listen to Hi-Five's latest song.
Nicholas Fraser has gone viral on social media where his VINE/Instagram clip "Why You Always Lying" has taken on a life of its own. Now, thanks to MTV's "Uncommon Sense," Nicholas has hooked up with singer RL, who sang the song "Too Close" (with the group Next).
As any R&B buff knows, "Too Close" inspired the viral sensation so fans were excited to see the two together! There meeting also serves as the television debut for the young comedian.  "Uncommon Sense" airs on MTV 2 and is hosted by radio personality Charlamagne Tha God.  
Watch all the fun here:
But.....can we be messy for a minute?  While the meeting above was cordial and professional, RL ain't really happy about young Nick, that toilet scene and the whole viral sensation.  He did an interview with the #YouKnowIGotSoul R&B Podcast where he shared his true feelings. He's pissed!
"Vlad asked me to make a video to make light of it and I did it reluctantly because I am going to be honest: I don't know how I feel about it. You are making a parody of my life's work. And on one end, I don't want to be a stickler and, you know, seem like I am bitter or anything. But you are kind of making a parody of something that I really worked hard with. It is something that I continue to get residuals from and you know, it is part of my identity…I promise you, people will send me different languages and like, 'Did you see this?' And I'm like, 'Are you kidding me?' I try to make light of it but it is getting to the point of overkill."
Hmph.
In new music....
Remember Hi-Five?  "The Kissing Game" group returned to the spotlight a few months ago when TVOne's "UNSUNG" told their story,
The group has a new single, "SUNSHINE," an up-tempo track produced by Andre Ramseur and written by Hi-Five member, Faruq Evans. 
In the group's press release, they explained:
"This song is about my love for my daughter. I never thought I'd have a lil girl, but when she was born she stole my heart. She's the air I breathe. My sunshine!"
Sweet!
Check out the track below, and if you're digging it, it's on iTunes. The song will also appear on the upcoming HI-FIVE album scheduled to be released at the top of 2016.
Listen to "Sunshine" below:
EXTRAS:
1.  Don't believe the hype about an alleged Kendrick Lamar/J.Cole mixtape that's making the rounds on social media....neither of their camps have confirmed the project and the images of both rappers for the fake album cover were taken from previous photoshoots and then photoshopped.
Photos via Cthagod/devidev Instagram