Talk about making history!  President Barack Obama, VP Joe Biden and the First Family gave a warm welcome to Catholic Church leader Pope Francis as he touched down on U.S. soil for the first time. Peep his grand entrance and historic visit to the White House today inside…
Before today's festivities, Pop Francis stepped foot on U.S. soil for the first time in his life yesterday.  And even if you're not Catholic, you gotta appreciate the epic moment that is America's first Black President meeting the Catholic church's first Argentinian leader.
Fresh from Cuba, the 'People's Pope' touched down in the United States for the first time yesterday evening. And His Holiness was met with a grand welcome and epic fanfare as he exited his aircraft at Joint Base Andrews.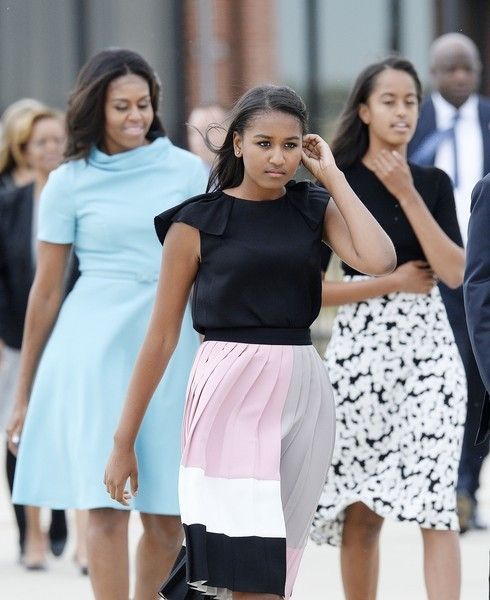 President Barack Obama, First Lady Michelle Obama, first daughters Malia and Sasha, Vice President Joe Biden and his family were all in attendance to welcome the Pope for his historic six-day visit. After his D.C. visit, Pope Francis will also travel to New York City and Philadelphia.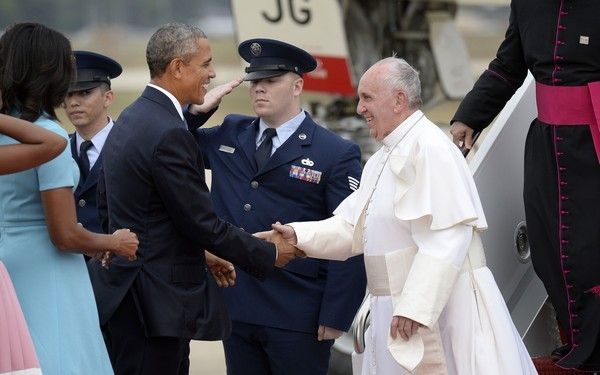 Upon exiting the plane, the Pope made sure to greet each person awaiting his arrival before sharing a laugh with POTUS: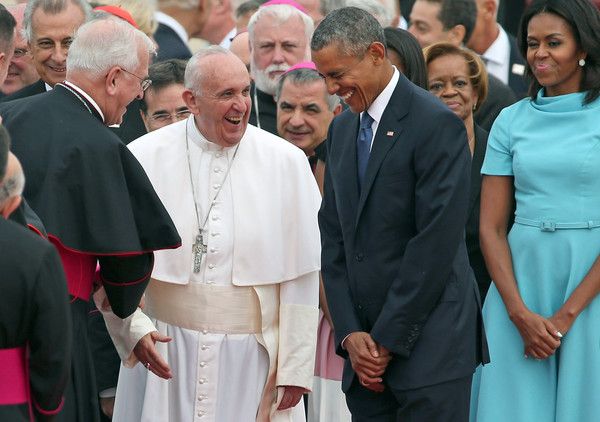 Ha!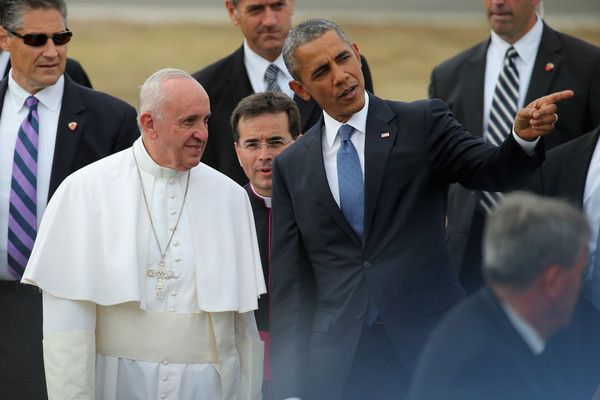 His Holiness then made his way to greet the Vice President and his family: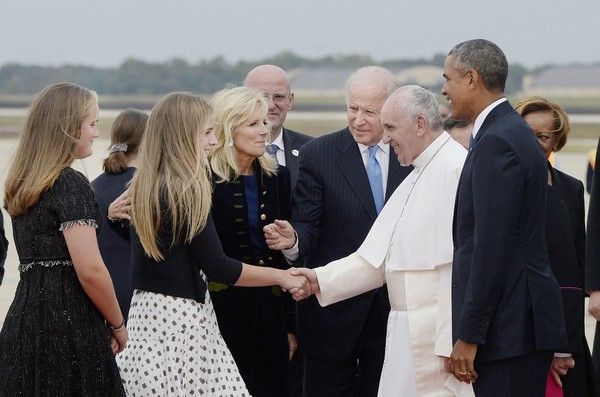 And stopped to greet a few kiddies as well:
Adorbs.  POTUS and FLOTUS escorted Pope Francis to his vehicle...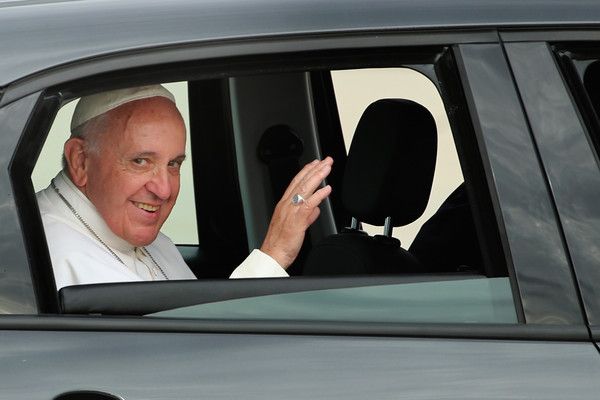 And get this! Rather than hopping inside of a bullet-proof limousine or some other luxury vehicle, the Pope went a very modest route rolling through the streets in a Fiat 500L. Of course, it included safety features such as armor plating and bullet-proof glass, but he certainly surprised us with his vehicle of choice. Shows he's a frugal man at heart.
Check out the Pope's arrival yesterday in the clip below:
This morning at the White House...
POTUS welcomed Pope Francis to his Presidential home. Before they made their way inside, President Obama delivered a welcome speech before a host of guests on the South Lawn. Soon after, the Pope took the podium to address the crowd and to thank them for the warm welcome…in English.  He also touched on immigration and compassion.
Check it:
After the mini-ceremony....
POTUS led His Holiness down the colonnade of the White House before meeting inside the Oval Office: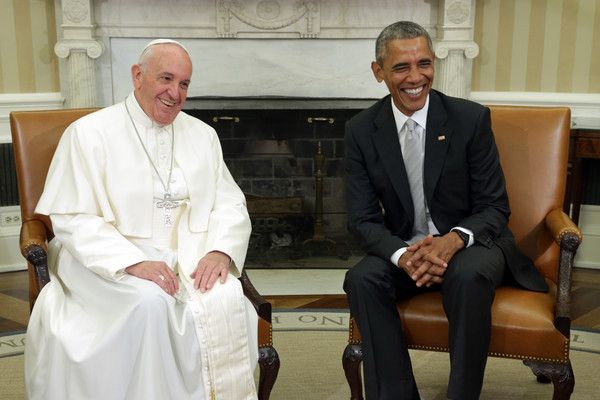 Once seated, one reporter asked, "What is the most important issue you'll discuss?" President O responded, "I was just commenting that I noticed all of you are much better behaved than usual." Bloop!
Peep the exchange below:
During a parade through D.C. today:
Pope Francis made one little girl's day after he ordered security to bring her to him as she was being escorted back behind the barricade. She tried to sneak through to get a closer look and ended up getting something even better. Check it above.
Following his trip to the White House, Pope Francis will visit St. Matthew's Cathedral, and will then hold a Mass on the grounds of the Basilica of the National Shrine of the Immaculate Conception.
Tomorrow, the Pope will pay a visit to the Senate and the House of Representatives, where he will make the first-ever address to Congress. Then, later in the evening, he will depart D.C. and make his way to New York City.
Photos: Getty/White House's IG