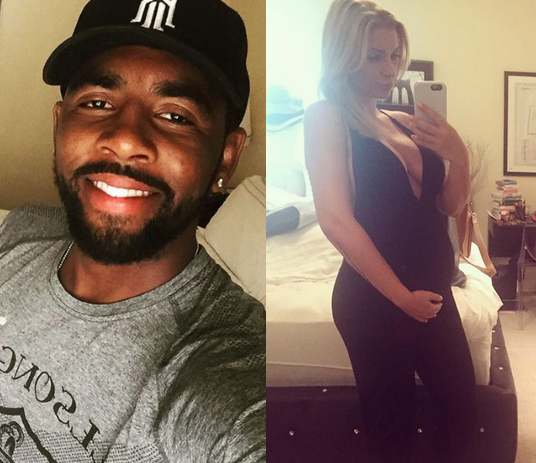 Here's a new one....we've got a professional athlete HOPING he's the father of an unborn baby. In fact, he's requesting the paternity test! More inside....
Cleveland Cavaliers star Kyrie Irving has a lot on his mind these days.  While we can't get inside his head per se, we've created some questions we're sure he's asked himself in the past couple of weeks. 
1.  Is my ex-girlfriend having my baby? 
2.  Is she gonna hit me for child support? 
3.  Is there anyway I can position myself legally so that I won't look like a deadbeat athlete?
If you're wondering why he'd ask these questions...we'll explain.  Kyrie was once involved romantically with Andrea Wilson, a former Miss Texas (2010).  But they broke up. 
Now, get this....she's pregnant!  And she's been documenting her pregnancy on Instagram.
He's now filed legal documents (according to TMZ Sports) to prove he's the father.  Now....that's a first.  A professional baller hoping he's the Daddy!  We're sure there are legal/financial reasons for this....but it's still admirable to watch a man willingly step up to the plate.  Unless he has an inkling he's not the father and he believes she's about to come at him for child support.  There's always that possibility...
So here's what he wants to happen: When the baby is born (Andrea is allegedly due in December) he wants a paternity test to prove he IS the father.  IF he is the daddy, he'll cover everything the child needs -- including medical care. All he asks is that she raise the baby right there in Texas.
Why Texas?
Well.....Texas has a history of being stingy with child support so he'll have more coins to trick off elsewhere if she and the baby become residents. Hmph.
Photos via Kyrie's Instagram/Andrea's IG