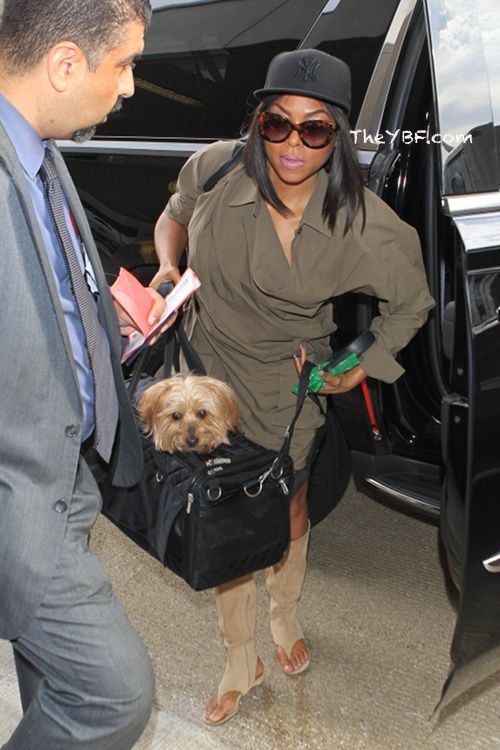 We've rounded up the latest "Empire" news and interviews. Fresh from the EMMYs, Taraji P. Henson was spotted hopping on a flight out of L.A. Meanwhile, her co-star Terrence Howard is busy on the promo trail and creator Lee Daniels has been hit with another lawsuit. More inside...
After playing the super supportive girlfriend role at the 2015 EMMYs, Taraji P. Henson is back on the run. And she's bringing her cute dog along with her too. Chick is making her last minute rounds before the season 2 premiere of the hit FOX series "Empire."
We are just one day away before the Lyon Family take over our televisions with their crazy family drama, Cookie's hilarious one-liners and guest starring roles from a slew of celebrities. As if you need reminding, "Empire" returns tomorrow at 9/8c on FOX.
Meanwhile....
The seemingly troubled actor, who has been heavy in the headlines due to the divorce and accusations from an ex-wife, said he's finally down to the ideal weight for his character Lucious Lyon weighing in at 191lbs. You'll recall, when Terrence first landed the gig he was much heavier (or another role) and the cast would help him work out in between takes.
Later, he got into daddy-mode gushing over his son Qirin Love, whom he welcomed with current wife Mira Pak back in May.In case you're wondering...yes they're still together.
Terrence then gets to the good stuff. So what can we expect to see this upcoming season on Empire?
Well…Terrence dished we will get to see what Lucious' life was like as kid and how that turned him into the ruthless leader he is today. He said this season they really touch on God and how Luscious has no reverence for religion. We will also get to see what Cookie Lyon went through those 17 years she spent behind bars. Terrence said his on-screen son Andre Lyon (played by Trai Byers) is going to go places that may be uncomfortable as he fights his own inner demons. Yikes!
Check out his interview below:
On social media....
The Hollywood vet has now embraced a new social media platform, joining Instagram recently. It's interesting to note, most of his pictures (so far) are with his current wife (to help dispel those break up rumors) and of his son.
Speaking Qirin Love...
We spotted this adorable father-son moment! And we just can't get enough of little Qirin. Adorbs!
In other "Empire" news....
Co-creator Lee Daniels (above, behind the scenes at "The View" today) is being sued…yet again. And this time, it's not over "Empire." Well…kinda.
Today, actor Sean Penn filed a $10 million defamation lawsuit against Lee in New York Supreme Court, claiming that comments Lee made in a recent interview is defamation of character.
So what exactly did Mr. Daniels say that has the Milk actor up in arms? During a recent interview with The Hollywood Reporter, Lee compared Terrence Howards abuse allegations to Sean Penn supposed legal woes, (falsely) accusing Sean of assaulting women (we assume he was referring to Sean's alleged abuse towards Madonna years ago).
Here's exactly what Lee said,
"[Terrence] ain't done nothing different than Marlon Brando or Sean Penn, and all of a sudden he's some f—in' demon. That's a sign of the time, of race, of where we are right now in America."
This clearly didn't sit well with Sean, so he's fighting back…in court.
According to THR, Sean notes that Terrence has publicly admitted to physically abusing women (oh?) and that Lee's comments seemingly appear to condone Terrence's alleged misconduct.
In the complaint Sean argues, "Daniels falsely equates Penn with Howard, even though, while he has certainly had several brushes with the law, Penn (unlike Howard) has never been arrested, much less convicted, for domestic violence, as his ex-wives (including Madonna) would confirm and attest."
Double yikes!
Thoughts?
 
Photos: Splash/Kelly & Michael's IG/The View's IG