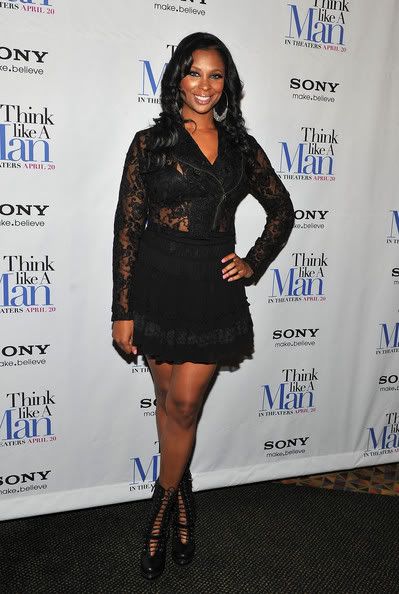 "Basketball Wives" star Jennifer Wiiliams may soon regret filing a lawsuit (if she planned to do another season) against Nia Crooks as VH1 producers are now threatening their own lawsuit saying Jennifer violated her contract.  Get the deets inside and find out about Mary J. Blige's new E! competition show.
After filing suit against Nia Crooks for slapping her on "BBW," Jennifer Williams' press tour, where she said the show degraded women, may soon land her in hot water with producers of the show.
According to TMZ,  the show's execs are currently in talks to file a lawsuit against Jen saying her show-bashing is in violation of her contract -- which forbids cast members from doing any media appearances or press without approval, or speaking negatively about the show.  Maybe her lawyers should have found a way to not mention the show itself and still get her point across.
If all these folks actually make it to the "reunion show," it's going to be some foolish television.
Speaking of television:
E! has announced the addition of "Opening Act" to its lineup and the show stars Mary J. Blige!  On the new talent competition show, headlined by "American Idol" executive producer Nigel Lythgoe, Mary J. Blige and producer Antonina Armato, the three will comb the Internet and give talented amateurs the chance to open for an A-list music star.
It sounds like this could be a fun show as they have lined up some heavyweights.  Music acts that have signed on to let an aspiring musician open for one show on their current tour are Nicki Minaj, Rod Stewart, LMFAO, Brad Paisley, Jason Aldean, Jason Mraz and Gym Class Heroes.
The amateurs will get the news via host Olivia Lee and will be brought to Hollywood for an extreme 'performance boot camp' and intense mentoring sessions with top industry heavyweights.  
"Opening Act" premieres July 9. 
BONUS: Think Like A Man tops the box office for the second week in a row, beating out the new Jason Segal/Emily Blunt movie 5-Year Engagement.  The movie raked in close to $17.4 million, for a cumulative of $60.8 mill gross revenue.  But it's a win/win for comedian Kevin Hart as he co-stars in both movies.  Congrats to the cast & crew!
The Randomness:
1.  Based on a press release from Aretha's camp, Aretha Franklin wants Audra McDonald to play her in biopic.