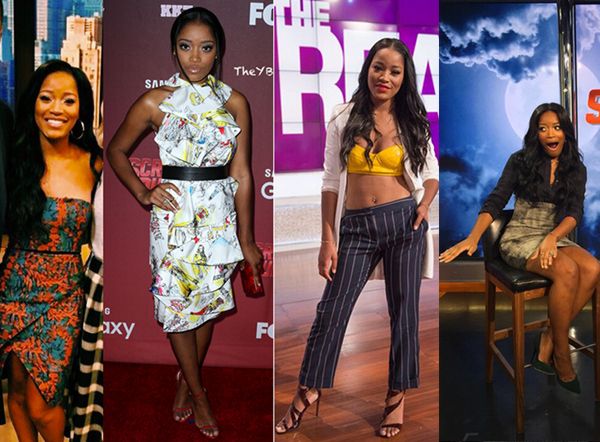 KeKe Palmer is gearing up for tonight's premiere of "Scream Queens" by making as many press rounds as possible.  Get her looks that we're loving inside...
Last night in Hollywood, KeKe and the cast of Fox's new show "Scream Queens" were front and center at The Wilshire Ebell Theatre for their big premiere.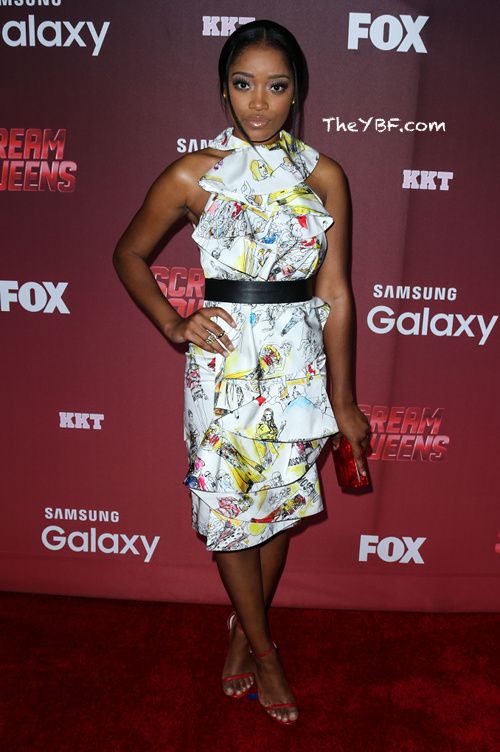 The actress/singer popped up looking fun and fab in a graphic print Moschino dress from the Resort '16 collection paired with red Stuart Weitzman heels.  The 22-year-old plays Zayday Williams, a college student trying to make it out alive in the campy horror show.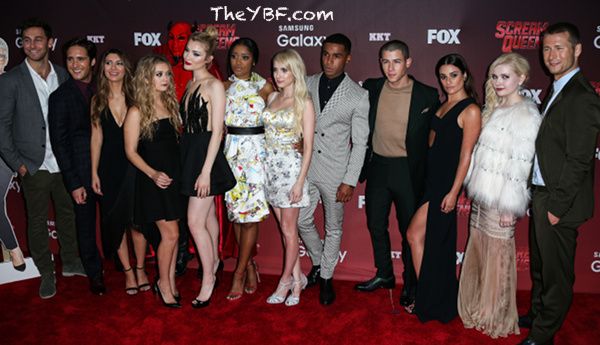 The cast is celeb-filled with Lea Michele, Emma Roberts, Nick Jones, Abigail Breslin, Jamie Lee Curtis and more.  The show premieres tonight at 8p EST. Can't wait!
Niecy Nash also stars on the show, so she brought the silver sparkles to the carpet.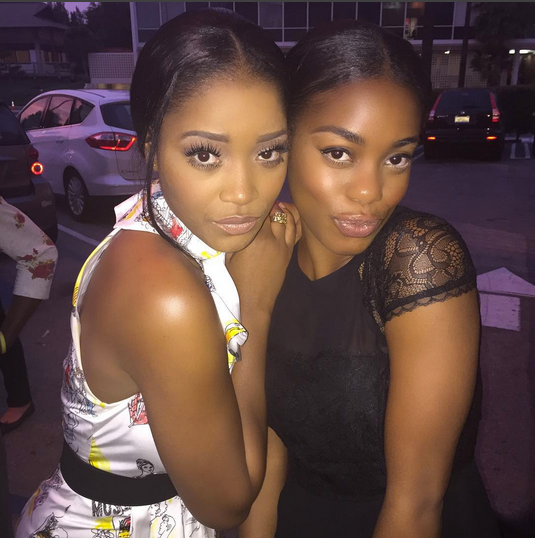 She even made sure her daughter Dia snapped a pic with KeKe. Cute!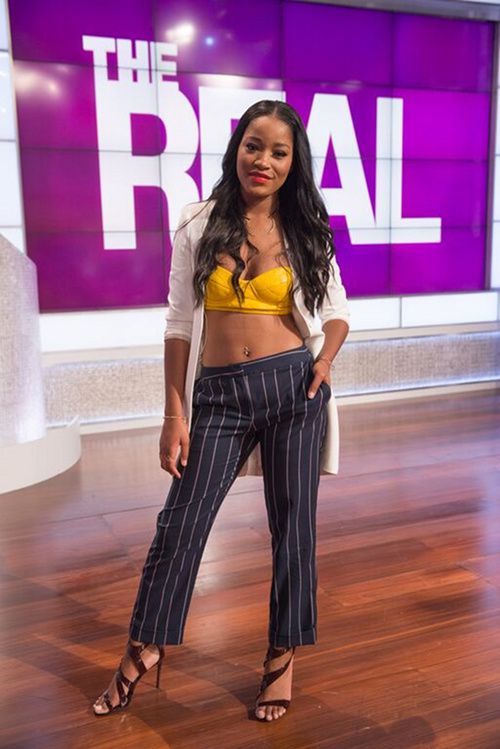 Also today, KeKe's appearance on "The Real" aired and she showed up with pure L.A. style....and her stylists Micah McDonald and Wayman B.  She rocked an A|X Armani Exchange blazer, a yellow leather bralette from Moschino, striped pants from ASOS and a sexy shoe by Tamara Mellon.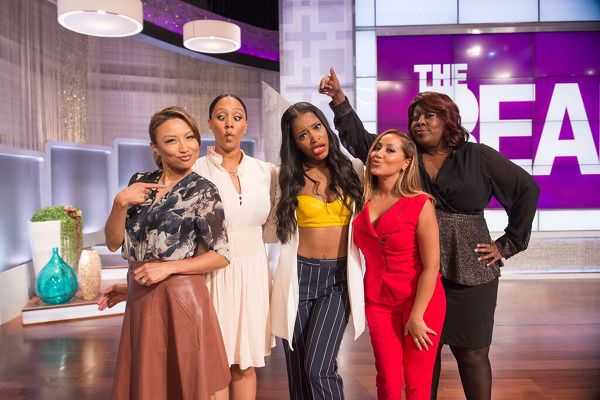 KeKe caught up with the co-hosts to chat about her October magazine takeover from Seventeen to Maxim...and how she made sure her super sexy spread for the latter remained classy.
Chick said she works out every day to get this bawdy, and she also got the supreme co-sign from her "Scream Queens" co-star Jamie Lee Curtis.  She revealed:
"I remember, the next day, like literally the day after I had released those photos, I was on set on Scream Queens. And Jamie Lee [Curtis] was like, "I love the photos. I love how you did that because you still had the strength, but at the same time, the sensuality." I guess you can say and that's important to me."
Check out the upcoming "Grease: Live" star talking about her nervousness before revealing all that skin:
KeKe hopped on an overnight flight to be in NYC early this morning for "Live with Kelly & Michael."  Despite flying all night and working nonstop, the YBF chick remained fresh faced and flawless. That's what being 22 gets you.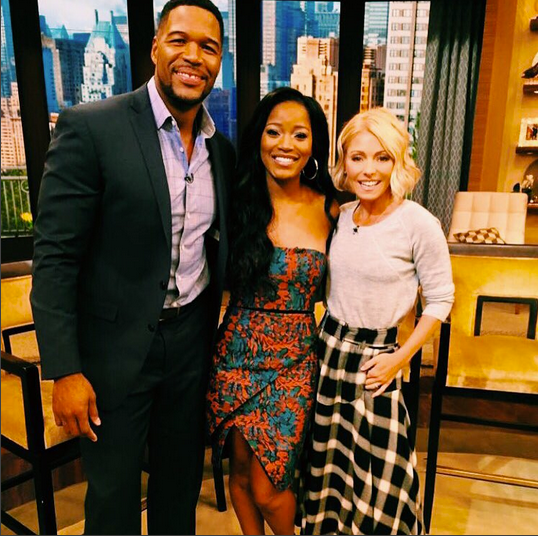 She chopped it up with with Michael Strahan and Kelly Ripa in a super cute Brandon Sun frock and Stuart Weitzman heels all topped off with JLANI jewels.  Loves it.
If you've ever wondered where her name KeKe comes from, seeing that her government name is Lauren Palmer, she evealed this AM hat it's more than just a shortened version of her middle name Keyana.  Her older sister had a stuffed animal she named KeKe, so naturally, she wanted her parents to name the new baby KeKe.  Her parents didn't think the name was marketable (Bloop!), so they named the star Lauren.
After "Live," the upcoming Ice Age: Collision Course voice star did more press in another cute number today: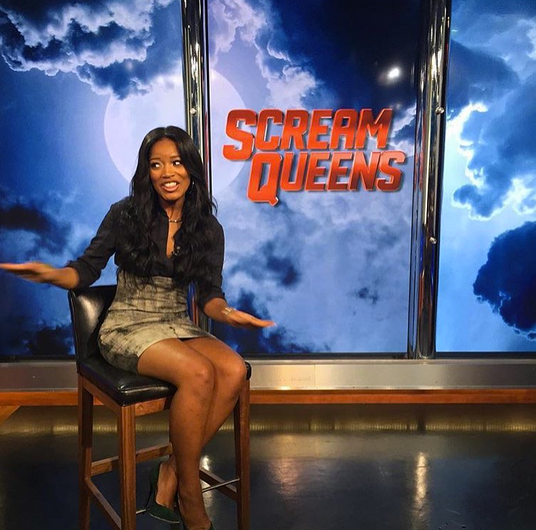 Loving the high waisted skirt.  Work!
And then there's this: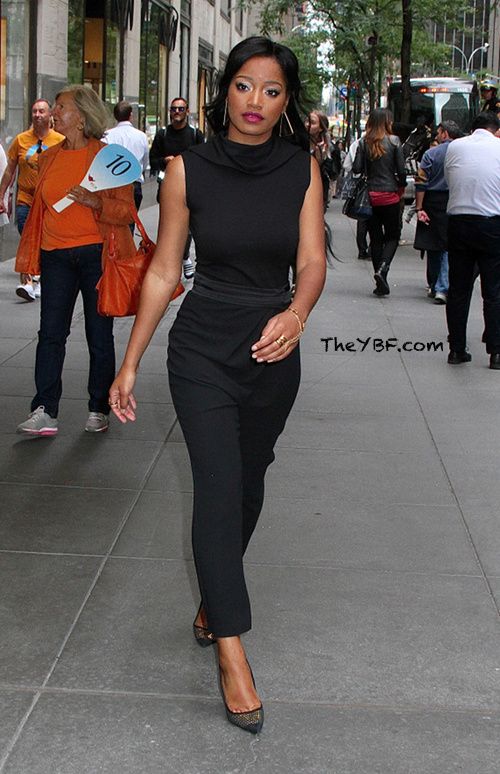 Our newest fave fashionista is on a total takeover of this industry right now.  And we love it.
Photos/Video: Erica Parise/Warner Bros. Television, Getty, Instagram, Rachid AITMBARECK, Splash