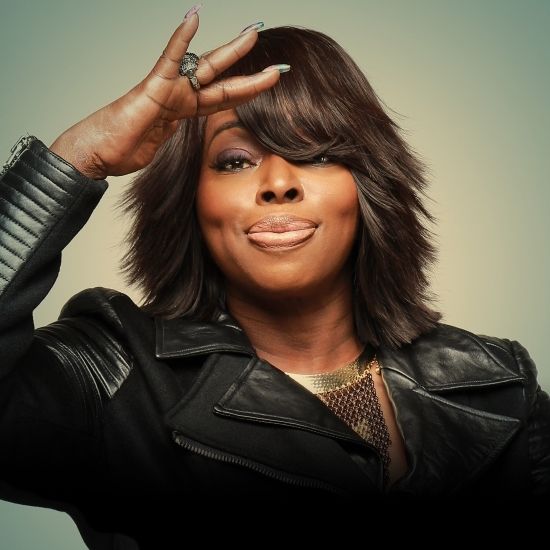 Angie Stone has a new single and new body frame.  Peep Ms. Stone inside and check out Chaka Khan's final dance AND deets on Tracy Morgan's return to the big screen.
53-year-old Angie Stone is coming through and she's got a new look. First off, her health is her first priority. Angie, who suffers from congestive heart failure, has slimmed down 75lbs. Congrats on that!
And she's also back in the studio working on new material. She's just dropped a new single "2 Bad Habits" which is slated to appear on her next album Dream (which is out November 6th).
A "Stone" insider told us that the video is in its final stages. In the meantime, we've got some #BTS footage from the making of the "2 Bad Habits" visual.  Check it out below:
TIDBIT:  A song off the album, "Begin Again," features Dave Hollister.
BONUS:
In March 2015, Angie Stone was locked up after an altercation with her daughter Diamond.  Luckily, we have an update.  The two recently appeared with T.D. Jakes and are on the path to healing their wounds.
In other news: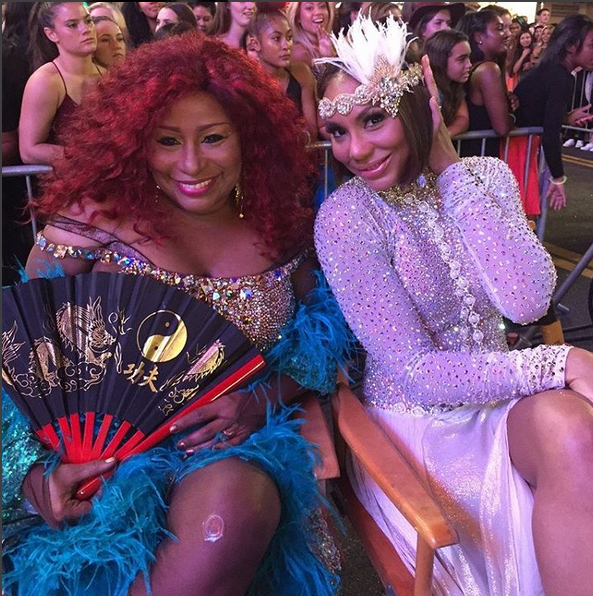 Chaka Khan (shown above with contestant Tamar Braxton) was the first to get eliminated on "DWTS" last night.  Things got off to a shaky start for Chaka last week as she earned 13 out of a possible 30 points.....only reality TV star Kim Zolciak-Biermann did worse with 12 points.
But when Chaka learned she was going home, she took it well. She remarked,"I absolutely enjoyed it."  Then she praised her pro partner, Keo Motsepe. "I feel like I did him such a disservice," she said. "This guy is, by far, one of the best dancers I've ever seen." 
Keo stays getting voted out early, right?
Watch Chaka's Week 2 Foxtrot that goes with the Hometown theme of the show:
Watch Chaka's exit interview:
Back to Keo (below), we'd like to congratulate him on a job well done. As the show's black pro dancer, we don't think he's been given the proper chance to shine. Maybe next year they'll pair him with someone who can go the distance.
And look who showed up.....
Nene Leakes was on hand to cheer on Kim Zolciak and her new body parts...
In movie news...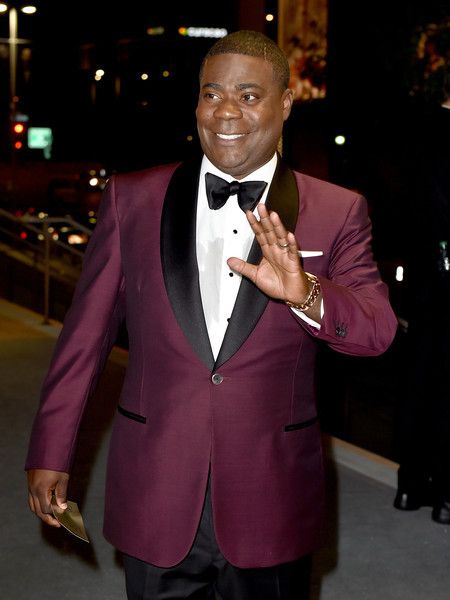 Following his emotional return to the spotlight on Sunday at the 67th EMMYS, we've got the inside scoop on Tracy Morgan's first film since his tragic in June 2014.  He's in negotiations to star opposite Ice Cube and Charlie Day in New Line's comedy "Fist Fight."  Now THAT'S how you make a comeback.
The film will be directed by Richie Keen (based on a script by Evan Susser and Van Robichaux) and is set to begin production in Atlanta this month.
According to The Wrap, "It's Always Sunny in Philadelphia" star Charlie Day plays a mild-mannered teacher who is challenged to a fist fight by a much tougher colleague, played by Ice Cube.
Dean Norris, from "Breaking Bad", will play the school's principal while "22 Jump Street" star Jillian Bell will play a guidance counselor. So far...Tracy's role hasn't been disclosed but we're excited to know he's returning to the silver screen.
Next month, he will return to small screen to host "Saturday Night Live" on Oct. 17th.
Photos via Getty/Tamar's IG/DWTS IG