We've rounded up a few events that some YBFers attended over the weekend. Come inside to peep pics of Nelly and his girlfriend Miss Jackson, Laz Alonso, Justine Skye, President Barack Obama,First Lady Michelle Obama and more….
Rapper turned reality star Nelly and his girlfriend Shantel Jackson partied with cause over the weekend. The twosome hit up Face Forward's 6th annual fundraising gala held at the Millennium Biltmore Hotel in L.A. to help raise funds for domestic abuse survivors.
As you may recall, Miss Jackson has a lawsuit against her ex-fiance Floyd Mayweather for his alleged abusive ways (and a slew of other offenses). She captioned a pic on IG thanking her beau for his support saying, "Thank you for supporting me this evening, and everyday since we have met. @derrtymo you complete me."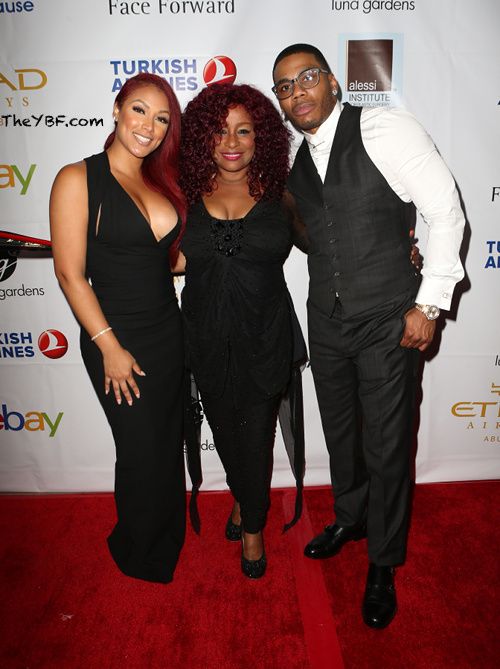 The couple came dressed to impress both rocking Dsquared2 ensembles as they posed it up with "Dancing With The Stars" contestant Chaka Khan, who took a break from the dance floor to support the event's efforts.
At another event....
Beautiful songstress Justine Skye put on a sexy display in a black cut-out number at the 9th Annual ADCOLOR Awards held at Chelsea Piers in Manhattan.
"Mysteries of Laura" actor Laz Alonso was looking dapper as ever to celebrate the best and brightest in the advertising, marketing, PR, media and entertainment industries.
Fashion activist Bethann Hardison attended the event to accept 2015 ADCOLOR Lifetime Achievement Award. Congrats !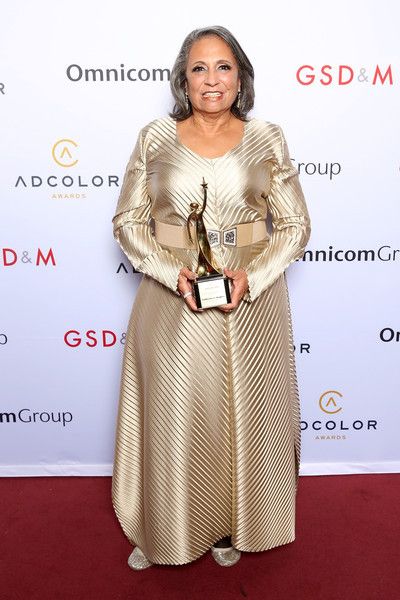 Radio One chairperson and founder Catherine L. Hughes brought regalness to the red carpet after accepting her award. She too was honored with the 2015 ADCOLOR Lifetime Achievement Award. Nice!
Once inside....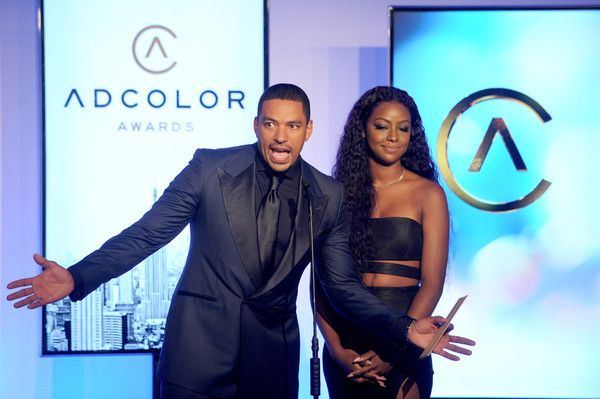 Laz and Justine hit the stage to present an award.
Raptress MC Lyte was tapped to co-host. She also nabbed the CATALYSTS award for using her platform to serve as the voice of a cause/community.
"The Talk" co-host Aisha Tyler was also on the scene to present an award.
In the nation's captial....
President Barack Obama took the stage to deliver a powerful keynote speech at the Congressional Black Caucus Foundation's 45th Annual Legislative Conference Phoenix Awards Dinner held at the Walter E. Washington Convention Center over the weekend.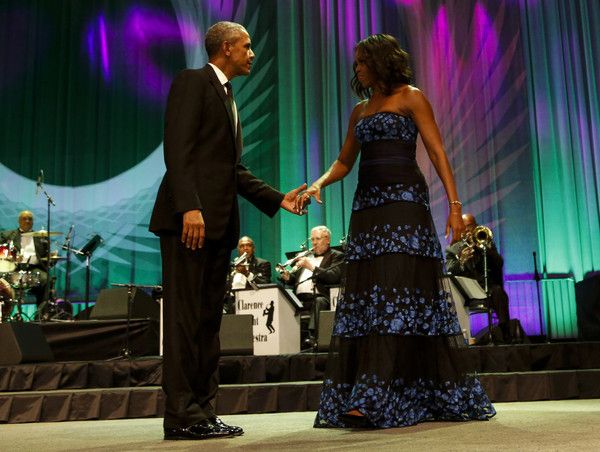 During his speech, POTUS (above joined by his lovely wife First Lady Michelle Obama) touched on equal pay for black women and the disadvantages black women face in the work force. In part, he said,
"Women were the foot soldiers. They strategized boycotts. Organized marches. All of us are the beneficiaries of a long line of strong black women who helped carry our country forward. It's thanks to black women that we've come a long way since the days when a girl like Ruby Bridges couldn't go to school…Black women have been a part of every great movement in American history. Even if they weren't always given a voice."

He added,

"It makes a mockery of our economy when black women make 30 fewer cents for every dollar every a white man earns. That adds up to thousands of dollars in missed income that determines whether a family can pay for a home, or pay for college for their kids, or savor for retirement, or give their kids a better life. And that's not just a women's issue, that's everybody's issue. I want Michelle getting paid at some point!
PREACH POTUS! President Obama also advocated for a black woman to be placed on the $10 bill, he addressed criminal justice reform, law enforcement and more.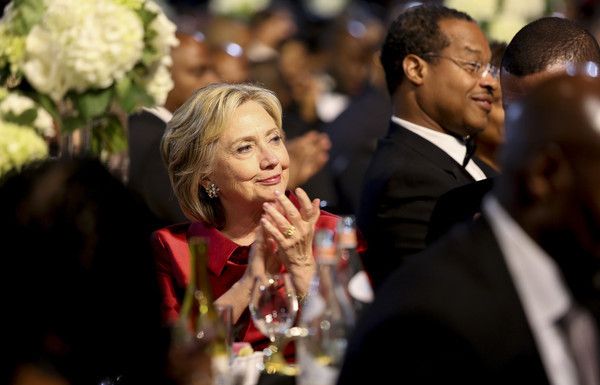 Also during his speech, POTUS briefly mentioned presidential hopeful Hilary Clinton calling her outstanding and used her as an example of a woman who can relate to the struggles women face for equal pay.
Afterwards, President O was swarmed by supporters eager to get a snag a pic of him.
Peep a few clips from his speech below:
Also at the event...
It was a Love Jones reunion at the CBC dinner! Hollywood vets Larenz Tate and Nia Long snapped it up after their hosting duties. He captioned, "The First Lady of #lovejones @iamnialong and I hosting the #CBCFALC15 Congressional Black Caucus Dinner 2015 in #WashingtonDC Mr. President Barak Obama and The First Lady are in the buildling! Photos to come! #Presidential" LOVE how neither of them appear to have aged a bit.
"News One Now" anchor Roland Martin snapped it up with Vice President Joe Biden where he captioned, "My Selfie with @VP Biden at @CBCFInc. We had a brief discussion about a few things. I've always enjoyed a warm relationship with him. Then others asked me to take their photos. Biden says: "I didn't know Roland was a photographer!" See, I hate when folks take all day taking photos with me, so I just said, "I got it." Otherwise the VP would still be waiting for some folks to take the photo! LOL" Ha!
Soulful songstress Chrisette Michele (rocking a HALSTON HERITAGE dress) was tapped to hit the stage for a performance during the dinner.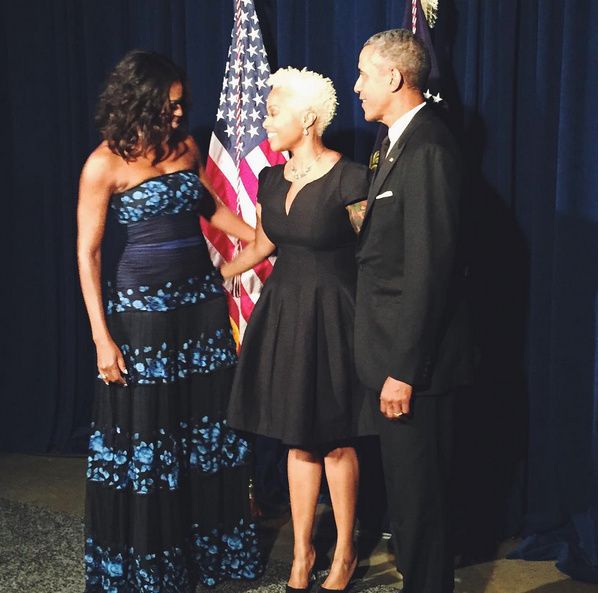 After her performance, Chrisette got the chance to chop it up with POTUS and FLOTUS, which she captioned, "And then I laughed a little with The President and The First Lady | The second time I've had the honor of entertaining her royalty (@michelleobama | @barackobama)" Nice!
Fun times.
Photos: WENN/Getty/Roland's IG/Chrisette's IG