Welp…with cuffing season right around the corner it appears one chick just got chose. Rick Ross' girlfriend Lira Galore has been busy posting snaps on her SnapChat of her new diamond ring and band.  She's also making note that she said "Yes." More inside….
If you were holding out hope that Rick Ross would get back with his ex-Ming Lee...you're not in luck. It appears the MMG honcho MAY have popped the question to his new girlfriend Lira Galore with a huge diamond ring for her fourth finger, left hand.
Yesterday, Lira (who we believe is around 23 years of age) posted up a series of snaps to her SnapChat showing off her new diamond ring...AND (wedding) band:
She captioned her video clip "Yes" and it sure looks like an engagement ring sitting on THAT finger. You'll recall, the twosome were first linked together back in March 2015, seemingly ONE month after Rozay called it quits with Ming. Remember when he celebrated his 39th birthday with Ming in February 2015? Hmph.
While Rozay hasn't said a word about an engagement on his social media accounts (yet), Lira is doing enough snapping/showing off for the both of them: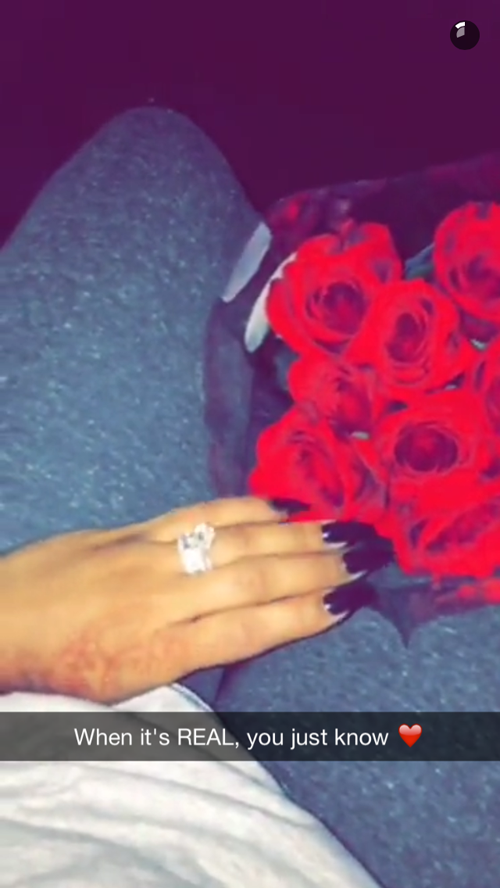 He also gifted Lira a second diamond ring, new diamond earrings and a new diamond necklace. As for where he copped her new jewels...
Jeweler Gabriel Jacobs at Rafaello & Co. supplied all the diamonds much to Lira's delight. He also congratulated them on their supposed engagement saying, "My brother @richforever and his beautiful lady @lira_galore stopped by today and had themselves a serious shopping spree #riperic #rafaellokings #teamRafaello"
And this morning....
Chick was still showing off her ring and band. She's clearly super excited about it.
She even got a congratulatory message from Amber Rose.
This should get interesting...
Photos: Lira's Snapchat