Well-respected football players Richard Sherman and Michael Bennett both support #BlackLivesMatter, but they've got differing views about what's holding us back. Watch both man articulate their points inside....
Seattle Seahawks ballers Richard Sherman and Michael Bennett are making headlines for their contrasting views on the #BlackLivesMatter movement.  This week, both gave impassioned speeches about #BLM and it's got the sports world buzzing.  
It all started after #BLM activist King Nobel posted the unauthorized photo above with an offensive meme caption.  The outrage over the photo prompted a response from an internet user named "Richard Sherman" who had a few things to say about the pic and its implications.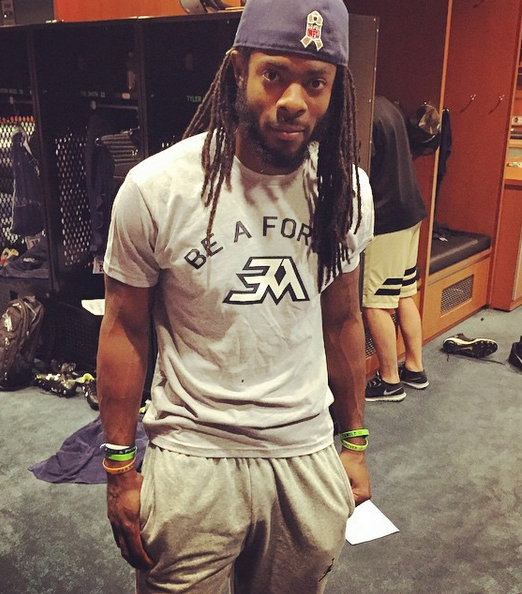 While a few conservative blogs picked the story up, we've since learned that the REAL Richard Sherman DID NOT write a response to King Noble, but he did have something to say about #BLM. 
During a press conference this week, Richard talked to reporters about #BLM, revealing that he thinks the Black community should first address "black-on-black" crime before talking about police injustice.  Sighs.
Here's his full speech and transcript:
Before we get started, I'm gonna address the — because there was some article written. You know, you guys have seen it. Talking about King Noble and all this. I did not write that article. A lot of people had sent it to me over the weekend, but I thought this would be the best place to address it. There were some points in that article, or in that post, that were relevant and I could agree with. But there were also some obviously ignorant points in there. I don't think any time's a time to call out for an all-out war against police or any race of people. I thought that was an ignorant statement. But as a black man, I do understand that black lives matter. You know, I stand for that, I believe in that wholeheartedly.

But I also think that there's a way to go about things, and there's a way to do things. And I think the issue at hand needs to be addressed internally, and before we move on, because from personal experience, you know, you have living in the hood, living in the inner city, you deal with things, you deal with people dying. Dealt with a best friend getting killed ... it was two 35-year-old black men. Wasn't no police officer involved, wasn't anybody else involved, and I didn't hear anybody shouting "black lives matter" then ... and I think that's the point we need to get to is that we need to deal with our own internal issues before we move forward and start pointing fingers and start attacking other people. We need to solidify ourselves as people and deal with our issues, because I think as long as we have black-on-black crime and, you know, one black man killing another ... if black lives matter, then it should matter all the time. You should never let somebody get killed—that's somebody's son, that's somebody's brother, that's somebody's friend. So you should always keep that in mind.

And there's a lot of dealings with police officers right now, I don't think all cops are bad. You know, I think there's some great cops out there, who do everything in their power to uphold the badge and uphold the honor and protect the people in society. But there are bad cops, and I think that also needs to be addressed. I think the police officers we have right now — you know, some of it is being brought to light, because of video cameras, everybody has a camera phone. But these are things a lot of us have dealt with our whole lives. And I think right now is a perfect time to deal with it. The climate we're in ... everybody's being more accepting, you know, so I think the ignorance should stop. I think people realize that, at the end of the day, we're all human beings. So, you know, before we're black, white, Asian, Polynesian, Latino—we're humans. So, it's up to us to stop it. Thank you."
Yetserday, Richard's teammate Michael Bennett revealed that he was taken aback by Richard's comments and has totally different views on #BLM. For Michael, it's all about the social injustice of the people who are supposed to protect the community (e.g. cops).  And who are paid by the community to do so.  He argues that Black Americans must demand fair and equal treatment from law enforcement authorities...
During a press conference Michael stated:

Oh yes, I was reading Richard Sherman's quotes yesterday. I would like to say I disagree with some of the things that he said yesterday. I think when people talk about the black lives matter thing, I think he's misinterpreting it, that black people kill black people, white people kill white people. People kill people every day.

I think the black lives thing is more about the social injustice, not so much the injustice of people killing within the community, it's about the social injustice of the people that is supposed to protect them,and building the community through the black community. Not just black people too, because you see a lot of people within the Black Lives Matters organization that are white, Spanish, they are all dealing with the same type of hardships that are going on around the world.

I think sometimes people don't take the time to look into what things really believe, or what's really going on in the world, and I think when you say something and are in the position he is in, I think sometimes people take it and run with it. I think there are a lot of murders in a lot of communities, but a lot of time it deals with the segregation within the communities around the world. You look around, there is a white neighborhood, a black neighborhood, a Spanish neighborhood, instead of just calling them all American neighborhoods, or American communities. I think a lot of times people just get intertwined with different people and they don't understand about what is going on in the world.

I think black lives matter a lot, and I agree with the Black Lives Matter movement. And I think a lot of times of people just don't understand the movement or things that are going on, and it's all about education and things like that too.

(inaudible question)

Well we had a conversation about it. His opinion is different from mine. My opinion is, I believe in the things that people are trying to do. These things go all the way back to 1955, to Emmett Till. You gotta think about it, the last hanging in America was in the 60s. There's a lot of social injustice that's been going on for awhile.

One of my favorite people that I read about all the time is Dick Gregory. I go back checking out his books, and you see what's going on within the community and the world. Now people are starting to see people for who they are, and not just their color. There is still a small amount of people that want people to see people for their color and not their character's that they have or the person that they come with or the person who they are or how they were raised. People are too worried about if he's Spanish or if he's black or if he's Chinese, and not just talking to them and saying we're all just people at the end of the day.
We love when athletes who have been given a platform use said platform to shed light on a movement that matters.
Which statement do you agree with most?
EXTRAS:
1. Quincy Jones rushed to hospital due to severe chest pains, but he is reportedly fine.  STORY
Photo via Richard's IG/Michael's IG