Cordell Broadus shockingly withdrew from UCLA's football team....but was it to pursue his passion for designer men's underwear?  More inside...
A few weeks ago, we brought you the shocking news that Cordell Broadus, a four-star receiver, had decided to turn down his UCLA football scholarship to focus on other projects, and now we know exactly what he'll be doing.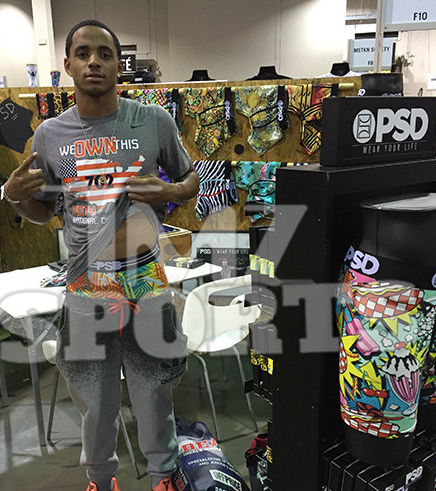 It turns out......Snoop Dogg's son (who also runs his own film production company) has an "eye" for design.  He has partnered up with PSD, a high-end underwear company, to create a few funky prints. "PSD" founder Curt Flaitz shared the exciting news with TMZ Sports saying, "He's a creative guy who's young and hungry. And he's been wearing our stuff forever."
If you're asking yourself who else wears PSD,  Curt describes the typical PSD consumer this way: "You know how there's a cool kids table at lunch. We make our products for those people."
Although PSD already counts ballers Chandler Parsons, Marshawn Lynch and rapper Snoop Dogg (shown above with wife Shante) as celebrity supporters of the brand, he says he's bringing in Cordell to attract a younger crowd. The two will meet up for the first time in a few days to start their process....
 Photo via CBroadus Instagram/PSD IG