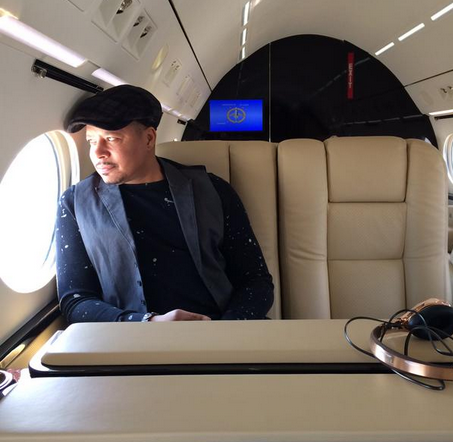 In the latest issue of Rolling Stone, "Empire" star Terrence Howard shares some shocking details from his troubled childhood, including seeing his father kill someone.  Read highlights from the bizarre interview inside and see Stevie Wonder bring a man to tears....
With Season 2 of "Empire" right around the corner, ROLLING STONE sat down with Oscar-nominated actor Terrence Howard (shown above with his son Qirin Howard) for an in-depth interview that raises more questions than it answered.  Terrence comes across as a self-absorbed egomaniac with a tumultuous childhood, a closet full of demons and love/hate relationships with women....starting with his mom (whom he said wanted to abort him).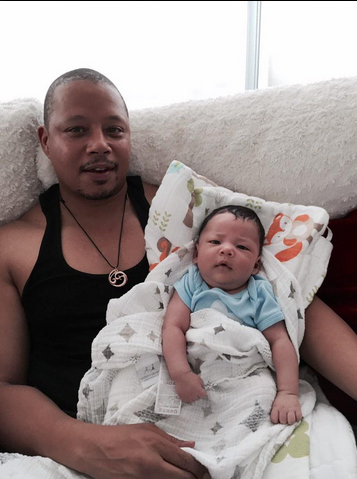 Then there was the time when he was two years old and he watched his father murder a man. Yeah. That really happened. Plus, he's also developing his own system of mathematics named Terryology where 1x1=2. He says it's going to be the new TRUE universal math. 
Terrence also address the domestic violence accusations against his first two wives, talks about "effeminate men" and more.
Grab some tea and a good head scratcher 'cause it's gonna be a bumpy ride.....
On problems with his money:"You know, all my checks from Fox are being held for garnishment, because of my ex. I'm broke as can be. But my wife, she did well for herself, so she's covered us. This place, she's renting it. I'm suffering. There's nothing worse than being a broke movie star."
On being labeled difficult:"Well," he says, "I was difficult, but only because I would not conform. During The Best Man, they kept saying about this one line, 'This is a joke, so say it as a joke.' I was like, 'Y'all do what you want, but I'm not going to mutilate this moment.' And I said the line like I wanted, pausing before saying, 'Y'all know there ain't nothin' better than pussy, except some new pussy.' That seals my character, who he was. But after that, they spent the next year talking about how difficult I was. Then the movie comes out, I get all these accolades, and now the producers are like, 'Oh, you made the movie.' But now they've set it up that Terrence is difficult, and so that has followed me."

On getting arrested for hitting his first wife:"She was talking to me real strong, and I lost my mind and slapped her in front of the kids," he says. "Her lawyer said it was a closed fist, but even slapping her was wrong."

On "fighting" with second wife Michelle Ghent:"She was trying to Mace me," he says, "and you can't see anything so all you can do is try to bat somebody away, and I think that something caught her. But I wasn't trying to hit her."

On seeing his dad stab a man to death with a nail file when he was two:"I was standing next to my father, watching," Howard says. "Then stuff happened so quickly — blood was on the coats, on our jackets — and then my dad's on a table and then my dad is gone to prison."

On what his dad taught him: My daddy taught me, 'Never take the vertebrae out of your back or the bass out of your throat. I ain't raisin' sheep. I raised men. Stay a man.' But being a man comes with a curse because it's not a society made for men to flourish anymore. Everything is androgynous, you know? The more successful men now are the effeminate."

On Terryology:"Like with these things....In those four years where I was shunned and walked away from everything, look at what I've created. But I was not trying to make this when I made it, I was just trying to find the four forces, so I took four planes and put them together where they fit naturally, an equilateral triangle, and it created a circle, a triangle and a square, and from there everything else was created just following my hands leading to a good place."

Since I was a child of three or four, I was always wondering, you know, why does a bubble take the shape of a ball? Why not a triangle or a square? I figured it out. If Pythagoras was here to see it, he would lose his mind. Einstein, too! Tesla!"

On 1x1=2:"How can it equal one?" Howard said. "If one times one equals one, that means that two is of no value because one times itself has no effect. One times one equals two because the square root of four is two, so what's the square root of two? Should be one, but we're told it's two, and that cannot be."

Terrence's third wife Mira Pak on Terrence: He's so selfish. But, you know, he didn't have much of a childhood. It was difficult for him being picked on and bullied all the time. We don't have a normal life. In our two years together, I've only gone to restaurants with him two or three times. We've never been to the supermarket together. We've never been to the movies. I've never gotten a gift from him. Never, never.

His mom wanted to abort him: My mom got pregnant with me when she was 15," he says later on. "She'd already had my older brother and was headed to the abortion clinic with my uncle, when they stopped at a red light and she was like, 'No, this would not be happening if he wasn't meant to be here.' "

On figuring out who he is:"I spent all my time as a kid trying to fit in," he goes on. "My uncle said to me, 'Why are you so busy trying to fit in when you were born to stand out?' I was 14. He said, 'You're a young prince, and someday you shall grow up to be a king.' Many years ago, Oprah said to me, 'Your crown is waiting right there. Pick it up and put it on.' I remember being in the womb, found comfort there, and have been aware since that moment. As a result of the travesties I've gone through, I have become awakened. I mean, after spending time with me, you can see a good part of my nature. I'm on my own path, and I like the pebbles of my cobblestones."
On television...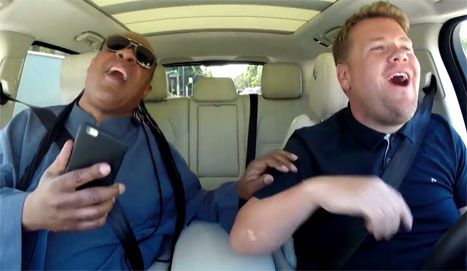 Music icon Stevie Wonder appeared alongside James Corden, on The Late Late Show where he brought he host to tears during the latest installment of "Carpool Karaoke."
The segment starts out very funny with Stevie in the DRIVERS seat, insisting that he's a great driver...but he couldn't find his license.
They hit the road to the sounds of "Superstition." But things got sentimental when Stevie hopped on the phone with James wife to serenade her with an a cappella version of "I Just Called to Say I Love You." It brought him to tears!
By the way....Stevie added 20 new dates to his Songs in the Key of Life Performance Tour, starting September 30th at the Bell Centre in Montreal.
 
Photos via Terrence's Twitter