Gracey Gealey and Ta'Rhonda Jones of "Empire" are, in Instagram speak, Everything #GOALS.  After this weekend's Season 2 premiere party, we've got girl crushes and more.  Peep what we discovered inside...
Aside from these two being quite fabulous, Grace Gealey and Ta'Rhonda Jones are both making a name for themselves in Hollywood thanks to being breakout stars of "Empire."  Anika/Boo Boo Kitty and Porsha play their manipulative career-climber and "ghetto assistant" (Lee Daniels' description) roles to perfection...but both characters are polar opposites from who these ladies are in real life.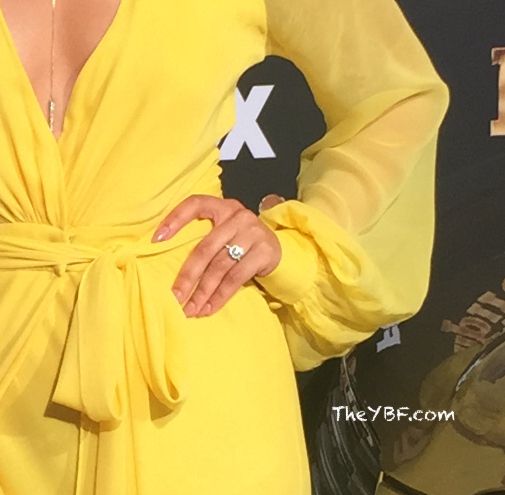 We caught up with Grace and Ta'Rhonda at the huge "Empire" second season premiere at Carnegie Hall this past weekend as the ladies chatted with us in front of the new Lincoln MKX, the exact car that will appear in an episode of the upcoming season. Before we could even ask Grace about the fabulousness that was her canary yellow Haney gown, we were blinded by that FAT engagement ring of hers.  She's on the hottest show as her first major gig after earning a Masters degree, has one of the hottest men on TV, and she's got a super hot ring...no wonder we have a girl crush.
While Grace remained mum about her new fiance (co-star Trai Byers) on the gold carpet, she wasn't shy about having love written all over her face.  The Caymanian actress brought the sweetness and had some fun with her co-star making faces and serving up major leg. (Check the video below)
At the after party: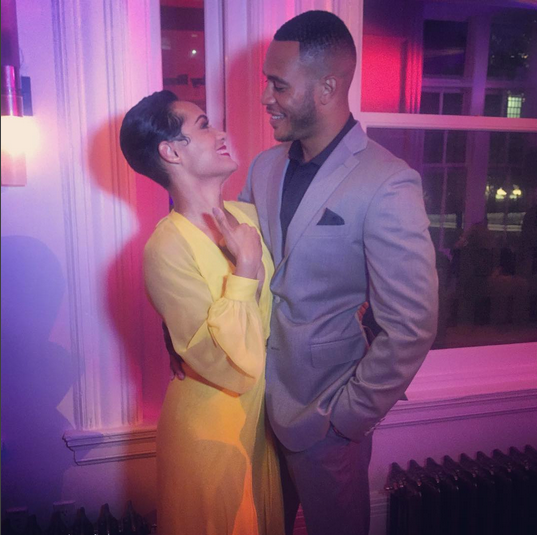 Grace and Trai couldn't keep their hands off each other.  And we don't blame them.
As for Ta'Rhonda, she definitely gave us a shock on the golden carpet when she revealed to us that she was the designer of the sexy white gown she was wearing.  Yep, chick is a budding fashion designer on the side. 
And apparently, she's an actress on the side too as her first love is rapping.  T chatted up the audience after the screening of the first episode of season 2 telling us that she thought she was auditioning for a record deal.  A Hustle & Flow Records deal to be exact.  Ha!
Ta'Rhonda said she answered the casting call thinking it was an audition for a record deal....and was wondering where Terrence Howard was the entire time.  By the way, she almost didn't take the gig!  The Chicago native opened up on stage saying, "I was in a really hard place in my life.  I was working as an assistant in a nursing home.  I had gotten an offer for another job.  And then I got the offer to play this role on 'Empire.'  But I had never acted before."
She said the only reason she took the gig is because of a sign from God.  She revealed, "I told God I didn't know what to do and to show me a sign.  My brother was killed not too long before this and I had kept his watch.  The watch started going off nonstop a few minutes after I asked for a sign."
She decided to take a leap, and the rest is history.
Check out video Grace and Ta'Rhonda cutting up on the carpet below:
Talk about GOALS!
Photos: TheYBF.com