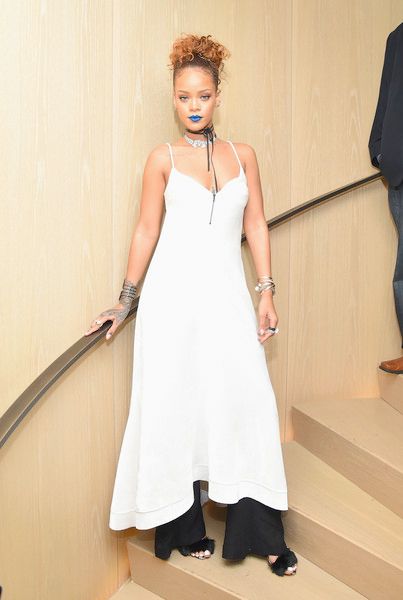 Rihanna and Travis Scott are taking things up a notch furether fueling dating rumors. At Rih's NYFW Block Party last night, the twosome was spied all hugged up with Travis planting kisses on RiRi's neck. And, of course, there are pics. More inside….
Over the past few days, Rihanna and Travis Scott have been tied at the hip, sparking rumors the two are dating. And it appears they have seemingly made it offical.
Last night, the Pop princess hosted a star-studded "block party" at The New York EDITION Hotel. And everyone was there, including Travis Scott. Spies on the scene catpured pics of the supposed love birds getting all cutesy with one another with Justin Timberlake looking on:
The Houston rapper showed the Bajan beauty with kisses on her neck and Rih returned the affection whispering sweet nothings in his ear throughout the night:
Rihanna and Travis Scott at her Block Party in NYC - September 10th pic.twitter.com/kqJrofZAeG

— Rihanna News (@TeamOfRihanna) September 11, 2015
Mmhmm...
We've had our eyes on the twosome for the past week. RiRi has made it her business to attend three shows in a row where the Houston rapper performed at the Gramercy Theatre. The receipts are HERE,HERE and HERE. Not only that, the "BBHMM" singer was also in attendance at Travis' birthday celebration in L.A. earlier this year.
After each show Rih and Travis would party it up a various NYC nightclubs. While it all seemed like a budding friendship at first, it has quickly turned into a budding romance. And we're not exactly sure what to think of it all.  So much for Formula 1 racecar driver Lewis Hamilton.
If the rumors are true, we can expect to see more coupledom flicks of these two in the near future. And we wonder if they plan on hopping in the studio together for Rihanna's ever delayed R8 disc.
Photos: Getty