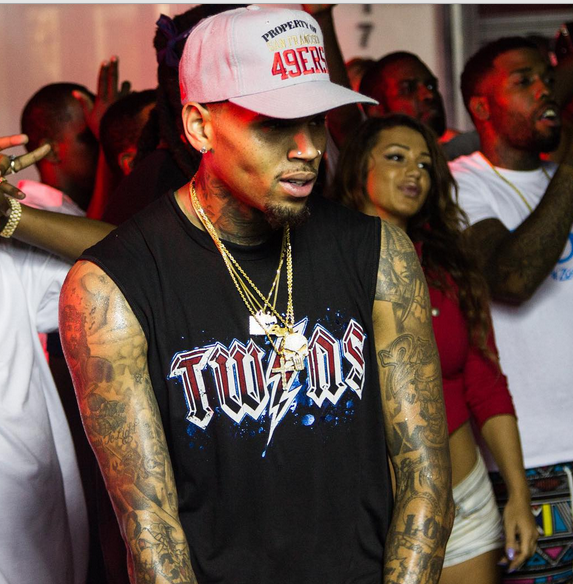 Remember the $50K dustup where Chris Brown's home was burglarized as his aunt lay tied up in a closet?  Cops are close to nailing the culprits and gang ties are suspected plus we've got a statement from the Pride promoters who are upset Chris bailed on them....
A few weeks ago, we told you about a shocking robbery that left authorities scratching their heads and R&B star Chris Brown shaken.
In case you missed it, Chris' mansion in the San Fernando Valley was robbed during a home invasion where his aunt was terrorized and held at gunpoint!
According to authorities, there were three-armed suspects who tossed Breezy's aunt into a closet and then proceeded to ransack the house in search of money, jewelry and other items.
Shortly after the incident, we began hearing rumors that it was an inside job and now cops are very close to closing the case.
According to TMZ, cops are closing in on a few known associates of the Bloods. Yes......gang members may be involved....again.
It's been reported that cops were able to use surveillance footage from Chris' Tarzana home matched against surveillance video of the SAME getaway car at a nearby gas station.
Cops have a partial license plate and it's led them to a home in Compton and someone who may be a member of the Bloods. Yep....STRAIGHT OUTTA COMPTON. You can't make this up.
We'll keep you posted as to how this one develops but we hope this will make Chris rethinking surrounding himself with gang members.
In other Chris Brown news......
He was involved in some controversy over the holiday weekend after he skipped out on a scheduled appearance to introduce Teyana Taylor at an PRIDE party for women.  When fans got pissed at Breezy for bailing, he got on Twitter and claimed he didn't bail on any appearances/shows because he wasn't aware he had any.
Not so fast.......
We received a statement from Traxx Girls, Inc. via founder Melissa Scott, who says Chris was slated to appear at their annual Saturday night party during Pure Heat Atlanta Black Gay Pride. She said,
"We are extremely disappointed Chris Brown did not show up to our annual Saturday night party during Pure Heat, Atlanta Black Gay Pride weekend. We negotiated a contract in good faith and paid the agreed upon deposit via wire transfer. We fully expected Mr. Brown to appear for our ladies and we are shocked and saddened that he would deny that we had an agreement. At this time, Traxx Girls is reviewing its options with Legal counsel."
SMH....sounds like Melissa has a signed contract in her possession!  Show the receipts!
Therefore, it will be hard for Chris to argue that he didn't know about this appearance to a judge.....
We will stay posted on this too....
Photo via Chris' Instagram