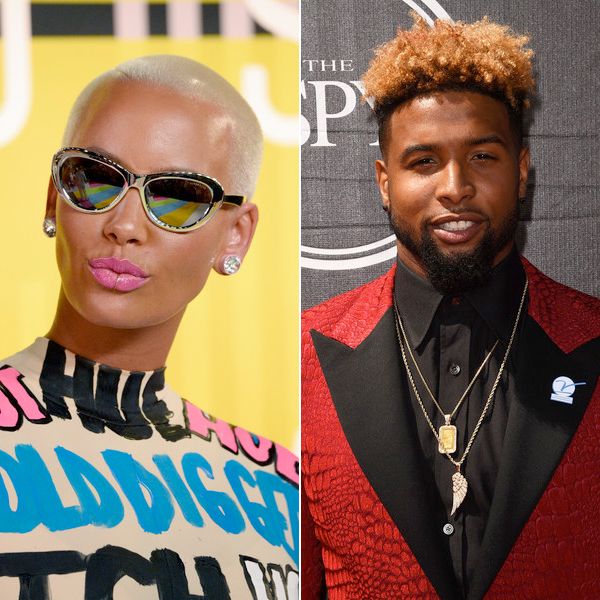 Has Amber Rose found her a new beau? That's what we're hearing. And this time she's supposedly getting cozy with NFL star player Odell Beckham Jr. Get the deets on their alleged romance, decide if you believe it and find out how she checked a few IG trolls (once again) inside….
It appears Amber Rose and Machine Gun Kelly may be a thing of the past if we're to believe new reports about her love life. She's supposedly moving on from the rappers to professional athletes. Of course. 
According to TMZ, the Sister Code actress is reportedly in the "early stages of dating" New York Giants wide receiver Odell Beckham Jr. You know, the guy who made that incredible one-handed catch during his rookie season last year that earned him the Best Play ESPY award during this year's ceremony.
Well…sources allegedly close to Amber and Odell are spilling the relationship tea and they claim the twosome can't get enough of each other. They say the bootylicious blonde bombshell and the NFLer met through a mutual friend a few months ago and have gone out on a few dates, notably a private dinner at TAO restaurant in NYC last month. It seems Odell has a bit of a romantic side as well, gifting the "How To Be A Bad B*tch" author a bouquet of white roses on one of their dates. Cute.
Sources claim the relationship is very new and they are taking it slow to get to know each other. If true, we'll likely start seeing them post pics of one another on their social media accounts like most new couples do these days.
We doubt if Odell will attend her upcoming Slut Walk in L.A. on October 3rd since he has a game against the Buffalo Bills on October 4th. But, if they are dating, they would surely make an interesting couple.
So….do we believe it?
 
In other Amber news....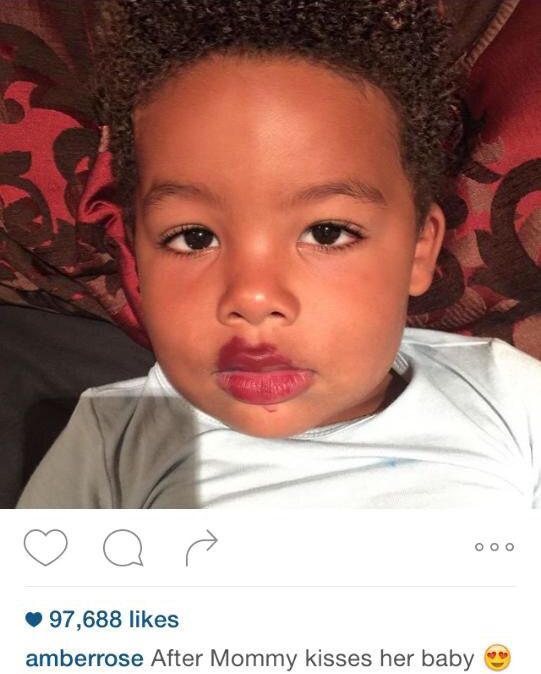 The 31-year-old entrepreneur went into full mommy-mode today after Instagram trolls came for her on social media (again). Wiz Khalifa's ex-wife posted a pic of her son Sebastian (above) with lipstick all over his mouth after showering her baby boy with kisses.
Apparently, kissing on your child is a crime these days to some people because folks started going off making ridiculous comments unnder her post saying it's gross to kiss him on the lips. Well, Amber went into defense mode and told those who have a problem with her kissing her son exactly what to do and how to do it. And it wasn't nice.
She posted:
 
Bloop!
Photos: Getty/Amber's IG