As President Obama's three-day trip to Alaska comes to an end, we have a fun video of him dancing with a few school children.  Watch it inside...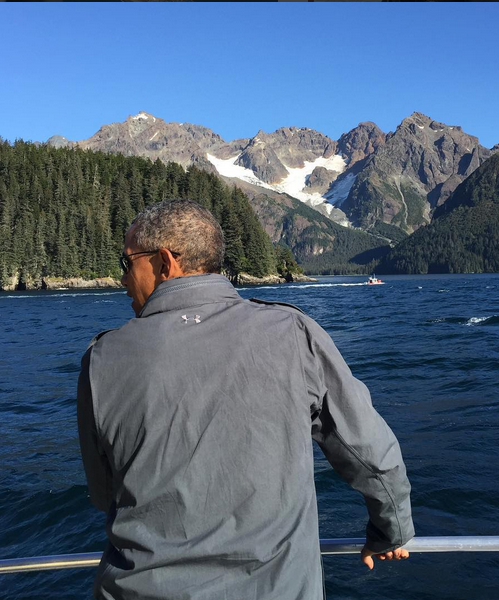 Earlier in the week, President Obama traveled to Alaska this week to film an appearance for the NBC show "Running Wild with Bear Grylls" and we followed along...via Instagram.
Why Alaska? Well....the President visited the state hoping to use some very real "changes" in the atmosphere prove to naysayers that climate change is real.  The proof is in the pudding....and the pudding is receding.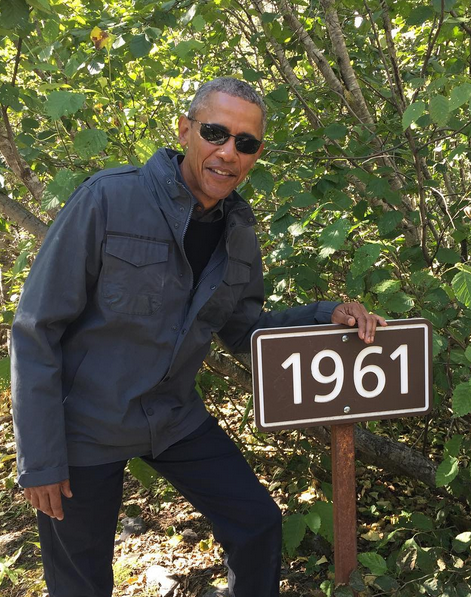 We told you about his visit to Exit Glacier yesterday, and he recently shared another one. He captioned,
"Markers throughout Exit Glacier show how much it's receded over time. The impacts of climate change are real, and the people of Alaska are living with them every day. It's never been more important for us to work together to address this challenge. -bo"
Can you imagine that years ago that marker was completely submerged?  Well...what happens now?  What does this mean for the environment?  How will this affect our nation?  
These are all questions POTUS wants to raise. 
Mr. President has been speaking quite a bit about "receding waters." How serious is it? Check the photo above. He explained,
"This is Kivalina Island, an Arctic town that's already receding into the ocean because of rising sea levels. For many Alaskans, it's no longer a question of if they have to relocate – but when. There aren't many other places in America that have to deal with questions of relocation right now. But there will be. What's happening here is America's wake-up call. -bo"
Climate change is real....WAKE UP (in our Spike Lee voice).
Here's some fun stuff: President Obama stopped by Dillingham Middle School in Dillingham, AK where he joined a group of children to perform their traditional dance called the Yup'ik. He told them, "I've been practicing!"
Check it below:
Always America's Dad-In-Chief.  Adorbs!

Photos via @WhiteHouse Instagram