So…those rumors swirling around last month about Teyana Taylor and Iman Shumpert expecting ARE in fact true. Despite Teyana saying they weren't.  Get the deets and find out what they're having inside…
Well this is interesting.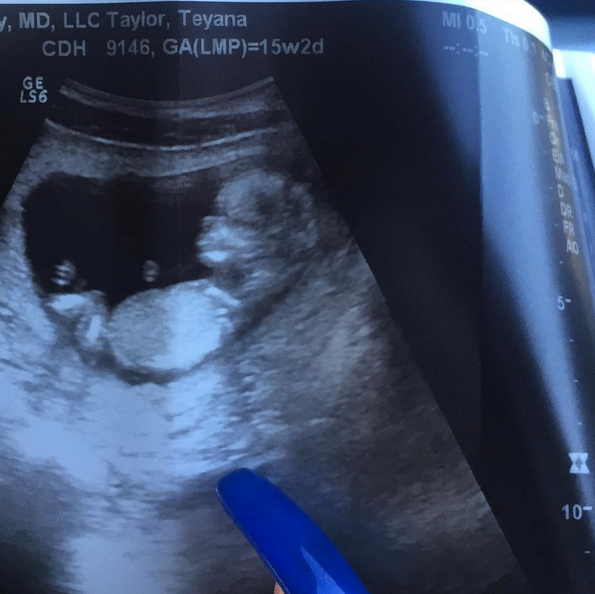 Last month, rumors that "Maybe" singer Teyana Taylor and her NBA baller boo Iman Shumpert were making rounds on these Internet streets, claiming they were expecting their first child together.
Teyana wasted NO time to hop on Instagram to clap back at the alleged pregnancy rumors. She posted a picture of her flat, washboard abs to her Instagram account with the caption, "Thursday no throwback bih #RuthlessRecords #StraightOuttaSources," in an effort to say she's not pregnant.
But, it appears the picture she threw up WAS a throwback pic.
Today, her Cleveland Cavalier baller boyfriend took to his Instagram to make the official announcement that they are pregnant with their first child together! He posted the baby's sonogram picture on IG with a long, sweet message dishing on all the baby deets. He revealed they're having a baby girl and she's expected to make her arrival on January 16, 2016, which means she's about 5-6 months along.
Not only that, the happy couple has already picked out a name: Iman Tayla Shumpert Jr.
Hmm…Iman must not know "Jr." doesn't normally go at the end of a little girl's name…but you know how everyone is always trying to be different, so that could be the case.
Check out his full announcement below: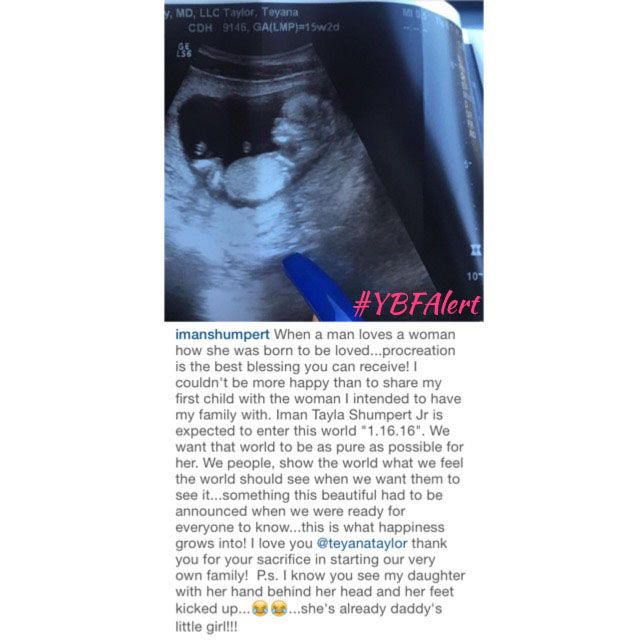 When a man loves a woman how she was born to be loved...procreation is the best blessing you can receive! I couldn't be more happy than to share my first child with the woman I intended to have my family with. Iman Tayla Shumpert, Jr. is expected to enter this world "1.16.16". We want that world to be as pure as possible for her. We people, show the world what we feel the world should see when we want them to see it...something this beautiful had to be announced when we were ready for everyone to know...this is what happiness grows into! I love you @teyanataylor thank you for your sacrifice in starting our very own family! P.s. I know you see my daughter with her hand behind her head and her feet kicked up....she's already daddy's little girl!!!
We heard she wanted to wait until her appearance on Chris Brown's One Hell Of A Nite tour was complete before announcing.  So much for that.
Now, it looks like she and her ex-bestie Tae Heckard (who is pregnant with Teyana's ex Brandon Jennings' baby) are expecting at the same time.
Well...Congrats to the couple!
Photos: Iman's IG