President Obama traveled to Alaska this week to film an appearance for the NBC show "Running Wild with Bear Grylls" and to sound the alarm on climate change.  Oh, and he snapped a few selfies at different locations.  Peep what happens when a President acts just like everyone else inside...
It's another first for POTUS! President Obama just became the first sitting President to travel north of the arctic circle.  We're told the citizens were ecstatic about the special visit.  Leave it to our fabulous President to make sure attention is given to everyone in this country some way, shape, or form.
Prez O is in Alaska this week where he's been trekking through the Alaskan wilderness in an effort to raise awareness about the serious effects of climate change in that area.
Footage from the POTUS trip will appear on a special episode of the NBC outdoor adventure show "Running Wild with Bear Grylls", the network announced in a news release.
When the special airs later this fall, viewers will see President Obama hiking Exit Glacier in Seward, Alaska, and visiting the Kenai Glacier in Kenai Fjords National Park.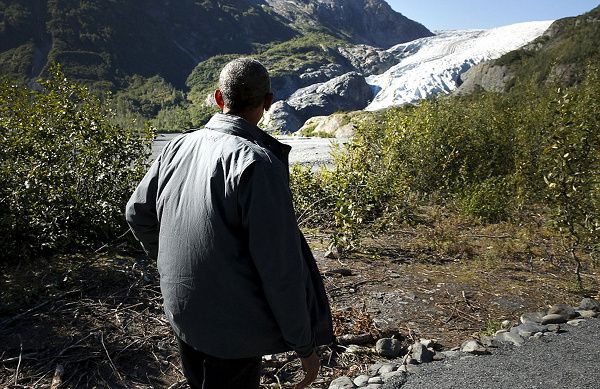 Both locations will be used to show the damaging effects of greenhouse gases on the environment and what would happen if the glaciers completely melted.
In a statement release before the trip, President Obama said he's making climate change awareness a part of his platform sayin,  'We will condemn our children to a planet beyond their capacity to repair,' if we don't stop and make some changes.
In between segments, President Obama has managed to get out and about with the people in Seward.  And from the looks of the photo above, one little resident was really excited to meet him.
And on Instagram and Twitter, President Obama joked about Mr. Grylls saying, 'Glad this was the only Bear I met in the park."  Bear went on to Tweet, 'Such special moments all through this journey, and what you are doing to help protect our planet in inspiring."

President Obama's special episode will air later this fall.
Photos via Reuter/ White House IG/Bear Gryll's IG/AP