Tennis great Venus Williams can now add "college graduate" to her resume! See photos of Venus receiving her Bachelors of Science in Business Administration from Indiana University East inside...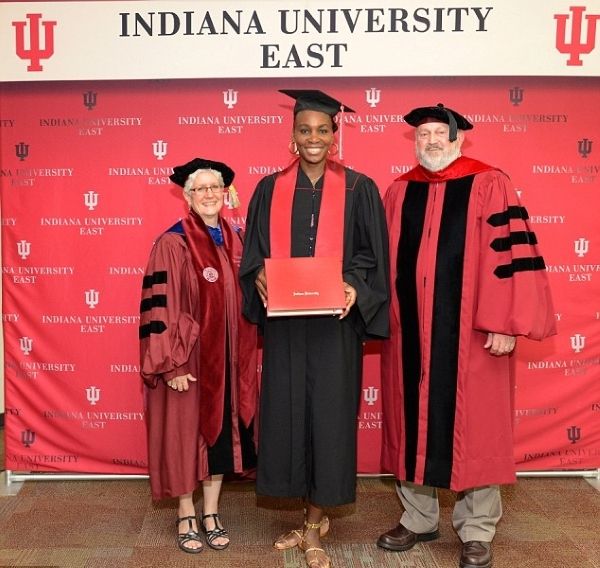 Back in 2011, tennis icon Venus Williams enrolled in Indiana University East's online degree completion program. Now, four years later, she received her Bachelors of Science in Business Administration!  Now she's going to be even more of a force to reckon with when it comes to her Eleven fashion line and other businesses.
During the diploma presentation (held on August 15th), School of Business and Economics Dean David Frantz, (shown above with Venus and Chancellor Kathryn Cruz-Uribe), praised her as a student, as a person and as a graduate.
"Venus took concepts from the courses and tried them out in real life, and then she would want to learn more.  Venus had a certain openness to learning that we cannot teach and we celebrate. The drive and the tenacity that Venus shows on the tennis court, we saw in her studies.  In working with other students, she encouraged her classmates. She had the ability to lift people up and that was great to see." 
In a press release following the graduation, Venus revealed that it's always been her dream to earn a college diploma.
"I've learned so much. It was always my dream to have a business degree, and I ended up going to art school so many times, but in the back of my head I felt like I needed the tools to be a better leader, to be a better planner, to be better at all of the things I wanted to do in my businesses because I'm so hands-on."
Venus, who owns her own clothing line and an interior design firm, is the first to graduate under an agreement between IU East and the Women's Tennis Benefits Association (WTBA). Lisa Grattan from the Women's Tennis Benefits Association (WTBA), explained,
"IU East and the Women's Tennis Benefits Association have an agreement that establishes our campus as the primary provider for baccalaureate online degree completion programs for WTA players. Venus was instrumental in connecting IU East and the WTA in this highly valued partnership, and we are very grateful for this."
Venus was also celebrated by WTA Chairman and CEO Stacey Allaster who said,
"Venus has succeeded both on and off the court and her Business Administration degree from Indiana University East is yet another superior accomplishment. I am proud of Venus for obtaining her degree and for her desire for continued education. I have no doubt her business degree will contribute to her already excellent business acumen and leadership."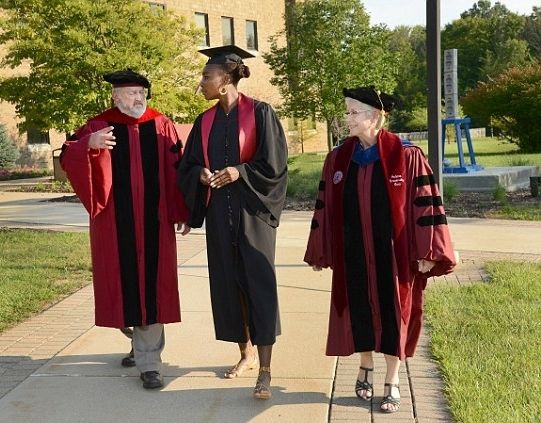 And the accolades kept on coming!  Chancellor Kathryn Cruz-Uribe (above) went on to praise Venus for balancing both her studies and her career. 
"I greatly admire Venus and her dedication to complete her online degree while continuing to play professional tennis, train, and run a business full-time. I can only imagine how challenging this has been, and I know that Venus has been a great role model for the other WTA players enrolled at IU East as well as to students in her classes."
This week, Venus is back on the court duking it out for a chance at her first U.S. Open title in 14 years. Meanwhile, her little sister Serena Williams is favored to win her history making 22nd Grand Slam singles title and is set to complete a calendar year Grand Slam.
Photos via IUE