Nene Leakes made her "Fashion Police" debut this week while a "007" author is in the headlines for saying Idris Elba isn't suave enough to play James Bond!  More inside...
On Monday evening, Nene Leakes, who is now rocking a long blonde wig, made her debut on E! network's newly-retooled version of "Fashion Police."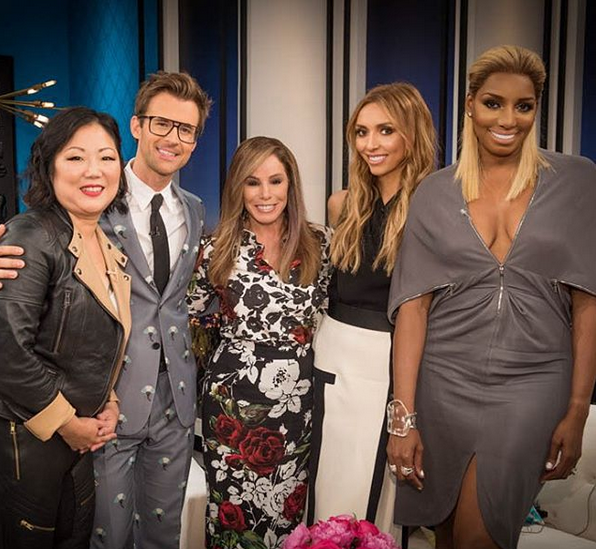 While the show has been saddled with drama since the untimely death of host Joan Rivers, the network is hoping to keep the franchise alive with the help of newly-installed host Melissa Rivers and her cast, comedian Margaret Cho, celebrity guest NeNe Leakes, Giuliana Rancic (post-Zendaya scandal) and Rachel Zoe's former right hand Brad Goreski.
Nene, who wore Saint Laurent, fit right in with the cast as she delivered one-liners about the 2015 MTV VMAs best and worst dressed. 
In case you missed it, Nene won't be returning to RHOA for its 8th season as she's turning all her attention to her Hollywood gig as a star on "To Tell The Truth" tv legend Betty White and former NBA baller Jalen Rose and host Anthony Anderson. It's set to debut this fall...
In movie news....
While actor Idris Elba is often mentioned as a possible choice to fill the shoes of "James Bond" actor Daniel Craig, 007 author Anthony Horowitz thinks Idris Elba is "too rough" for the role.
Anthony, who is busy promoting the Bond series, "Trigger Mortis," which hits stores on Sept. 8th, told the Daily Mail that the actor is simply not suave enough to pull off James Bond. Yikes! He said,
"Idris Elba is a terrific actor, but I can think of other black actors who would do it better. For me, Idris Elba is a bit too rough to play the part. It's not a color issue. I think he is probably a bit too 'street' for Bond. Is it a question of being suave? Yeah."
While some folks are going to "color" Anthony's statement in terms of race, he didn't exactly shut out ALL black actors....just Idris.  At least that's what he wants us to believe.  But we disagree, especially considering Idris' recent spread in MAXIM (see those pics here), we don't agree with Anthony.
After Anthony's comments hit the Internet this week, he was inundated with nasty comments and tweets. And of course he was called racist.  So.....now he's apologizing.  Via Twitter, he posted this "apology" regarding his comments:
In case you care, the next Bond movie, Spectre, hits theaters on Nov. 6th.
Photos via Getty/Nene's Instagram/MAXIM