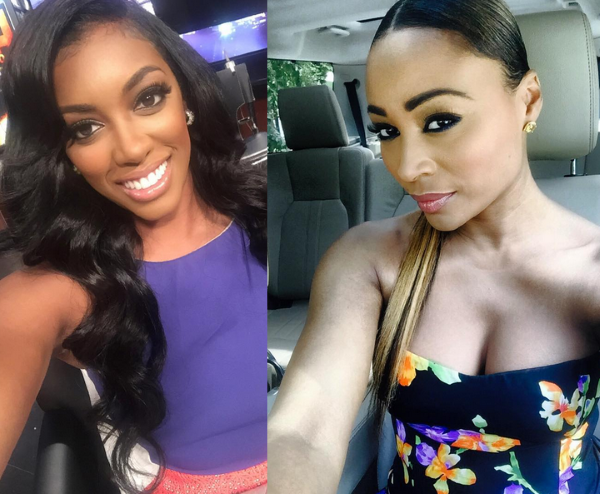 Two "RHOA" stars reportedly got into a brawl that sent one of the ladies to the ER.  Find out what happened inside...
While "RHOA" stars Cynthia Bailey and Porsha Williams didn't leave the season 7 reunion as friends, we never expected things to escalate to physical violence.  According to TMZ, one of the ladies may have taken things a bit too far during a recent season 8 scene. 
Here's what we know....
The season 8 RHOA stars were reportedly taping a scene on a boat when a nasty verbal argument broke out between Cynthia and Porsha. Arguments are a necessary and common occurrence on reality shows, but this time, things got "turned up" when Porsha called Cynthia the "b" word.
Before things got too heated, sources say Cynthia tried to disengage and actually walked to the other side of the boat, but Porsha followed her. Next, witnesses claim Porsha got in Cynthia's face, and the Bailey Agency owner allegedly kicked Porsha in the stomach in retaliation!  Ouch!  Such un-model like behavior.....
Luckily, BRAVO TV crew members jumped in between the ladies and prevented any further blows from being exchanged.  Porsha was reportedly treated at a local hospital where she received pain medication.  So far, neither of the ladies have mentioned the "fight" on social media. 
This is the second fight we've "heard" about (heard meaning strategically leaked) thus far.  A few weeks ago during Cynthia's eyewear launch party, sources say returning castmember Sheree Whitfield had it out with Kenya Moore.  
Let's just say, these ladies are earning their peaches.  Foolywang is king.  This season will be drama-laced. 
EXTRAS:
1. Nicki Minaj's security teamed "checked" actress Tara Reid after she attempted to dance on their table at 1OAK. Story.
Photo via Porsha's Instagram/Cynthia's Instagram