After all of the drama that went down at the 2015 MTV VMAs, it left everyone wondering…was the feud between Nicki Minaj and Miley Cyrus real? MTV claims it was. But despite an alleged REAL shade match, ratings still dropped from last year. More inside…
"Anaconda" rapstar Nicki Minaj shocked us all with her acceptance after winning the VMA for Best Hip-Hop Video. Chick sent a shoutout to her pastor then proceeded to pop off at VMA host Miley Cyrus for trash talking her in the media. It was many things.
As it went down, the social media world caught fire, reposting the clips and giving their opinions on the authenticity of the on-screen feud. If you missed, here's what happened:
While neither the Young Money raptress nor the outspoken Pop star has said anything on their social media handles since the run-in, MTV is clearing ish up. And they claim it was 100% REAL. Unscripted.
A MTV press spokesmen confirmed to MTV News that the network had nothing to do with what transpired between Nicki and Miley during the heated moment. Hmph. We hear security was on high-alert to make sure the ladies never crossed paths afterwards.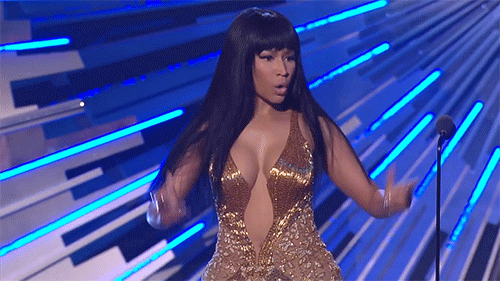 Do we believe them?
Speaking of the awards....
Unfortunately for MTV, not even an alleged unscripted catfight could help with ratings. According to Deadline, a total 9.8 million viewers watched the antics of this year's VMAs go down across 10 Viacom networks last night, down from 10.3 million viewers from last year.
Rather than focus on the decline in ratings, MTV did note the impressive amount of tweets that were fired off during the show. The 2015 VMAs became the most tweeted non-sports program since Nielsen Social began tracking Twitter TV activity. A total 21.4 million tweets about the VMAs were filling up our timelines, reaching a total 11.8 million people.
Well, that's certainly one way to look on the brighter side of things.
Photos: Getty