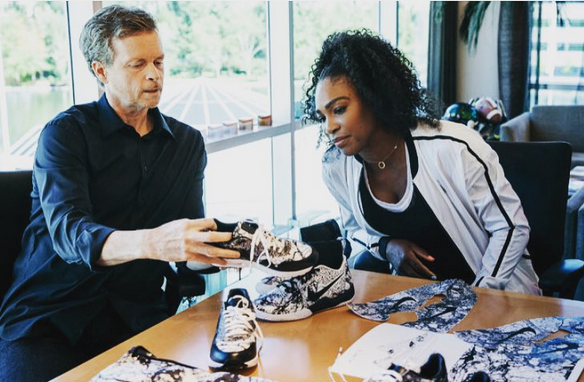 Tennis icon Serena Williams has partnered with NIKE for a trio of sneakers marking her "greatness."  See a sneak peek inside...
With the U.S. Open kicking off today, NIKE has announced a new partnership with Serena Williams to produce three distinct sneakers to be included in their "Greatness Collection."
We peeped Serena working with designer Mark Parker (atop) via a few photos on Instagram. The trio of sneakers are named the Nike Air Max 1 Ultra, Nike Roshe LD-1000 and NikeCourt Flare. Each shoe boasts a safari-like print along each upper. 
Outside of her sneaker launch, today is a big day for Serena.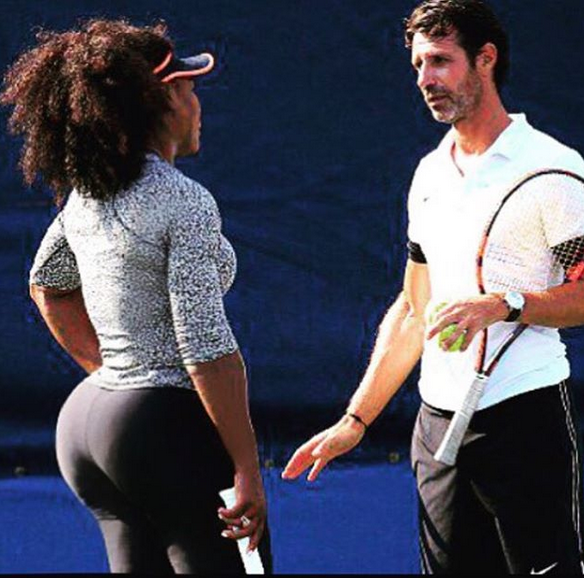 Serena, shown above with her coach Patrick Mouratoglou, starts the US Open today. She wrote on Instagram, "@patrickmouratoglou and @robbyepoole85 Mackie and @zun_hut Patrick- are you ready? Let's just have fun this next few weeks! #strongisbeautiful #dynamicduo #dreamteam #thatass"
A few months ago, we were under the impression that Patrick and Serena were an item, but now that she's been hooking up with Drake, we believe Pat and Serena's dealings are strictly professional.
BONUS:
Serena's sister Venus is also playing the US Open.  Over the weekend, they both checked into the St. Regis Hotel.  Serena wrote "So excited to be back at the @StRegisNewYork for another #USOpen with @venuseswilliams."
Serena, who has won four major tournaments already, is set to begin her bid for the Grand Slam.  If she wins, she'll be the first player since Steffi Graf in 1988 to complete the calendar year grand slam.
Photos via Serena Williams Instagram