Are Ne-Yo and his Instagram model turned girlfriend Crystal Renay married...and having a baby?  Looks like it. 
But, this isn't going over well on their social media pages.  Deets inside...
Welp, this happened.  Ne-Yo surprised his fans on the 'Gram today with some baby news.  He revealed the news without REALLY revealing the news.  
The singer posted a pic of his girlfriend of almost two years holding up a pic of him and Crystal holding on to her belly area.  He captioned the pic, "Surprise!" 
The pic alludes to the couple being pregnant.  But that's not all: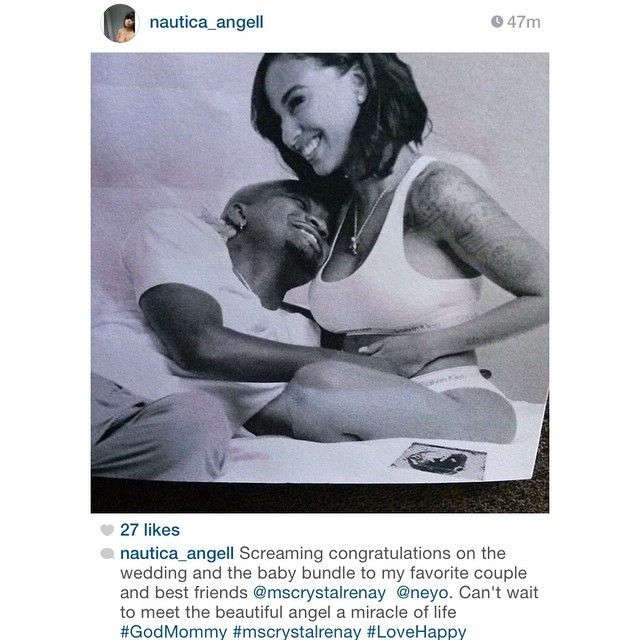 We spotted Crystal's best friend Angelica on IG congratulating the twosome....on a WEDDING as well. Are these two also secretly married? 
Crystal recently posted a professional pic of herself in a white gown posing with NeYo, who was in a tux, with her caption saying "Who needs a ring when you have this?" It had most people believing Crystal was saying she's content with just being Ne-Yo's girlfriend who reaps the benefits of his celebrity. 
Hmmm...
Crystal showed off her baby bump with her bestie who said:
Regardless of what anyone says you are happy and they don't know what it took to get here @mscrystalrenay #GodMommy #LoveHappy
Neither Crystal nor Ne-Yo have followed up with an explicit "We're pregnant and married" message, but we can only guess how the R&B crooner's ex is feeling right now.
Monyetta Shaw revealed on her former show "Atlanta Exes" that she had her tubes tied...and burned...when she and Ne-Yo were still engaged.  She's unable to have more children.  Why, you ask?  Monyetta said that Ne-Yo convinced her it was best to do since they had their two children back-to-back and didn't want more.  Fast forward to today, he's moved on with another woman and is about to have another child.  Meanwhile, Monyetta is unable to do have anymore children with the next man she plans to falls in love with.
Tragic.
Photos: @nautical_angell's Instagram/NeYo's IG