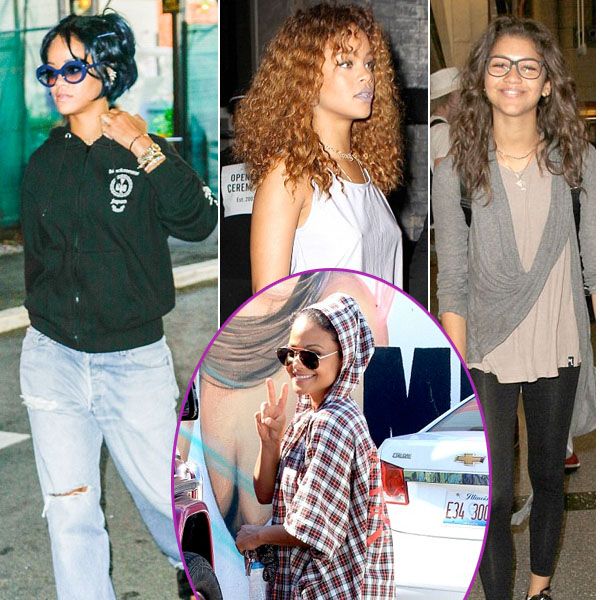 In today's round up of candids, we have pics of Rihanna, Zendaya and Christina Milian making rounds in a few laid back looks. Peep the pics and find out what they were up to inside….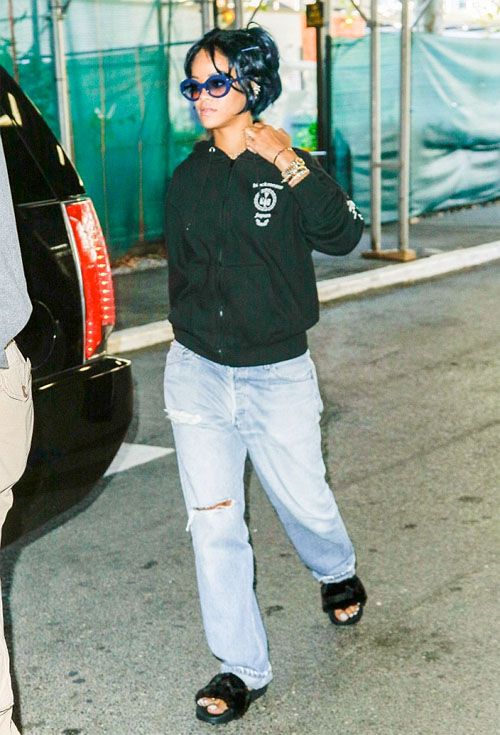 Pop princess Rihanna loves changing up her looks for something fresh. And this week brought a new cropped blue highlighted coif.
The "BBHMM" singer was spotted rocking a new blue hue in NYC on Friday, right after flying in from the set of a new project in L.A. on Thursday.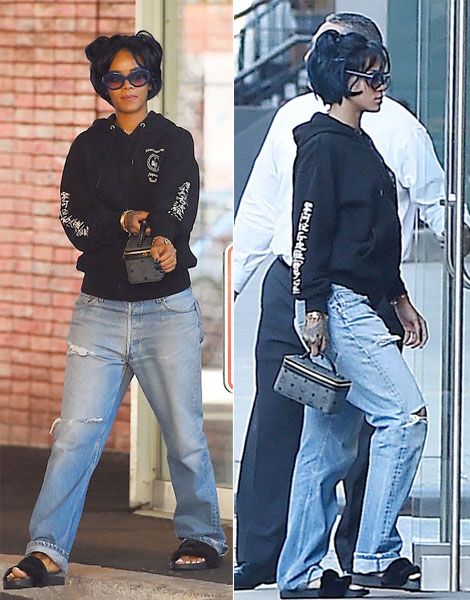 The 27-year-old blue-haired beauty trekked through the Big Apple very casually, rocking a Blackmeans hoodie, baggy distress jeans and a pair of black flip flops.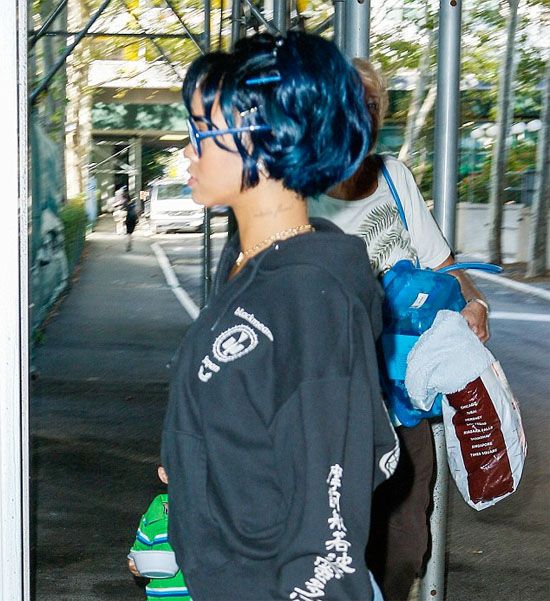 The "Diamonds" singer rushed to Manhattan to attend her friend/stylist Sonya Benson's wedding ceremony. RiRi wished congratulations to her homie via Instagram saying,"Yasss!!!! Congrats to my beautiful and crazy @sonyabens on tying da knot!!! Fucking love you girl!!! James you the real mvp doe! #jimmysonz".
After the wedding festivities....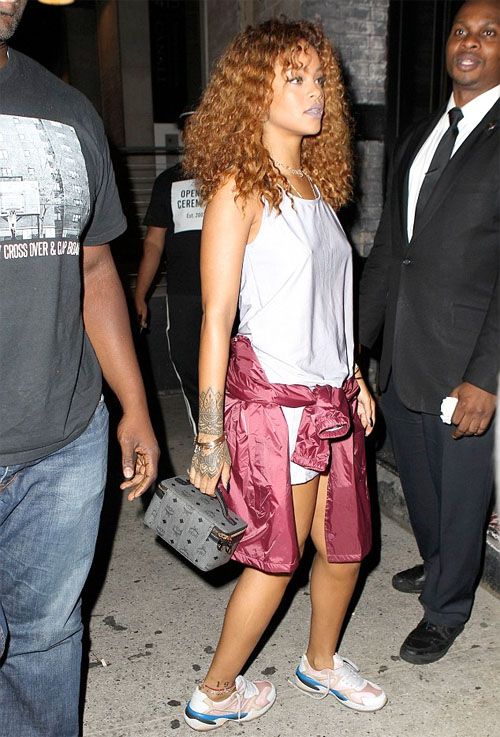 The Bajan beauty switched back to her golden blonde curly lusciousness before hitting the party scene. Her long tresses hung down her back as she made her way around the city's Meatpacking district.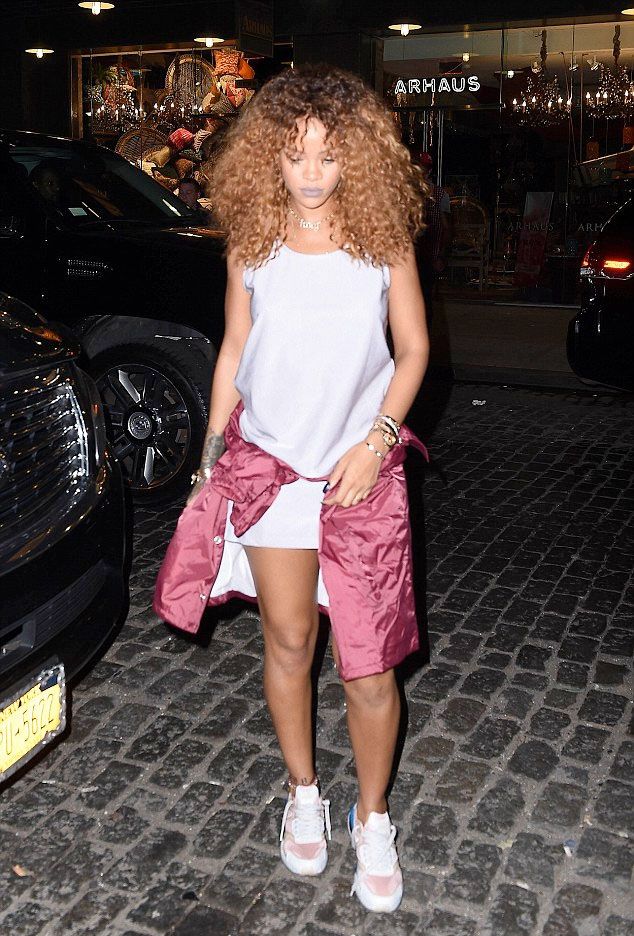 The PUMA creative director kept it comfortably cute in a pair of Puma x Alexander McQueen leather and mesh Run Lo sneakers, which she styled with a simple white dress and a burgundy jacket tied around her waist.
The Pop princess will be at a Brooklyn Macy's on Monday to promote her new fragrance 'RiRi.' It appears it will be HUGE since fans of the singer have already started lining up to get a chance to meet her:
She said yesterday, "It's Friday!!! That means I'll be at @Macys downtown Brooklyn in 3 days!!!! That didn't stop the NAVY from getting a head start to the front of the line at 6am today!!! Lol!! Yall are too trill!! I can't wait to see you on MONDAY!! @perfumesbyriri #RiRi #RiRibyRihanna"
Gotta love that die-hard RIHNavy.
On the west coast....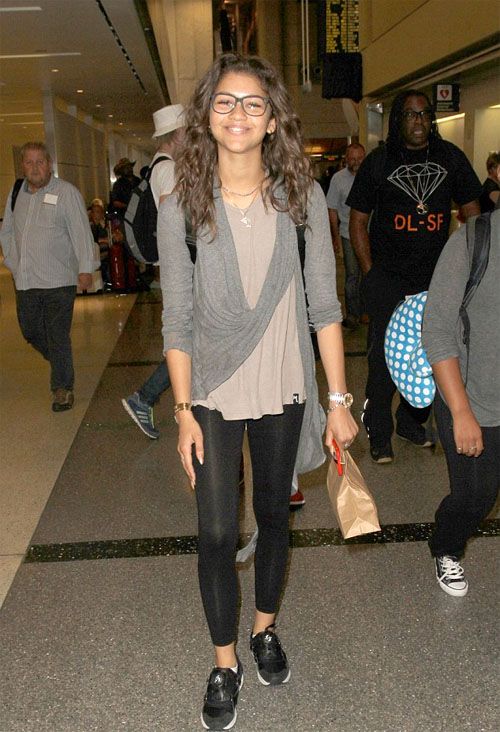 Disney star Zendaya was spotted trekking through LAX airport to board a plane on Friday. Her father Kazembe Ajamu Coleman (in the black shirt), who also serves as a part of her security detail, accompanied her.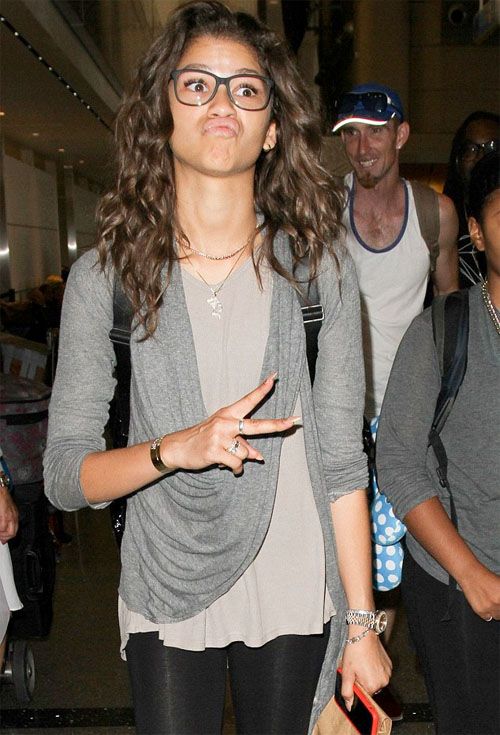 The 18-year-old YBF chick, who unveiled her new shoe collection recently, had to CHECK a few Twitter trolls after they attacked the way her parents' looks online. She tweeted:
@DARRI_MINNIE7@bxxzy@pullupifubadpic.twitter.com/4VyF1PDIGa

— Zendaya (@Zendaya) August 22, 2015
"First I'm gonna pray for you. While you're so concerned about what my parents look like, please know that these are two of the most selfless people in the world. They have chosen to spend their entire life, not worried about trivial things such as looks and insulting people's parents on Twitter, but instead became educators who have dedicated their lives to teaching, cultivating and filling young shallow minds. (One of the most important yet underpaid jobs we have). Please log out, go to school, hug a teacher and read a textbook…and while you're at it, go look in the mirror and know that you too are beautiful, because such hateful things only stem from internal struggles. Bless you."
Tell 'em Daya!
Elsehwere....
Reality star and singer Christina Milian was spotted all smiles while shopping it up in her pop up shop, We Are Pop Culture on Melrose Avenue yesterday.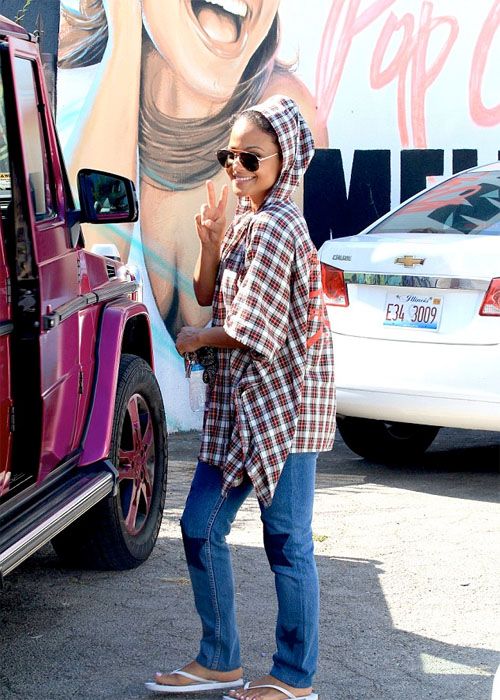 The 33-year-old girlfriend of Lil Wayne (who celebrated a birthday days ago) was all about comfort for her retail run rocking her own oversized We Are Pop Culture lumberjack hooded shirt, a gray tank top and star patched jeans. Nice to see she's doing well after the death of her infant nephew. You can get those deets HERE.
Photos: Splash/INF/WENN