Chris Brown just called out his baby momma for dating a "wanted" man who's been accused of forgery.  Find out what he said during his verbal smackdown inside and peep the internet foolishness between Marques Houston and someone from Chris' camp.
We will be the first to admit that Chris Brown is a doting dad, but he's got a few areas that need work...and we're sure his baby momma Nia Guzman would agree. 
You'll recall that his LA-home was allegedly robbed by members of his crew a few weeks ago, and a few days ago, he posted (then deleted) pics that would suggest gang affiliation with the BLOODS.  On the surface, these might seem like good reasons to give Nia primary custody and co-sign on her complaints that Chris' lifestyle puts their baby in harm's way.  But we've learned her "ish" stinks too.
Nia Guzman's current boyfriend (the one who is listed on Royalty's birth certificate) is a"wanted" man. Houston cops are searching for King Ba because he's accused of forging more than $5,000 worth of U.S. Treasury checks, and police have bank surveillance footage to back up their claims!
Well....Chris didn't let this opportunity pass by. In Baller Alert's comment section, he responded to the report saying "Funny how I work a legit job and love my daughter to the fullest and I'm in her life. Well, if it ain't the pot calling the kettle black." 
According to sources from Chris' camp, after the news broke on last night's local Houston news, Nia allegedly told Chris that she's been keeping a distance from King Ba and even moved away from Houston. She even put up a message on Instagram:

Whether Nia is still with King Ba or not, it looks like the custody battle for baby Royalty is going to have more twists and turns than Kramer vs. Kramer. We will keep you posted on what happens. One thing's for sure, King Ba won't be flossin' at the club this weekend.
In other foolishness.....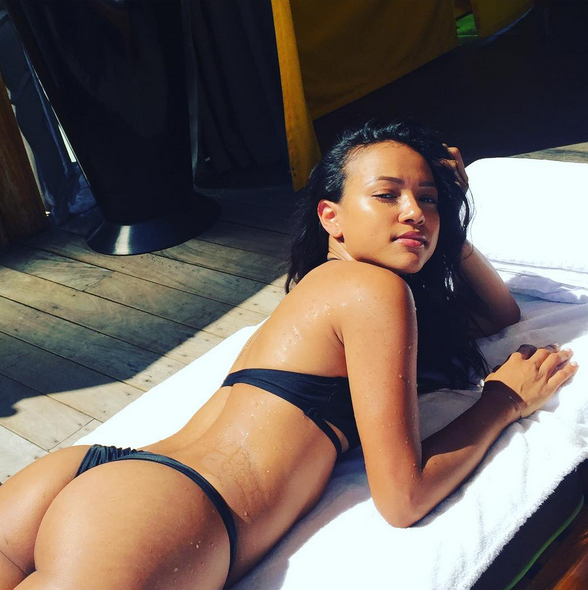 This week, Karrueche Tran posted a bikini pic on Instagram and it prompted her "Dinner with the Stankershets" co-star Marques Houston to write... 

A few hours later, Chris "commented" about the pics by jokingly referring to his "Sister,Sister" character....

Messy Messy Messy.
And then this really bad reaction from someone close to Chris' inner circle....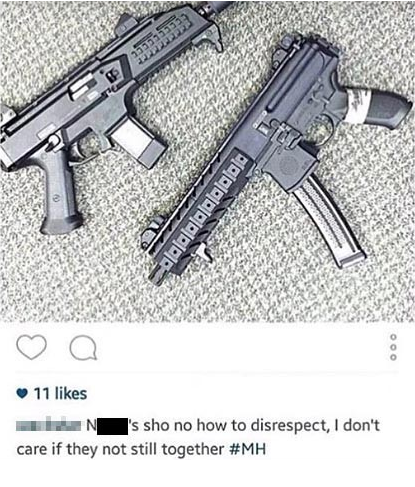 Was that a death threat?  Seriously? You'll recall that members of Chris' crew got got equally charged up with Tyson Beckford after he Karrueche exchanged pleasantries online.  And they threatened to beat him up too!
Karrueche said today in response:
"I thought we have all matured and moved on ... especially since Chris has been seen with multiple women since the breakup."

"I don't want anything to do with any type of violence or negativity."
Seriously folks, friends of Chris need to let Karrueche live.
 Photos via Chris IG/King Ba IG/Karrueche's Instagram