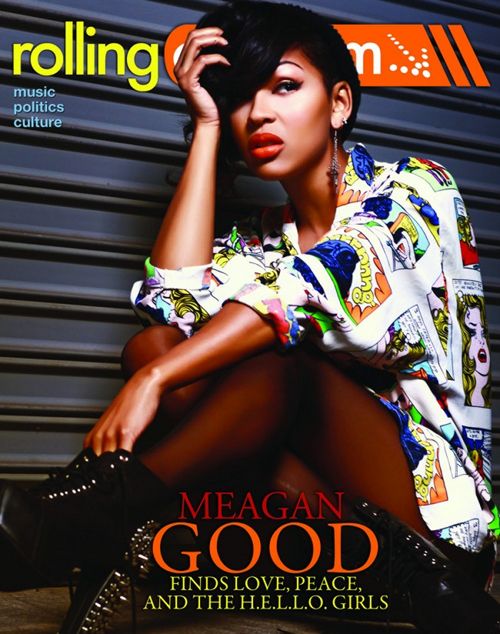 Meagan Good is styled out (finally) for the new issue of Rolling Out Magazine.  Check out the wife-to-be in several colorful looks as the actress reveals the new girl group she's formed with her sister--H.E.L.L.O. Girls--and how marriage will affect her sexed up image...
YBF chick Meagan Good is all over the place after her recent starring role in the blockbuster film Think Like A Man.  She's bringing her gorgeous looks to the cover and pages of Rolling Out Magazine.  And she brought her new girl group (yep...she's adding singer to her credits too) which also includes her sis LaMiya (to her left below) along with her.  She explains why she felt some kind of way about people laughing at her when she said she would be celibate (as if she could never do it) and why she's ready for the changes marriage will bring:
Check out the highlights and the bold & colorful pics below:
There has been a lot of buzz surrounding your new music group, The H.E.L.L.O. Girls. Tell us about your name in the group, because I hear you have an interesting nickname.
My name in the group is Cheeba. It comes from an old-school cartoon where there was a cat who was like the Queen of Sheba. I'm a Leo so I am very much a lioness, so the girls somehow nicknamed me Cheeba.
How has the experience of being in the group been for you? I know it started organically as friends, but now it seems to be taking off.
Yeah, we really haven't released our first video yet, and we haven't been releasing a lot of songs, but we have been gaining momentum, which has been a blessing. It's just great, because Amy is my best friend … we've been best friends since we were 15 years old. I've known Sterling forever … her mom used to write on a Nickelodeon show that I did as a kid, and of course LaMyia is my sister, so we are very close.
… I've always felt this pull toward music, and now that the right opportunity has presented itself, and I knew that it was going to be us four, it just felt so right.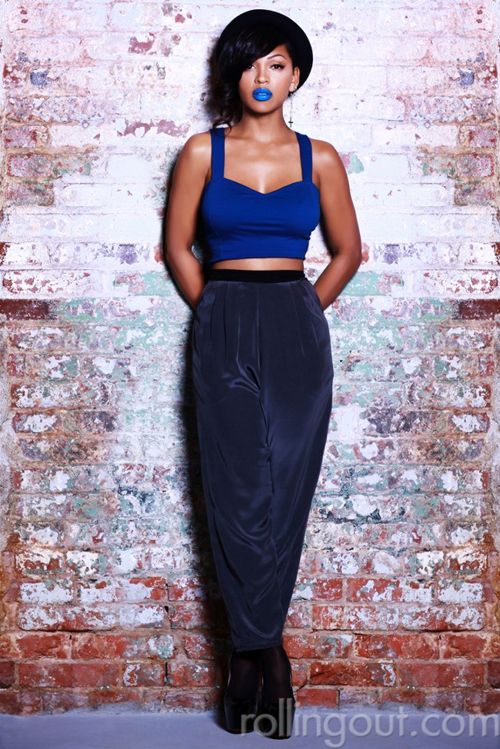 There are so many people who think they know Meagan Good. Do you feel like the music and you getting married will change people's perspective of you?
People do have a perception of me, but as long as I continue on this path, I think that their opinions will fall into line with where they need to be. It's interesting that I said months ago that I know that the next man that I get into a serious relationship [with] is going to be my husband. I also said that, from here on out I am going to be completely celibate and people laughed at me. They said, "yeah right, she can't do that … who is she trying to fool?" So it was hurtful that so many people mocked me, based on opinions of people that have never met me a day in their life because they didn't believe that's who I really was. So I do think that the evolution in my life will change people's opinions of me … but even if it doesn't, I'm OK with that. I don't live for them; I live for God, and for the people that God has placed in my life. Everything else is just a [distraction], and I'm not going to be distracted.
On a personal note, I got a chance to meet and have a long conversation with your fiancé, Devon Franklin, and I walked away thinking that he was a great guy. Having known you for years, I couldn't be happier for the two of you because I know that you both have hearts for God.
Thank you so much … I really appreciate you saying that from the heart. You know, I feel like I am happier than I have ever been. A big part of that is finding a partner who shares the same heart for God that I have, who walks down the same road as I, and who wants the same things in life that I do. I'm also happy that I found someone who understands what I do for a living, and wants to use that as a tool to help glorify God. It's really nice … and I'm so very happy.
We are so happy for you as well, and thank you for always showing love to rolling out magazine.
No, thank you and God bless.
She seems to be in such a great place these days...and we're loving it.  Congrats Meagan!
Check it out the full interview over at Rolling Out.
BONUS: Meagan's Think Like A Man co-star and on-screen love interest Romany Malco shot behind the scenes footage of the cast surprising theater goers during opening weekend.  Check out Meagan and her co-stars Lala, Terrence J, Regina Hall & Michael Ealy having some fun and thanking their fans: