As she gears up to dominate the U.S. Open in NYC kicking off next week, Serena Williams is gracing the newest covers of Sports Illustrated and the New York Times. Check 'em out inside….
All eyes are on tennis champion Serena Williams right now. And rightfully so!
While we've been praising the 33-year-old tennis superstar for her accomplishments, mainstream media is finally catching up, giving her well-deserved props. She IS one of the best athletes of our generation. And that's not up for debate.
Sixteen years after appearing on Sports Illustrated for the first time, the 21-time Grand Slam champion is back on the national cover of Sports Illustrated this week. And, of course, she's serving all types of tennis greatness.
For the first time in her career, Serena is in the running for a chance to win a calendar Grand Slam, which would make her the first player to accomplish the feat since Steffi Graf in 1988. YASS!
If Serena takes home the U.S. Open title, it would mark her FIFTH straight Grand Slam title and her FOURTH consecutive U.S. Open title. Talk about amazing.
She took home her fifth WTA title after winning the Western & Southern Open in Cincinnati (where we learned she was getting cozy again with rapper Drake) ealier this week. She also reigned supreme at Wimbledon, the Australian Open, the French Open, and the Miami Open this year. Work!
 
Serena will battle it out on the court in the U.S. Open, starting August 31st in NYC, to clench her SEVENTH U.S. Opentitle. Good luck!
On the cover of another magazine....
The Compton native, who already has 69 WTA titles under her belt in total, is also gracing the cover of the New York Times magazine. The in-depth interview explores Serena's tennis greatness and black excellence.
It's interesting to note her reaction to the London School of Marketing (L.S.M) list of the Top 20 marketable sports stars released in July 2015. Yes, she made the list…at No. 20. But her nemesis Maria Sharapova was ranked at the No. 12 spot. Now, to be clear, Serena sweeps Maria in all tennis records, but surprisingly (or not), Maria has a financial advantage over Serena. When asked about this, she responded,
''If they want to market someone who is white and blond, that's their choice,'' Serena told me when I asked her about her ranking. Her impatience had returned, but I wasn't sure if it was with me, the list or both. ''I have a lot of partners who are very happy to work with me.'' JPMorgan Chase, Wilson Sporting Goods, Pepsi and Nike are among the partners she was referring to. ''I can't sit here and say I should be higher on the list because I have won more.'' As for Sharapova, her nonrival rival, Serena was diplomatic: ''I'm happy for her, because she worked hard, too. There is enough at the table for everyone.''
Such a class act. You can check out the rest of her interview here.
Over on the 'gram...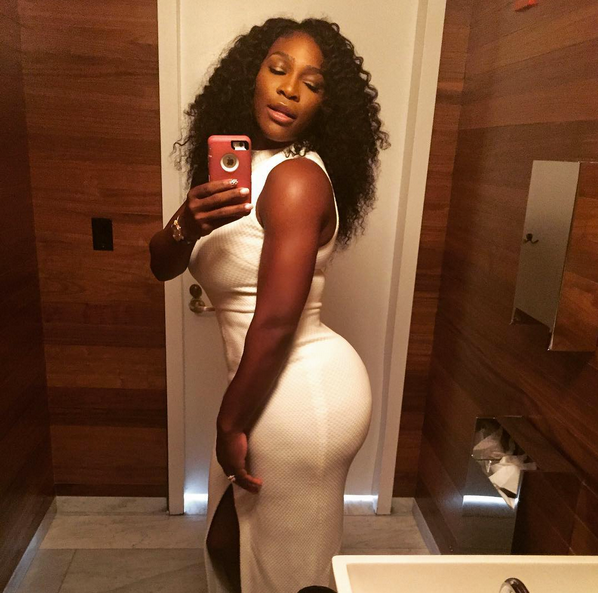 The bodacious beauty was busy showing off her "ass"ets (in a classier way) for the masses. She captioned,"Look back it."
Get it!
Photos: Sports Illustrated/NY Times/Serena's IG