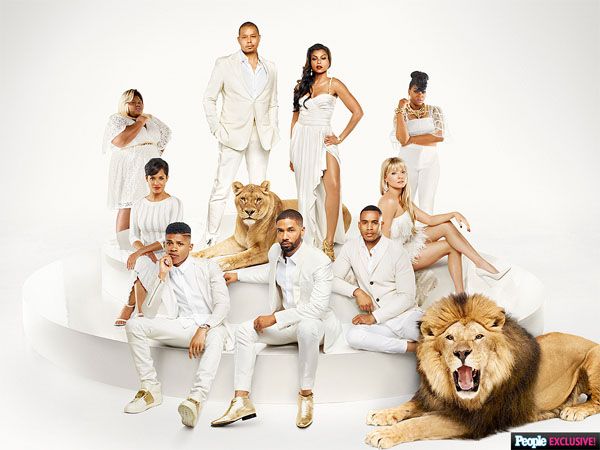 The "Empire" cast is oozing royal regalness in their brand new promo shot for the upcoming season. Come inside to feast your eyes inside the "Lyon's Den" and peep Joan Smalls' new VOGUE Mexico cover inside….
The "Empire" cast is coming through with a hot new promo shot for season 2 getting us ready for the premiere on September 23rd. And it's oozing golden royalness for the masses.
The entire Lyons Family got decked out in all white and gold accessories to pose it up for the fierce flick. And for some added flair, two lions were also added in the "Lyons Den."
This season we will see guest appearances from Kelly Rowland (who will play Lucious' mom in a flash black--see the first look HERE), Chris Rock (who will star as an inmate locked up with Lucious), Lenny Kravitz, Alicia Keys and Mariah Carey. And we're sure Lee Daniels has a few surprise guest appearances up his sleeve as well.
In legal news...
A guy named John Astor-White is SUING "Empire" co-creators Lee Daniels and Danny Strong (as well as 21st Century FOX & Imagine Entertainment) because he claims they STOLE his idea for the highly popular hip hopera. YES…another one! And now, he believes he's owed $500 million!
TMZ breaks down the details of his supposed show reporting:
A guy named Jon Astor-White is suing EPs Danny Strong and Lee Daniels -- as well as Imagine Entertainment and 21st Century Fox -- claiming he shopped around a show called "King Solomon" back in 2007 ... which bears a lot of similarities to "Empire."

Astor-White claims his show would have starred Richard Roundtree (Shaft said no thanks) and was about a record executive and his family and their battle over control of the company.

Astor-White said he faxed the treatment around, and included a proposed cast list which was aspirational, to say the least. In addition to Roundtree, Astor-White wanted Diahann Carroll, Alicia Keys, Kanye West, John Goodman, George Hamilton and Angie Dickinson.

Astor-White describes his show as "the style and elegance of 'Dynasty' meets 'The Sopranos' with a sprinkling of 'The Godfather.'" That's a similar comparison Marvin Gaye III made in his claim.
The show has also been sued by a guy with Jackson family connections and by a woman who claims she is the real Cookie.

Astor-White is seeking the half a billion dollars ... plus additional damages.
More money, more problems.
 
Peep the season 2 trailer (if you haven't seen) below:
As if we need to remind you (because we're sure you have your alarms set), "Empire" will return to take over our television sets Wednesday nights at 9/8c beginning September 23rd on FOX.
 
Coming to newsstands....
Supermodel Joan Smalls is gracing the cover of VOGUE Mexico's September 2015 issue. And she's serving up "back-to-school" chic-ness in Dior for the flawless cover.
Shot by fashion photographer Russell James, the Puerto Rican beauty models a few sophisticated "school girl" ensembles just in time for back-to-school. In the shot above, she's rocking a Ferragamo outfit paired with Manolo Blahnik footwear. Hmm…is Joan a naughty or nice teacher in the classroom?
And for another fall-look, Joan is styling in an earth-toned ensemble by Derek Lam, Vita Fede jewelry and a Jennifer Fisher gold double ID ring. The YBF chicks are taking over the September issues this year.  Loves it!
Photos: PEOPLE/VOGUE Mexico