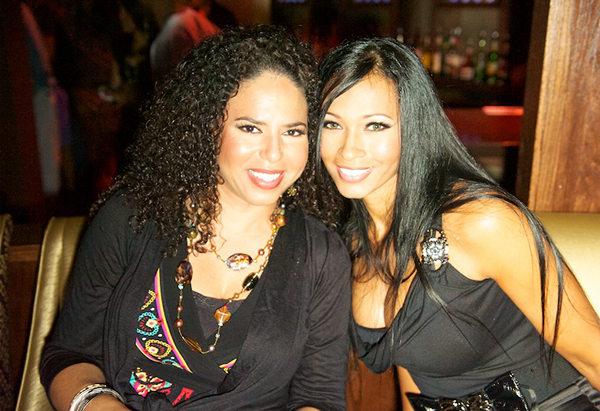 And the drama keeps on coming.  After Deion Sanders went on video yesterday to deny ever hurting his estranged wife Pilar during their "domestic situation" on Monday night, Pilar's sister (pictured above with Pilar) is coming to her defense.  And her new accusations are SERIOUS.  Check out what she had to say inside...
If you've been under a rock all week, Pilar Sanders & Deion Sandars got into a domestic altercation Monday night in their Dallas home, as soon as he returned from wining and dining alleged girlfriend (and mistress according to Pilar), Tracey Edmonds.  Deion filed a police report (and it all played out on Twitter) saying Pilar and a friend JUMPED him in the bedroom.  Pilar went to jail, and upon her release the next day (with an obviously busted lip), she accused Deion of assaulting HER.  Deion denied her accusations, which brings us to Pilar's sister Kandie.
Kandie Biggers just sent out a statement saying she was a witness to Monday night's altercation.  And she says not only is Deion at fault, but he broke Pilar's thumb and also beat and choked her!
Here's her statement in full:
"On behalf of my sister, Pilar Biggers Sanders, I am writing to you to say without any hesitation that the charges and horrendous allegations my estranged brother-in-law are making in regards to being assaulted by Pilar are 100% false. Not only did I see with my own two eyes the harm he caused her, but her best friend, Dianna who also witnessed Deion's tirade was also hurt in the altercation. For a man to do this to a woman, let alone the mother of his children is gross, especially a man who claims to be God fearing and righteous. Seeing him pose and post the picture the following day of him smiling after supposedly being "jumped" by a 120lb woman clearly tells the world that this man doesn't care about anything but himself. I am ashamed to have ever called him my family, and I pray that justice will come quick, swift, and correct, so that my sister can continue to be the extraordinary person and mother that she has always been, and most importantly…free from Deion's bullying, abuse and harm–harm he is intentionally causing to divert attention from his sins.

The good news is that my sister is a survivor. Believe it or not, regardless of being beaten and choked, having her thumb broken, spending a night in jail, and being forced to leave her home, she can hold her head high knowing that in the end, the mask will be lifted, and the truth about Deion sanders will be revealed. There is no crisis control group, no amount of lawyers or public relations teams that will prevent the truth no matter how hard he tries to twist it. Fame and the adoration of fans can unfortunately put some people's values up for sale and money can make the most corrupt people forget humility and humanity… but what a powerful wake up call there will be when none of those things can help you when world sees you for who you really are.
Kandie Biggers"
It's just so much...