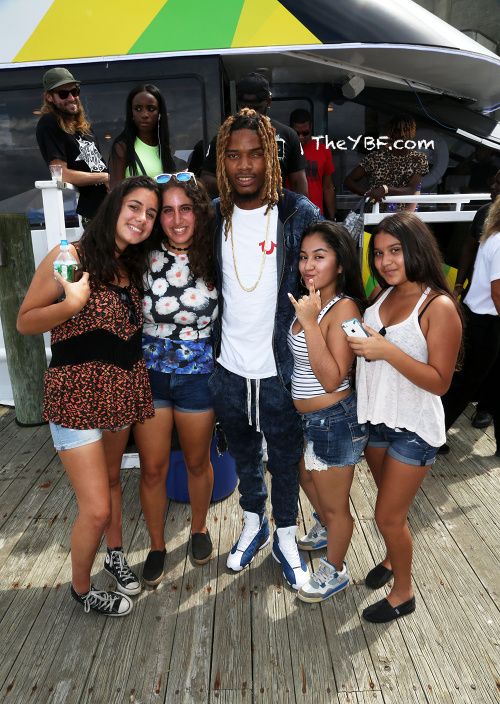 Over the weeked, rapper Fetty Wap took a stage dive that reportedly left two female fans injured.  Watch the video inside and also check out The Weeknd's cover of Beyonce's"Drunk In Love."   
As we reported to you over the weekend, thousands of fans crowded NYC's Jones Beach Theater for Billboard's Hot 100 Fest to see Lil Wayne, Christina Milian, Jason Derulo, Axwell Ingrosso, Santigold and The Weeknd spread out on three stages. Unfortunately....one of the performances got a little messy. Reports out of New York (and based on the video below) revealed  that two female fans were injured during Fetty Wap's stage dive.
According to Newsday, two girls were hurt when Fetty jumped into the crowd during "Trap Queen" towards the end of the show. Reportedly, the ladies' legs were pinned under a metal fence that was set up as a barrier between the stage and the crowd. Ouch!
Once the crowd of fans started pushing towards the stage, Fetty's security rescued him FIRST, while medics were called to treat the ladies. Thankfully, the injuries were not serious.  We're told one young lady had her leg wrapped up by medics and the other got her leg iced.
The parents of both young women were called to the scene and we're told Fetty returned to the stage and apologized to the crowd for the mishap.
In other Fetty Wap news, during a in-depth interview with "The Cut," the rapper revealed whom his "Trap Queen" is and the answer might surprise you....it's his mom!  He also opened up about having such a massive hit straight out the gate and concerns about being a one-hit wonder.
How do you feel about bringing the term "Trap Queen" to the mainstream,when a lot of the people singing the lyrics don't know what they mean?

Everybody doesn't have the same trap queen. Everyone can have their own trap queen. There is the way I use it in the song, but my mom is a trap queen. She held us down and she was a queen at doing it. She took care of her children and her tribe, made sure we had food on the table, and kept our heads up. However you want to put it, there are different meanings to it.

You write a lot of songs about women. Is that intentional?
Most of my songs are about one person in particular. I guess it's just what I be going through. ["Trap Queen"] is about how what I really be wanting is loyalty. The person I was dealing with at the time, she kind of just showed me a different side of women. She still to this day supports me and buys all my songs on iTunes, she still shows me loyalty, the same loyalty before everybody knew who I was. That's where I get my inspirations and my motivation from for most of my songs and the meanings behind them.

Do you worry about being a one-hit wonder?
I'm not here just to be Fetty Wap, the artist that went platinum off of "Trap Queen," and then nobody knew what happened. Right now, I have three songs on the [Billboard charts] and I have another one that's about to come really soon. I just try to keep doing music and let them know that I'm here and I'm relevant. I'm not one of those artists who is trying to get a couple of dollars and get up out of here. I'm not in it for the money — this is what I do. I don't know how to do anything other than make music. Other than my past life, this is it. My fans that were rocking with me before the world knew Fetty Wap, they like to hear new music so I keep giving it to them. I have a lot of music, I can drop a song every day until my mixtape comes out and you won't hear the same songs on my mixtape.

You really don't care what people think. Is not wearing a prosthetic eye part of that?
I used to wear the prosthetic eye when I was little to look normal, or what other people thought normal was. It was really when I started making music that I stopped wearing it. People around my city just started getting used to it, and I just started to be myself. I started to feel regular and like I didn't have to turn my face to take a picture because I didn't like how I looked. I could look straight into the camera. Every little insecurity I had was gone because I didn't have to try to look a certain way. This is the way I look and I feel comfortable with it. People still talk about it on Instagram and social media, it's crazy, but you just have to rise above it. You can't be a "star" if you're still going to let people get to you. You can't be the boss at your job and let people get under your skin.
Read the full profile here.
In other music news.....
In addition to Fetty Wap's stage dive, the nearly 17,000 fans who made their way to Jones Beach for the Hot 100 Fest also peeped GQ/Vogue model The Weeknd hitting the stage to perform a few of his hits, including the #1 single "I Can't Feel My Face."
As we wait for The Weeknd to release his project, Beauty Behind The Madness, we were really impressed by his cover of Beyoncé's"Drunk In Love." His set also included a stirring take on his song "Often."
Watch "Drunk In Love "
Watch "Often"
If you'd love to watch The Weeknd aka Abel Tesfaye perform any of these tracks live, he's heading out on the road soon. Check the dates below....
Photos The Weeknd's Instagram/Splash News/Fetty Wayp's Intagram