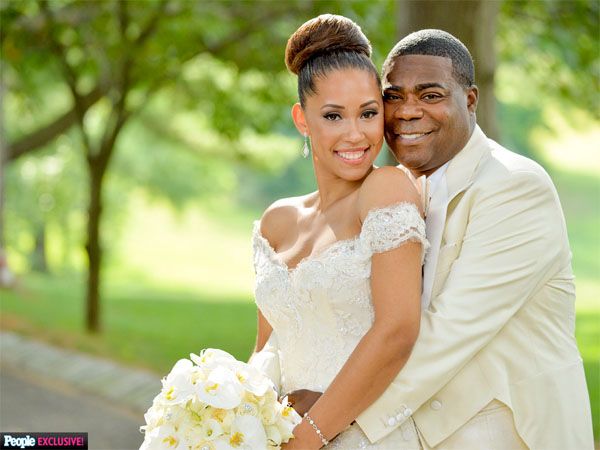 After a long road to recovery, Tracy Morgan literally walked down the aisle to say his "I Dos," to his fiancée turned wife Megan Wollover yesterday. More inside….
After a tumultuous year, Tracy Morgan has plenty to celebrate…even more so now that he's a married man.
Yesterday evening, the funnyman tied the knot to his long-time fiancée Megan Wollover, 28, in an intimate wedding ceremony. And he WALKED down the aisle for his nuptials.
Tracy was left fighting for his life after he and his entourage was involved in a horrific car crash with a Wal-Mart tractor-trailer 14 months ago (which claimed the life of his friend). The 46-year-old actor/comedian was left having to learn how to stand, sit and walk again. But, he was determined to make it down the aisle with NO assistance.
He told PEOPLE a few months ago,
"I don't want to walk my wife down the aisle with a cane or in a wheelchair," he said. "So I had to go hard with the therapy … I had to get better. There was no ifs, ands or buts about it."
Nice.
The couple said their "I Dos" in front of a small gathering of close friends and family, including their 2-year-old daughter Maven.
Tracy's wife gushed to PEOPLE,
"After almost losing Tracy last year, I am so grateful to finally be married to the love of my life. We have been through so much and our love is stronger for it. I'm so excited to see what our future holds and feel so blessed to spend the rest of my life with Tracy!" 
We can imagine the ceremony was very emotional after all they've been through. Congrats to the couple!
 
Mark your calendars. Tracy is set to make his triumphant return to television to host "Saturday Night Live" on October 17th.
Photo: PEOPLE