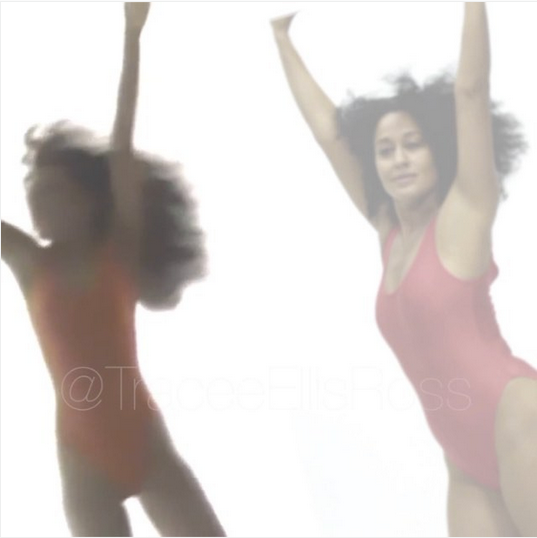 We called it -- Tracee Ellis Ross' secret project has just been revealed.  She's paying homage to a legendary YBF chick who just so happens to be her mom.  Check out Tracee recreating Diana Ross'"Work That Body" video serving body and hair for days...
Recently, Tracee Ellis Ross gave us a sneak peek into a "secret project" she was working on.  Once we saw the body suit, the booty, the hair and the dancing, we immediately knew she was recreating her mother's 80's video"Work That Body."  And here it is.
Tracee made the big reveal tonight, and it's amazing.
The "Blackish" star explained on her website the reason behind why she's paying homage to her mom using a video she has always loved.  Her mom had already had her three oldest kids, including Tracee, before filming this video by the way.  The 42-year-old actress said, in part:
I was watching and thinking: why does watching this woman dancing around in barely any clothes with her tush to the camera make me feel joyful and empowered when the same kind of image in most music videos today doesn't give me that feeling? I know this is my mom… so obviously I'm projecting a connection and I know it was a different time, it was the 80's. But still, it didn't feel like she was dancing as a presentation of herself or like she was offering up her bits, which I feel like most videos are these days. Often in today's images (moving and still), we are being objectified or we objectifying ourselves. I think it is meant to be an empowered act, a reclaiming of our bodies. But that is not always what it feels like to me. I am not intending to judge, just exploring with curiosity.

And then it hit me: My mom felt whole and connected …and in her body in this video. I have spoken before about encouraging women to shift our gaze from how we are seen to how we are seeing and, more important, feeling. And I saw a woman feeling joyful in herself as a whole being; she didn't seem to be presenting her ass or saying look at all the ways I can make myself look appealing to YOU. She seems to be saying, "this is ME feeling good and I am strong and sexy and joyful in ME"!

So, I decided to recreate the video and try to feel the joy of being in my body while offering up tribute to my glorious mother.
Sweet!  Check out Tracee's full letter on her site HERE, and check out her full project below:
Photo: Tracee Ellis Ross