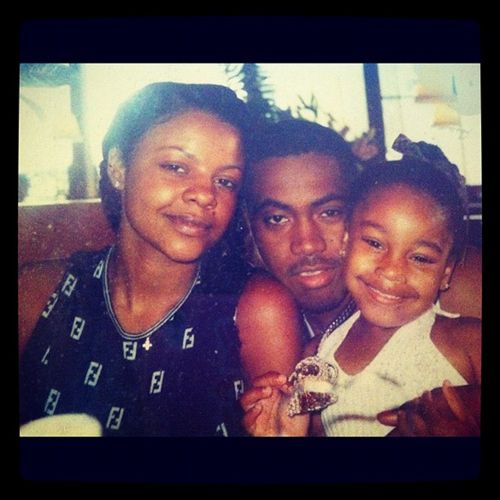 We had a feeling Nas' ex-girlfriend and baby mama, Carmen Bryan, would have something to say about his new "Daughters" track.  And right on cue, chick popped off saying the song falsely portrayed their daughter Destiny.
Her words inside...
Carmen apparently wasn't as touched by Nas' new "Daughters" track as everyone else was.  Despite Nas tweeting his love for his daughter and explaining on the track that Destiny's mindset & misbehavior was likely his fault, Carmen took to Twitter to express her anger tonight:
Just heard "Daughters" by Nas. What a disappointment! He had nothing positive to say about our daughter and his depiction of her is false!

...perhaps her father should be talking to her and spending more time with her so he can really get to know her.

...Destiny will be 18 in 2 months. Over it!
And when her followers asked what exactly was the problem with the song, she answered:
Ques? do u really think Destiny appreciated that song? Seriously.....Destiny is still a child-it was the wrong platform. 

...he's not speaking on it-he's rapping about it. There's a huge difference and I don't respect it.

Destiny is extremely talented, caring and has a huge heart, none of those things were mentioned. I'm proud of her.
Well, that kinda ruined the sweet moment.  Sounds like she's trying to say Nas isn't as close to his daughter as the song makes it seem.  Carmen also seems to be saying that him admitting on the track that he hasn't always been the best father (which led to his daughter's inappropriate tweets & behavior a while back) actually has a negative effect on Destiny.
Even so--wouldn't that be a convo better had via phone (or anywhere except Twitter) with Mr. Jones directly?
Here are a couple of the verses from "Daughters":
[Verse 1]
I saw my daughter send a letter to some boy her age
Who locked up, first I regretted it then caught my rage, like
How could I not protect her from this awful phase
Never tried to hide who I was, she was taught and raised like
A princess, but while I'm on stage I can't leave her defenseless
Plus she's seen me switching women, pops was on some pimp shit
She heard stories of her daddy thuggin'
So if her husband is a gangster can't be mad, I love him
Never, for her I want better, homie in jail- dead that
Wait till he come home, you can see where his head's at
Niggas got game, they be tryna live
He seen your mama crib, plus I'm sure he know who your father is
Although you real, plus a honest kid
Don't think I'm slow, I know you probably had that chronic lit
You 17, I got a problem with it
She looked at me like I'm not the cleanest father figure but she rocking with it
[Verse 2]
This morning I got a call, nearly split my wig
This social network said "Nas go and get ya kid"
She's on Twitter, I know she ain't gon post no pic
Of herself underdressed, no inappropriate shit, right
Her mother cried when she answered
Said she don't know what got inside this child's mind, she planted
A box of condoms on her dresser then she Instagrammed it
At this point I realized I ain't the strictest parent
I'm too loose, I'm too cool with her
Shoulda drove on time to school with her
I thought I dropped enough jewels on her
Took her from private school, so she can get a balance
To public school, they too nurture teen talents
They grow fast, one day she's ya little princess
Next day she talking boy business, what is this
They say the coolest playas and foulest heart breakers in the world
God gets us back, he makes us have precious little girls
We doubt he'll respond.  Meanwhile, Nas' video for his single "The Don" premieres tomorrow night at 6p ET on VEVO.
BONUS: Here's a pic Destiny tweeted of herself all grown up.  She also tweeted the throwback above with her mom and dad saying, "When we were a family":