Has Kenya Moore found herself a new boo after that tragic "situationship" with her ex-"Millionaire Matchmaker" boo? It appears so. Peep the coupledom pics of Ms. Twirl and her possible new love interest Eugene Casciaro inside….
Well…it looks like Kenya Moore just sealed the deal on her new storyline for the upcoming 8th season of "Real Housewives of Atlanta."
Meet truck dealership owner Eugene Casciaro. Yesterday, we brought you pics of the "RHOA" beauty's haircare launch in ATL and we noticed a man on Kenya's arm. Nothing from the pics screamed they were dating, but now we have the two on our coupledom radar…after we did a little digging.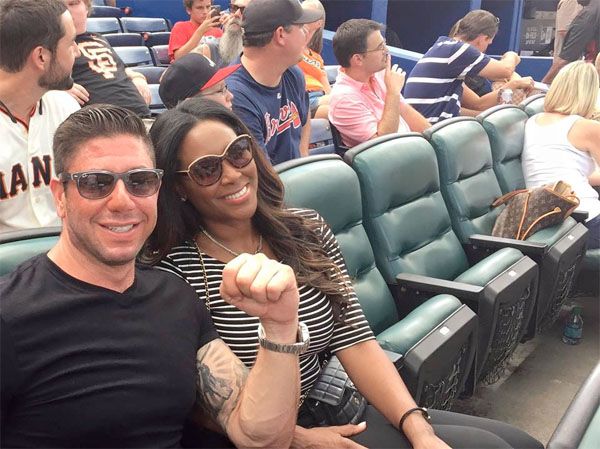 It appears the 44-year-old former Miss USA queen and the 40-year-old entrepreneur are getting quite cozy with one another. It's clear he will at least make a cameo on one episode of "RHOA," since cameras were rolling during her haircare launch a few days ago. But, he may be getting extra camera time as a new love interest of Kenya's.
On Facebook, a friend asked Eugene if he would be making any appearances on the show, in which he responded, "Not my style to be on the show but yes I'm in an episode that filmed already... You just never know how they'll spin things ..."
Hmmm…
 
And they're not just spending time together in front of the cameras. Earlier this month, Eugene posted a few pics of himself and Kenya in the stands while viewing a professional baseball game between the San Francisco Giants and the Atlanta Braves in ATL. The twosome was all smiles as they snapped up a few coupledom selfies.
Eugene owns his own truck dealership, Nvision Truck Sales Inc, based in Atlanta. And we hear he makes a pretty penny from his business. From what we can tell, he's a manly man who likes to enjoy outdoor and masculine activities, including monster fishing, hitting the gun range and he also enjoys golfing.
While it all looks good on paper...dude does have a rap sheet:
According to MugShots.com, back in 2009, Eugene was arrested in Dekalb County after being charged with a few felonies and misdemeanors, including obstructing a law enforcement officer, criminal damage to property, theft by taking and simple battery. Yikes!
He was jailed on July 13, 2009 then released the next day after posting a $15,200 bail. No word (that we could fine) on if he was actually convicted of those crimes.
Hmm...so what do you think...is this Kenya's NEW man? OR is he just part of a possible new storyline?
 
Photos: Eugene's FB/ATLpics.net/MugShots.com