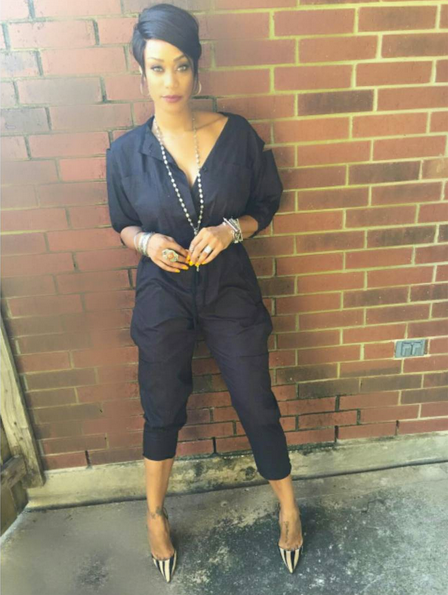 Tami Roman had a little altercation with her "Marriage Boot Camp" co-star Aubrey O'Day during a taping of "Watch It With." Find out why she went off on the former Danity Kane member inside….
Reality TV star Tami Roman has been known to be a "bully" of sorts after numerous run-ins and fights with people on different reality shows. And most recently, she was involved in an altercation with her "Marriage Boot Camp" co-star Aubrey O'Day that had folks' tongues wagging that the old Tami had returned. But she says not so.
Chopping it up in a telephone interview with SpokenEnt, the "BBW" starlet explained exactly why she slapped Aubrey's phone out her hand during a taping of "Watch It With," where a few cast mates from the show re-watch episodes and give their commentary.
If you missed the clip, check it below:
While she explained herself in a Facebook post following the airing of the show, she goes in depth about what went down between she and Aubrey in that moment. In a nutshell, Tami claims they had been filming for 12 hours straight and she started to get fed up when production kept being delayed for Aubrey to handle business on her cellphone. She explained,
"When people see us on the show, they think that movement happened right then in that time frame. But really, we had been taping for 12 hours. So throughout the day, she was on the phone throughout the day. And every time she would get on the phone, we would have to stop, we would have to cut and wait for her to get off the phone. So that just made the day super long when it didn't necessarily have to be. At that moment we were reaching the 12th hour mark. So, I was ready to go home."
It definitely looked like the old Tami Roman surfaced for a second. But Tami assures she's not that girl anymore and she just got caught up in a moment of frustration. She said
"It was just a moment of frustration. I honestly didn't think they were going to show that. Then when I realized they showed it, I felt like I had to give an explanation because I don't want people thinking 'Oh, she's still lashing out at people.' That was just a honest moment of frustration and I think if anybody had been in that situation, sitting for that amount of time in some Louboutins that hurt like hell, it could have been that moment for anybody."
 
Bloop!
Also in the interview, Tami talks about if wedding bells will be ringing soon for she and her boyfriend Reggie Youngblood, her non-existent relationship with former "BBW" co-star Evelyn Lozada and her upcoming reality show centered around her life rumored to be titled "The Roman Empire."
Check the full interview below:
 
Photos: Tami's IG