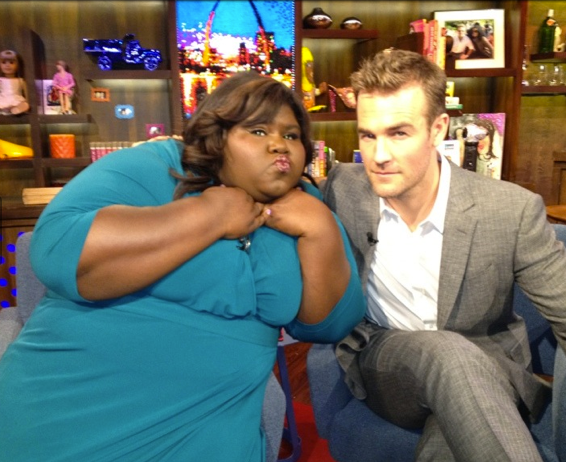 Gabourey Sidibe may have shot to fame with an Oscar nomination for her first role out the door.  But before the movie hit theaters, her fave actress advised her to quit the Hollywood business due to her "image".  Find out who it was, plus check out Gabby's co-star Zoe Kravitz on the cover & pages of NYLON magazine...
Hilarious "The Big C" actress Gabourey Sidibe stopped by Bravo's "Watch What Happens Live" clubhouse last night with James Van Der Beek.  And when host Andy Cohen asked her which celebrity meeting was the most disappointing during her rise to fame, she said Joan Cusak.  Gabby revealed that when she first met  Joan, who is one of her fave actresses, at an industry party, Joan not only didn't know who she was but then told her that she should quit show business because it's so "image conscious."  Damn homie. 
Check out Gabby's Plead The Fifth segment above.
Speaking of Gabby S., her Yelling To The Sky movie co-star, Zoe Kravitz, is looking like un-combed sunshine on the upcoming Young Hollywood May 2012 issue of NYLON magazine:
Alongside actresses Juno Temple & Bella Heathcote, free-spirited cutie and actress/singer Zoe rocked a cutesy spring yellow dress for the cover of the mag.  And she kept up her usual cuteness on the inside pages and BTS shots: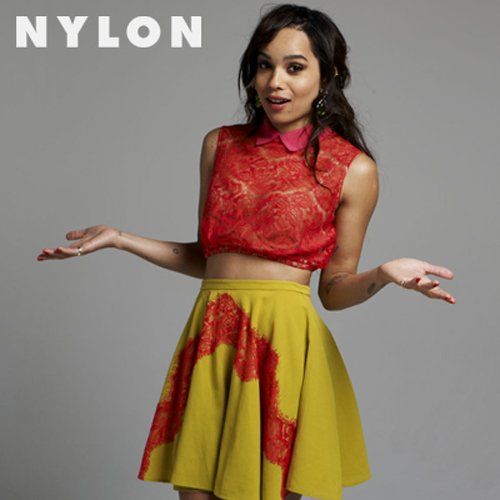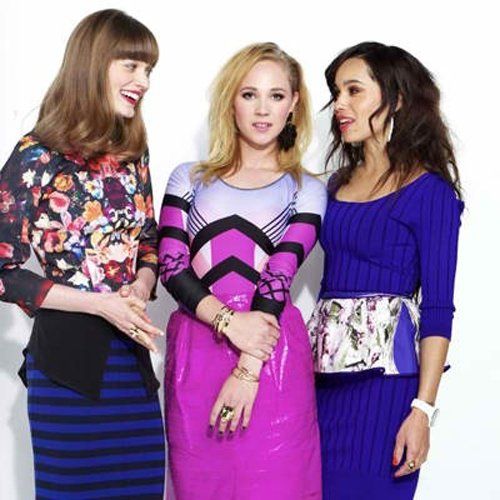 Cute.  Looking more and more like her mother Lisa Bonet's identical twin everyday.  Check out a few of her quotes from her in-depth interview:
Zoe on today's concept of fame:
"I think because of the Internet and everyone's obsession with celebrity and paparazzi and blogs and phones being hacked, we have an incredible amount of access to other people's lives. People now expect more than a performance. They expect to know what you do and what you're wearing and who you're f**king and what you ate that day and what time you took a s**t... [When I was at Jennifer Lawrence's house] she was like, 'Can we just stay home and watch TV all night? I can't leave my house.' And I was like, 'Jen, I'm not going to bulls**t you. This isn't going away tomorrow.'"
Zoe on her personal style:
"I feel like everyone thinks that everyone should look the same - clean cut. If I go to a party and my hair's messy and my shirt's ripped or whatever, it's like, 'She's a crackhead.' I'm like, 'Do I have to look like a f**king perfect Barbie doll?' The cool thing about fashion is that if you do it right, it's an art form and it's a way to express yourself."
Sounds like she's been reading those "Comb your hair" comments....