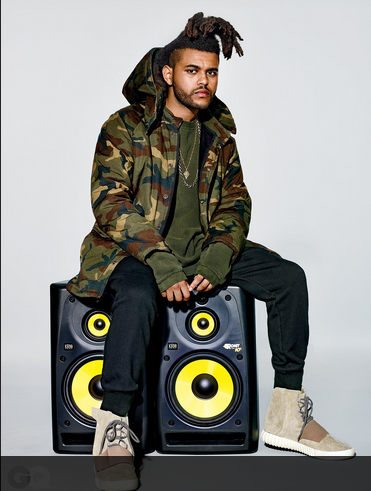 In the latest issue of GQ, chart-topper The Weeknd models Kanye West's"Yeezy" collection and opens up about the very dark themes of sex and drugs in his music.  More inside...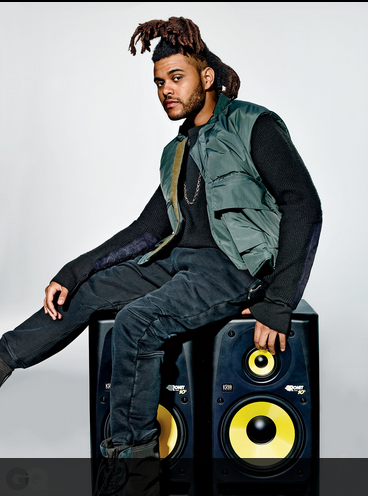 Thanks to his #1 single "I Can't Feel My Face," his uber hit single "Earned It," and an appearance alongside the "Empire" cast in the September issue of VOGUE, Canadian-crooner The Weeknd is quickly becoming a household name here in the United States.
Now, he's posing in GQ magazine thanks to rapper Kanye West who tapped him to model his Yeezy collection for Adidas.  And guess what....Kanye styled the shoot himself!  Of course.
Working with 'Ye was a proud moment for the singer who told the mag,
"I really felt like he targeted someone like me. The camo, the army look, the black boots, the nonchalant kind of vagrant look. I relate to it. It relates to my story. Kanye is such a great friend of mine as well, when he asked me I couldn't say no. It was the least I could do."
Elsewhere in the article that accompanies the shoot, The Weeknd, (aka Abel Tesfaye) opens up about his next album Beauty Behind the Madness (out next Friday, August 28) and the dark NC-17 themes of sex and drugs that he's become famous for. By the way, "I Can't Feel My Face" is about a Cocaine binge (in case you didn't catch that). Here are the highlights:
There was a shocking level of honesty in the early mixtape lyrics. Can you be that honest now that you're all over the radio?
All of my music is honest. When I write, I write about my surroundings. Sometimes it's light and sometimes it gets very dark. With this album I've learned to balance them out and evolve my sound.

When you first came out, a lot of your music was about the girls and the drugs around you in Toronto. How are the girls and the drugs different now?
They're not different. I'm just not in Toronto as often. I've been in LA a lot, so that should answer your question.

People have straight-up told me that your songs are too creepy for them—too dark, too druggy, too sexually explicit. How does that make you feel?
It makes me feel good. How much is too much? Some people love PG horror movies and some people love R rated horror movies.

Please tell me the story of a pivotal moment while writing or recording this album. The first one that comes to mind is great.
I wrote a song with Ed Sheeran that was kind of spontaneous. He was hosting the Much Music Awards in Toronto and I invited him, and pretty much the entire awards show, to my condo to party. It went on until about 5 in the morning but we didn't write the song until that next day, so you can imagine how that night went. Ed also did a freestyle battle with Waka Flocka in my kitchen. That was pretty dope. Good times.
Just for gossip purposes......
We've long heard rumors that Mr. Weeknd is not a fan of "black women".  He's never overtly slandered the sistas on wax, but you'll notice he mainly croons to white women in his video.  
Anyway, a Twitter user is claiming (in Canada) when The Weeknd goes to a certain club, he requests that they don't allow any Black girls in. This is all ALLEGED thanks to @FattyWap.....
She wrote (then deleted):
@FattyWap__
The weeknd is trash. There's a club here called lost & found and when he's there he doesn't let the bouncers let in black women.

@FattyWap__ 24m24 minutes ago
And if you're a black man you're only getting in if you have a booth and he's there. Trash

@FattyWap__ 6m6 minutes ago
#BLACKLIVESMATTER
My girl knows the owner of the club. We live in Toronto
We'll take that with a grain of salt....But we'll take it.
Photos via GQ/Fatty Wap twitter