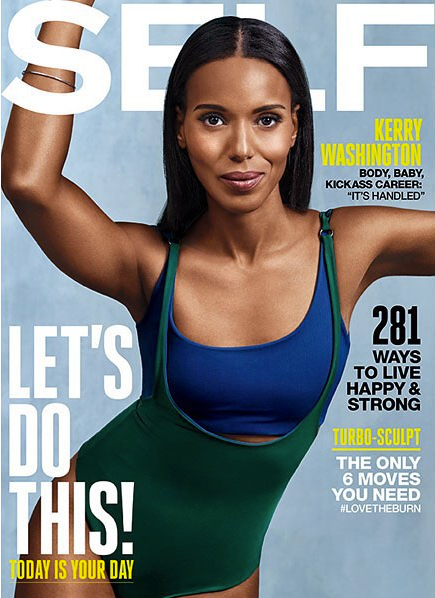 Kerry Washington graces the September 2015 cover of SELF magazine where she's flossing that toned bod of hers. Peep her fabulously fit cover and find out how she stays in shape as she balances being a working mother inside….
"Scandal" starlet Kerry Washington is a breath of fresh air on the September 2015 issue of SELF magazine. The Primetime diva flossed her svelte figure in a custom bodysuit by Scott Stevenson for the cover. And inside, the female powerhouse dishes on her workout regime revealing how she stays so fit and trim.
The 38-year-old rock mom, who has 17-month-old daughter Isabelle with husband Nnamdi Asomugha, says Pilates is her go-to workout routine to stay fit. While shooting on the "Scandal" set in L.A., Kerry (above in a silk green Nili Lotan dress) will wake up extra early to get in a workout before she hits the set. The set has a dressing room specifically for Kerry to do her Pilates routines, filled with mats, balls and resistance bands.  Nice!
When talking about pushing herself to the limit during an intense workout session, she said,
"There are a lot of forms of exercise where you have to leave yourself out of the room while you force yourself to do this thing," she explains. "With pilates, I get to bring my true self. I cry, I laugh. I get to go: Where is my body today? What do I need today? How can I take care of myself and push myself past my comfort zone? How can I be both loving and challenging?"
The ABC starlet said she prefers getting her workout in early in the morning so she can hurry and get home to her baby girl and her husband. And there's no playing hooky when it comes to perfecting and taking care of her body. She spilled,
"I try to get it in so I can be back with my kid early," she says. Truth be told, she'd prefer to be cuddled up with her two loves and their shih tzu–Yorkie mix, Josie, who is undoubtedly asleep at the foot of their bed. But Washington never misses a workout. "I have to take care of myself in order to live life the way I want to," she says. "It's important to have rest days. But in the long run, if I don't work out for, like, three days, I feel worse, not better."
And unlike many moms, Kerry says she's not chasing after her pre-pregnancy body.  She's fully embracing her post-baby body. She explained,"It's the site of a miracle now. I don't want to be pre-miracle."
In a behind the scenes clip, Kerry chit chats about how she turned to Pilates after suffering an injury and what motivation means to her all the while showing off some killer moves/poses. Check it:
She makes us want to sign up for a Pilates class...STAT!
Photos: SELF magazine