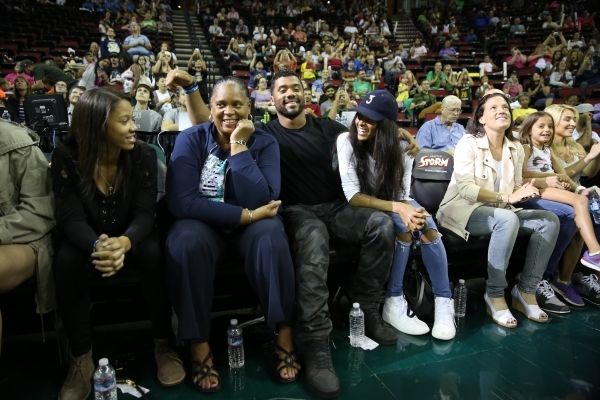 Ciara and Russell Wilson were spotted at the Seattle Storm vs. San Antonio Stars game last night.  See Ciara out with the Wilsons inside...
Pop starlet Ciara is currently in Seattle with her boo Russell Wilson. Last night, they watched the San Antonio Stars battle the Seattle Storm.......and the Storm won (72-63).  But Cici and Russell weren't alone in their courtside seats. The couple was joined by Anna Wilson (Russell's sister), and his mom.  And from the looks of their body language, the Wilsons seem to really like Ciara.  Hmmm....we wonder if Mama Wilson is ready for a new daughter-in-law?
In other Cici tidbits, the "Dance Like We're Making Love" singer chatted it up with radio personality Sway recently, and he asked about abstinence with respect to Russell Wilson.  He joked, "When Russell sees that video, are you giving him any idea of what it's gonna be like?"
CiCi responded, "You're putting me on blast right now. We definitely should dance like we're making love, and we should, yeah, whenever the time comes."
Check out the interview below: 
BONUS:
How'd Ciara spend her Sunday afternoon in Seattle?
On Instagram, Cici hit the open road and let her hair blow in the wind while listening to her favorite tunes. She captioned, "Best Driver. Classic Music. Happy Sunday."
Photo via NBA/Neil Enns/Storm Photography